The house at 92 Magnolia Terrace in Springfield, around 1938-1939. Image courtesy of the Springfield Preservation Trust.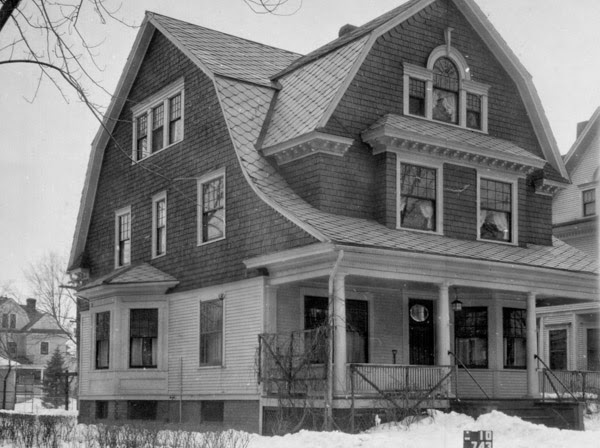 The house in 2017: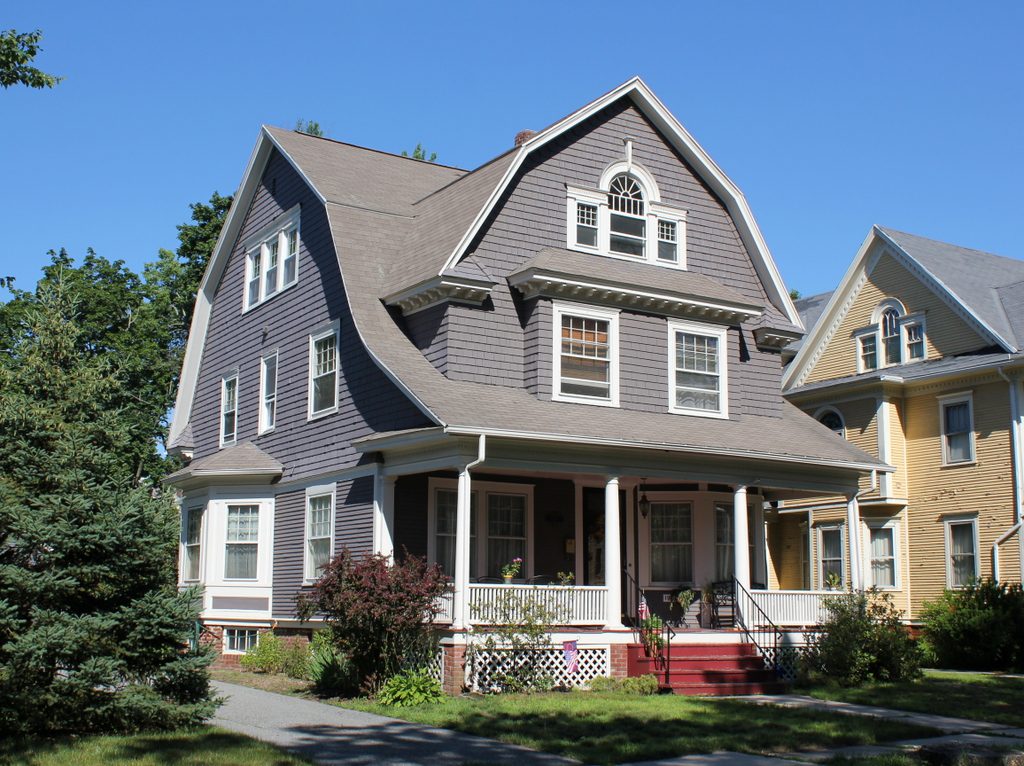 This house was built in 1902, as one of the many upscale homes constructed in Springfield at the turn of the 20th century, in order to meet the needs of the city's growing population of upper middle class residents. Situated on Magnolia Terrace, one of the most desirable streets in the Forest Park neighborhood, this house was originally the home of insurance agent Herbert Stearns and his newlywed wife Mary. Originally from Connecticut, Herbert came to Springfield with his older brother Edwin, and the two started Stearns Brothers, an insurance agency with offices in the Fuller Building, at the corner of Main and Bridge Streets. Early in their business they represented Travelers Insurance, but they were later affiliated with Aetna and several other insurance companies.
Herbert and Mary Stearns lived here until about 1918, but by 1919 the house was owned by Forest L. Mather, who lived here with his wife Caroline and their three children. Mather was an executive for the American Brush Manufacturing Company, which was located on Main Street in downtown Springfield, and he and his family lived here until the late 1920s, when they moved to Manchester, New Hampshire. The house was vacant for several years afterwards, but by the early 1930s it was the home of James L. Durfee, a dairy equipment salesman. However, by about 1936 it was the home of Horace Quimby, a manager at Massachusetts Mutual who lived here with his wife Mary.
The Quimby family was living here when the first photo was taken in the late 1930s, and they remained here until about 1956 when they sold the house. By this point, Quimby was still working for Massachusetts Mutual, with the city directory listing him as assistant agency secretary. Since then, very little has changed with his former house, and it remains a well-preserved example of Colonial Revival architecture. Even the exterior materials – with clapboards on the first floor and shingles on the upper floors – are still the same, although the current paint scheme does not make this difference very noticeable. Today, like the other surrounding houses, it is part of the Forest Park Heights Historic District, which was added to the National Register of Historic Places in 1982.