The house at 102 Magnolia Terrace in Springfield, around 1938-1939. Image courtesy of the Springfield Preservation Trust.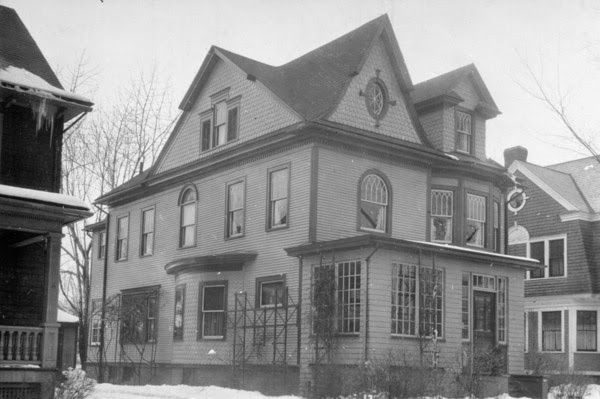 The house in 2017: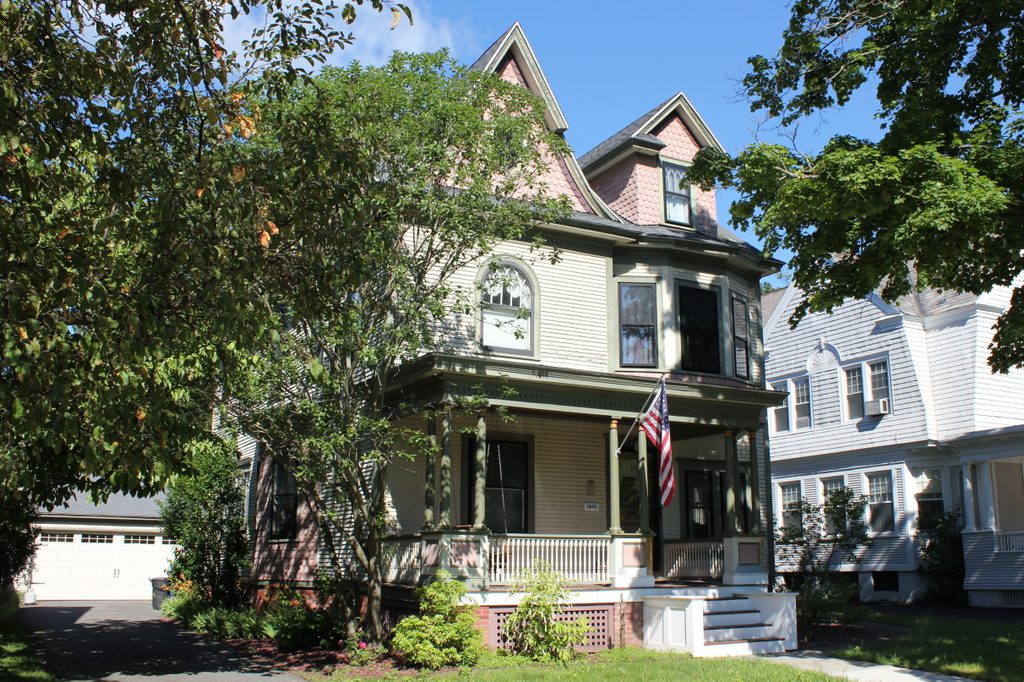 This Colonial Revival-style home was built in 1903, and was one of the many upscale houses developed in the Forest Park neighborhood at the turn of the 20th century. It was originally owned by James P. Caldwell, a conductor for the Boston & Maine Railroad, who was about 47 at the time and lived here with his wife Edna and their three children: Edgar, Edna, and Eugene. The family was still living here during the 1910 census, and by this point Edgar was working as a bookkeeper for a paper company, while his twin sister Edna was a stenographer for the United Electric Light Company.
Around 1913, the Caldwell family moved out of this house, which was sold to George G. Bulkley, the assistant secretary of the Springfield Fire and Marine Insurance Company. Originally from Connecticut, Bulkley moved to Springfield in 1912 after taking the position with Springfield Fire and Marine, and he and his wife Caroline moved into this house with their five children: George, Charles, Chester, James, and Caroline. In the years that followed, Bulkley steadily moved up the ranks of the insurance company, becoming vice president in 1917 and president in 1924. Along with this, he was also a director in a number of local corporations, including the Holyoke Water Power Company, the Springfield Street Railway, and the Third National Bank.
Their daughter Caroline died in 1921, when she was just eight years old, but their four sons all lived to adulthood. The three oldest followed their father into the insurance business while their youngest, James, became an attorney. By the 1930 census, only James was still living here with his parents, and a few years later they moved to a house nearby at 432 Longhill Street, on a hill overlooking the Connecticut River. During this time, George Bulkley continued to serve as president of Springfield Fire and Marine, and he would hold this position for a total of sixteen years before his death in 1940, at the age of 69.
In the meantime, this house on Magnolia Terrace remained in the Bulkley family even after George and Caroline moved out. When the first photo was taken in the late 1930s, their son Chester was renting the house, paying $50 a month and living here with his wife Helen and their daughters Janet and Ann. The house would stay in the family until 1949, and it has remained well-preserved since then. The only significant difference today is the front porch, which was enclosed in the first photo. However, this was almost certainly not original to the house, and today its appearance, with the open front porch, is probably closer to its 1903 design than it was when the first photo was taken.