The house at 44 Sumner Avenue in Springfield, around 1938-1939. Image courtesy of the Springfield Preservation Trust.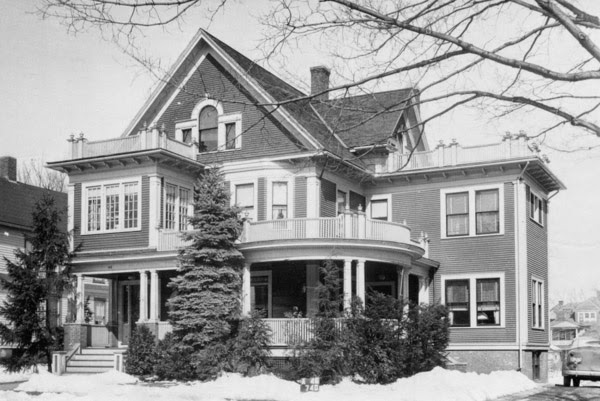 The house in 2017: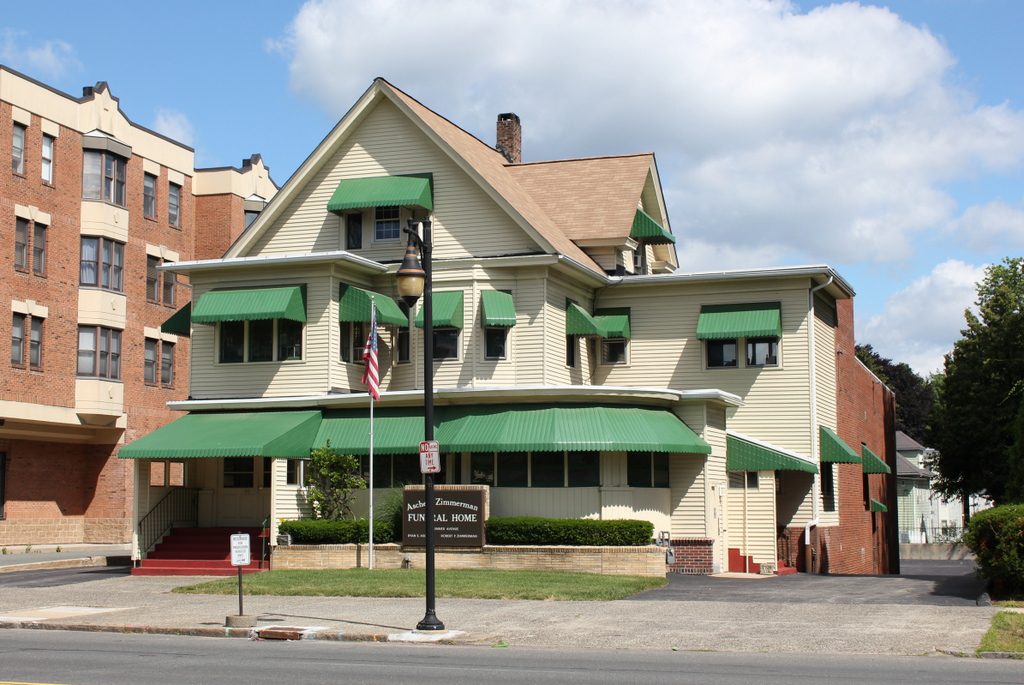 This house was built in 1908 and was among the many fine Colonial Revival-style homes that were built on Sumner Avenue at the turn of the 20th century. It was originally owned by C. Frank Reed and his wife Susan, who were both in their mid-30s at the time. Frank was a real estate broker, and he and Susan lived here with her father, Robert Cox, and his second wife, Alice. The family only lived here for a few years, though, because the 1914 city directory indicates that they had moved south, and by the 1920 census they were living in West Palm Beach, Florida.
By 1914, their house here on Sumner Avenue was the home of Herman Adaskin, a Russian immigrant who had come to the United States as a young boy. His father, Adolph Adaskin, had been a clothing merchant in Russia, but in 1892 he came to Springfield, along with his wife and their children, to escape anti-Jewish persecution. Unfortunately, Adolph was killed in an accident two years later, and it fell upon Herman, who was just 11 years old at the time, to help provide for the family.
Herman Adaskin held a variety of jobs in his youth, including working as an auctioneer, salesman, and grocer, before entering the furniture business. Still in his early 20s at the time, he opened the Adaskin Furniture Company in 1906, operating out of a store on Main Street. The business soon prospered, and later expanded to include stores in Holyoke, Fall River, and Providence, and by the early 1920s he was said to have been one of the largest furniture dealers in Massachusetts.
Adaskin lived here in this house with his wife Sadie, whom he married in 1909, and their four daughters: Adelaide, Naomi, Viola, and Leah. Herman lived here until his death in 1935, but Sadie was still living here a few years later, when the first photo was taken in the late 1930s. The 1940 census shows her living here with Adelaide, her husband Alfred Lindbergh, two grandsons, and two servants. By this point Sadie had succeeded her husband as president of the Adaskin Furniture Company, and Adelaide also worked for the family business, earning $2,000 per year as a store manager.
Sadie lived here until the 1940s, and subsequently moved to a house on Oxford Street, before moving to Florida and then to Longmeadow, where she died in 1990 at the age of 104, having outlived her husband by 55 years. In the meantime, though, her former home on Sumner Avenue underwent some dramatic changes, both in its use and its exterior appearance. Sometime in the 1940s it was converted into a nursing home, and in 1954 it became the Harold R. Ascher Funeral Home.
Now the Ascher-Zimmerman Funeral Home, this house has been a funeral home for longer than it had been a single-family home. In the process, the exterior has been significantly altered. The house was expanded with a large brick addition in the rear, the front porch was enclosed, and at some point the wood clapboards were replaced with modern siding, eliminating most of the original architectural details in the process. However, despite these changes, the house still stands as one of the historic early 20th century homes on Sumner Avenue, and it is part of the Forest Park Heights Historic District on the National Register of Historic Places.