The house at 204 Longhill Street, directly opposite Sumner Avenue in Springfield, around 1938-1939. Image courtesy of the Springfield Preservation Trust.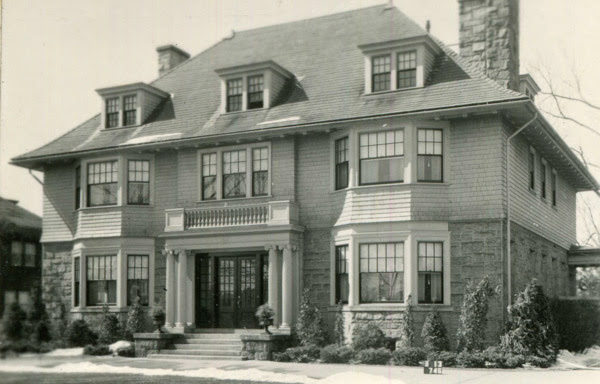 The house in 2017: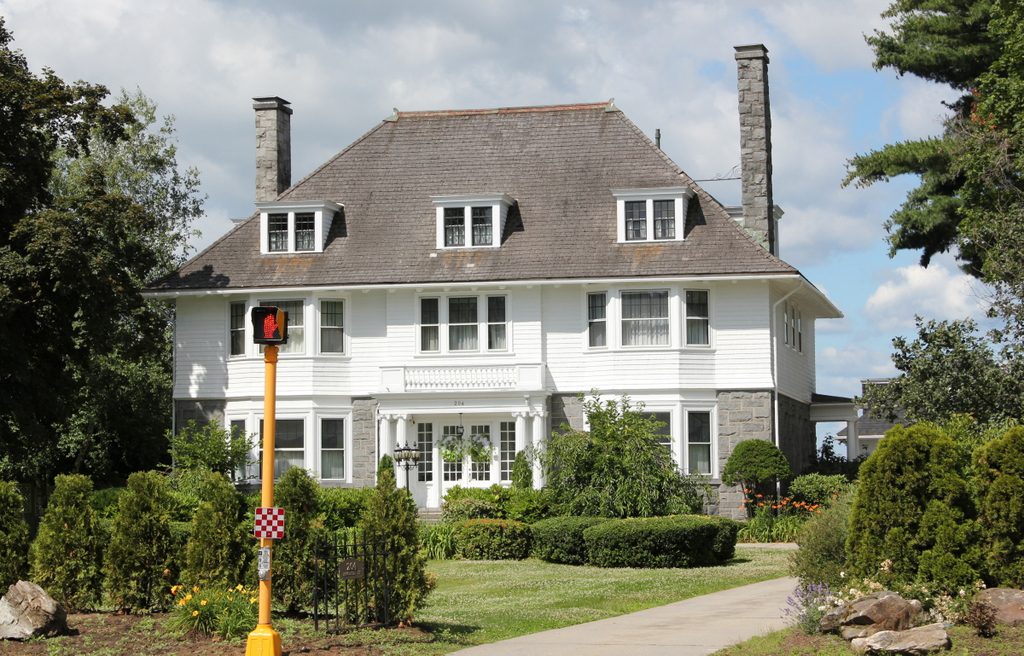 This house was built in 1908 for Sarah J. Bull, the oldest child of Smith & Wesson co-founder Daniel B. Wesson and his wife Cynthia. Born in 1848, Sarah was a child when her father established the pistol manufacturing company, but by the time she was a teenager he had become one of the richest men in Springfield. In 1870, Sarah married Dr. George J. Bull, a Canadian physician, and the couple moved to Worcester, where Sarah's father built them a mansion at 55 Pearl Street as a wedding gift. They would go on have five children, whom they raised in the house: Florence, Maria, George, Harcourt, and Alice, although Alice died in infancy.
However, the house in Worcester was evidently not well-received by George, who saw it as a costly white elephant. According to a 1904 article in the Boston Post, George had objected to Daniel Wesson's wedding gift, expressing concern about the expense of maintaining such a large, lavish mansion. To this, Wesson reportedly replied that "my daughter is accustomed to such surroundings and I am unwilling to allow this marriage to cause any unhappiness or inconvenience in her life." But, despite – or perhaps because of – this mansion, their marriage was apparently not a happy one, and the couple divorced in 1883, an action that was almost unheard of in high society of the Victorian era. Soon after, George moved to Colorado, while Sarah returned to her parents' house at 132 High Street in Springfield.
In 1899, Daniel and Cynthia Wesson moved into a new mansion at 50 Maple Street, perhaps the most elegant private home ever built in Springfield. Sarah moved with them, and was living there during the 1900 census, where her marital status was erroneously – but perhaps deliberately – listed as "widowed." She remained here with her parents until their deaths in 1906, and she and her two surviving siblings inherited the mansion, which was valued at $1 million, or over $27 million today. However, none of them had any interest in living in the 20-room house, and they subsequently sold it to the newly-formed Colony Club in 1915.
In the meantime, Sarah built a mansion of her own in the fashionable Forest Park neighborhood, just to the south of downtown Springfield. Located on the west side of Longhill Street, it was in the most desirable section of the neighborhood, on a bluff above the Connecticut River, with expansive views of the river and surrounding countryside. The large house was completed in 1908, and she lived here alone except for two servants. The 1910 census listed two Irish-born servants, Mary and Bridget Millett, who were 30 and 24 years old, respectively. A decade later, her servants were immigrants from Finland: 35-year-old Ida Nordman and 43-year-old Signe Lindberg.
Sarah Bull died in 1928, and the house was sold to Edwin C. Gilbert, the general manager of the Chapman Valve Company in Indian Orchard. During the 1930 census the house was valued at $50,000 (over $730,000 today), and he lived here with his wife Elizabeth and their three young daughters: Jenn, Sarah, and Elizabeth. They also employed three servants, who were listed in the census as a butler, a cook, and a nurse. However, he Gilbert family did not live here for very long, because in 1933 Edwin sold the property and subsequently moved into a nearby house at 251 Longhill Street.
The next owner of the house was Hattie C. Long, a widow who was about 75 years old when she purchased the house from Edwin Gilbert. She moved here a few years after the death of her husband, Charles L. Long, a prominent lawyer and judge who had served as president of the city's common council from 1885 to 1886 and as mayor in 1895. Charles and Hattie had only one child, Milton C. Long, who was born in 1882 and grew up in the family home at 42 Pearl Street. However, in 1912 Milton was returning home from a visit to Europe, and booked first class passage aboard the Titanic. He was among the 1,517 who died in the disaster, and his body was later recovered and buried in Springfield.
Hattie was still living here, alone except for two servants, when the first photo was taken. Despite already being in her 80s at this point, she lived here for well over a decade afterward, until her death in 1952 at the age of 95. Since then, the exterior of the house has remained well-preserved, with hardly any changes since the first photo was taken. It still stands atop the hill overlooking the Connecticut River, alongside a number of other historic early 20th century mansions. Together, these homes comprise part of the Forest Park Heights Historic District, which was added to the National Register of Historic Places in 1982.