The house at 44 Firglade Avenue in Springfield, around 1938-1939. Image courtesy of the Springfield Preservation Trust.
The house in 2017: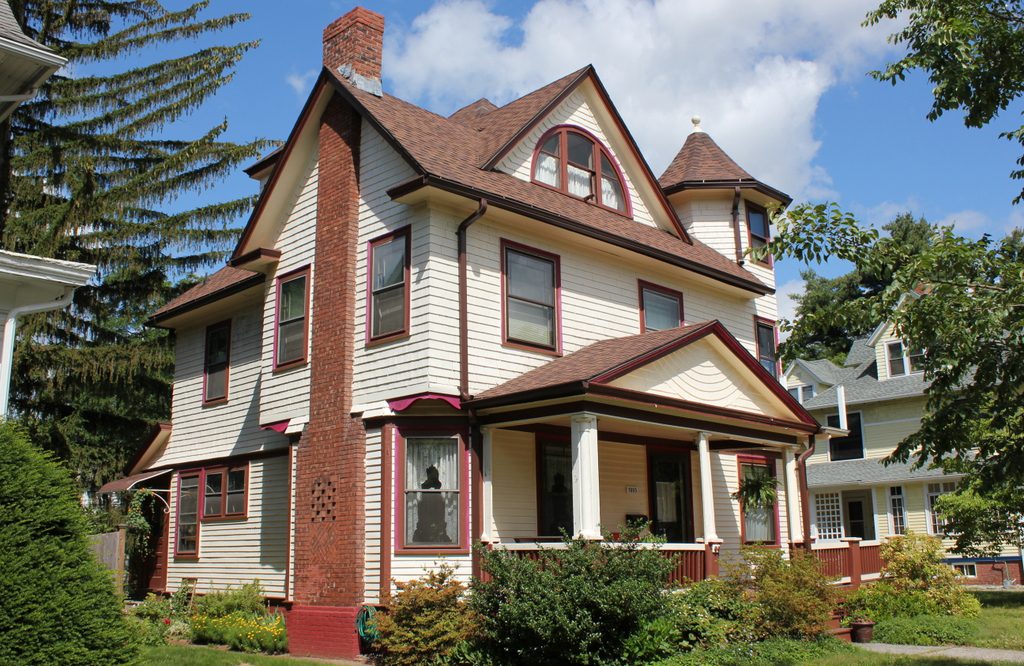 This house was built in 1894, and was among the first houses to be built in the Forest Park neighborhood of Springfield. It was originally the home of Ella Winchester Felt, a widow who was in her late 50s at the time. Her late husband, Wells W. Felt, had been a hotel keeper, and the couple lived in Chicago and St. Louis before Wells's death in 1875 in Williamstown, Massachusetts. Ella subsequently operated a ranch in Coryell, Colorado, where she also served as postmaster. However, around 1894 she returned east, and moved into this house along with her youngest child, Winchester, who was about 20 at the time.
Ella and her son evidently only lived here for a few years, though, because the 1898 city directory indicated that they had moved west, and she died in Denver in 1911. In the meantime, this house saw a long succession of residents over the ensuing decades. During the 1900 census, it was rented by William K. Cooper, the general secretary of the YMCA of Greater Springfield. He was 32 at the time, and lived here with his wife Jessie, their two-year-old daughter Anne, his sister Florence, and two of his aunts, Ellen and Abbie.
A decade later, during the 1910 census, the house was owned by George A. Whitney, a real estate agent who lived here with his wife Sarah. However, by the 1920 census it was again being used as a rental property, with attorney Edward T. Broadhurst living here with his wife Bertha, their two-year-old son Austin, and Bertha's father, Austin P. Bassett. Several years later, while still living in this house, Edward was appointed as a judge of the Superior Court, and he went on to serve in this role for many years. Soon after this appointment, though, he and Bertha moved out of this house, relocating to 165 Buckingham Street in the McKnight neighborhood.
Around the time the first photo was taken, the house was the home of George S. Squibb, a traveling salesman who lived here with his wife Ida and their infant son, also named George. However, like most of the previous residents of this house, they did not live here for very long, and by the 1940 census they were living in Elizabeth, New Jersey. In nearly 80 years since they left, though, the house has seen few changes to the exterior. It looks essentially the same as it did in the first photo, and it stands as one of the oldest houses in the neighborhood. Along with the rest of the area, it is now part of the Forest Park Heights Historic District on the National Register of Historic Places.