The house at 72 Firglade Avenue in Springfield, around 1938-1939. Image courtesy of the Springfield Preservation Trust.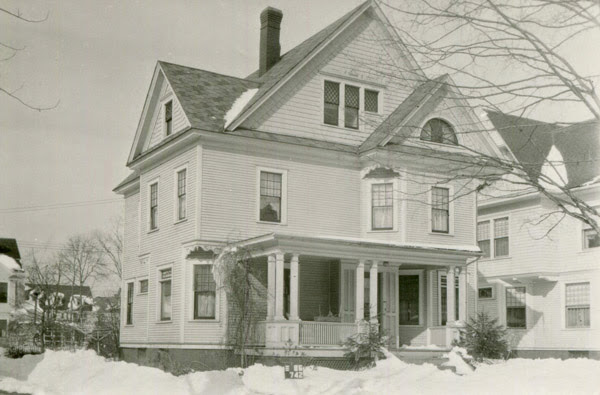 The house in 2017: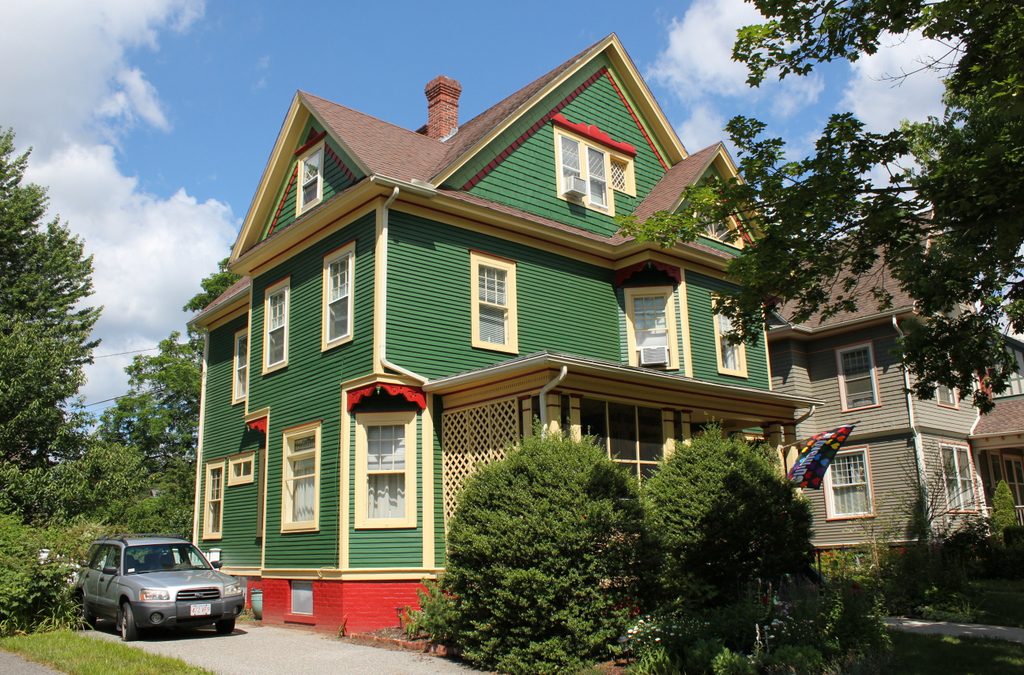 This house was built in 1901, with a design that was a blend of the older Queen Anne style and the newer Colonial Revival style of architecture. It was originally the home of Edward B. Tarbell, a freight agent for the Boston and Maine Railroad, and he lived here with his wife Lucy and their two children, Frank and Florence. Both children were in their mid-20s at the time, with city directories listing Frank as working in the Boston and Maine shops, while Florence was assistant supervisor for drawing in the public schools.
Edward died in 1909 at the age of 59, and the rest of the family lived here for a few more years before moving to West Springfield around 1913. The house was subsequently owned by Margaret Renfrew, an elderly widow who lived here with her son Carl, who was a plumber. Margaret died in 1927, and by the 1930 census Carl was living here with brother Robert, his sister Mabel, and her husband Charles A. Souler. However, Carl committed suicide in 1931, and the rest of the family moved out of here a few years later.
By 1934, the house was being rented by Ellie J. Lennon, an Irish immigrant who had come to the United States as a girl in 1886. Her husband Matthew had died in 1918, when their children were still young, and by the 1930s she was living her on Thomas and daughter Mae. They were here when the first photo was taken, and according to the 1940 census they paid $35 per month in rent. Ellie was 68 and presumably retired, but Thomas earned $926 per year as a lithographer, while Mae earned $1,020 as a court clerk.
Thomas and Mae purchased the house in 1942, and the house would remain in he family for more than 50 years. Ellie died in 1949, but at some point her sister, Bridget Keane, moved in here, and she lived here until her death in 1963 at the age of 100. In the meantime, neither Thomas nor Mae ever married, and they remained here for the rest of their lives. Mae continued to work as a court clerk for many years, while Thomas worked as a teacher in Wilbraham, and they both died in the mid-1990s, more than 60 years after they had moved in here with their mother.
Today, the house has seen few changes since the first photo was taken nearly 80 years ago. Like most of the other houses in the neighborhood, it has been well-preserved and still stands as a good example of early 20th century architecture. Along with the rest of the area, it is now part of the Forest Park Heights Historic District, which was added to the National Register of Historic Places in 1982.