The house at 162 Sumner Avenue in Springfield, around 1938-1939. Image courtesy of the Springfield Preservation Trust.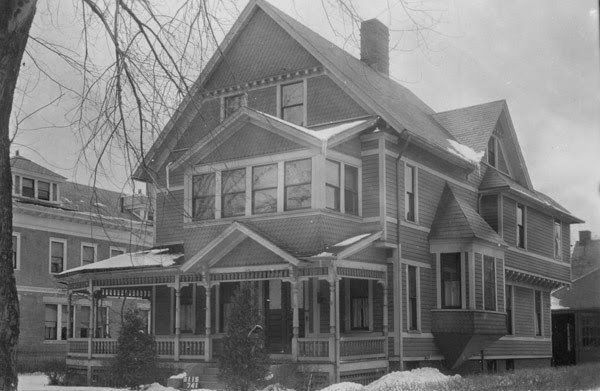 The house in 2017: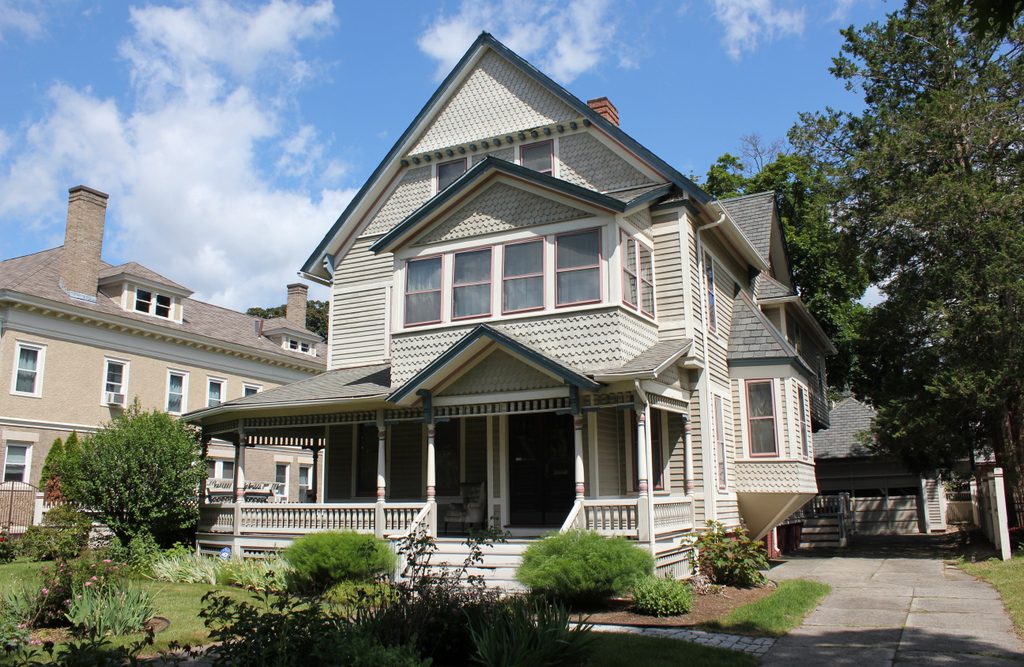 This house was built in 1892, and was among the first homes to be built in the Forest Park Heights development of the late 19th and early 20th centuries. It was originally the home of Nathan H. Harriman, a Baptist pastor and evangelist, but he did not live here for very long. Around 1895, he moved to Tacoma, Washington to become the pastor of the First Baptist Church, although he only held this position until early 1897, when he resigned after a period of erratic behavior.
According to a January, 1897 Boston Globe article, Harriman "startled his congregation Friday by announcing to them that he would not preach to them again until they had cast out the demons that were in them." During this time, Harriman spent about 10 days "fasting on crackers and cheese and walking the floor nights wrestling with the devil," and many believed that the fasting had caused his mind to become "unbalanced," resulting in the strange behavior. Regardless of the cause, though, Harriman ultimately resigned from the church about a month later, and subsequently returned to New England.
In the meantime, this house was sold to Robert W. Smith, a boot and shoe dealer who operated a store in the Masonic Building at the corner of Main and State Streets. He was 38 years old during the 1900 census, and lived here with his wife Laura and their four children: Linda, Robert, Walter, and Edith. However, they were only here for a few years, because they sold the house in 1901 and moved to a home on Riverdale Street in West Springfield.
The next owner of the house was Theodor Geisel, a brewery owner who is best known today as having been the paternal grandfather of Dr. Seuss. Born in Germany in 1840, Geisel became a jeweler, and he later immigrated to the United States in 1867. He settled in Springfield, and worked for a time for the Rumrill Chain Company before entering the brewing industry in 1876. At the time, Americans were just beginning to develop a thirst for German lager-style beer, and many German immigrants across the country – including such figures as Adolphus Busch, Adolph Coors, Frederick Miller, and Frederick Pabst – found brewing to be a lucrative business.
Here in Springfield, Geisel partnered with fellow German native Christian Kalmbach, and they purchased the brewery of Oscar Rocke – yet another German immigrant – on State Street, at the present site of the MassMutual headquarters. The original brewery had a capacity of about a thousand barrels per year, but Kalmbach and Geisel soon expanded the facility, which was producing some 40,000 barrels a decade later. Then, in 1893, Geisel purchased Kalmbach's share in the brewery, renaming it the Highland Brewing Company. Geisel, in turn, sold the company to the Springfield Breweries Company in 1898, although he remained there as a manager until 1901.
Theodor Geisel married his wife, Christine Schmaelzle, in 1871, and they had seven children, two of whom died in childhood. The family lived on Boston Road near the brewery for many years, but they finally moved in 1901, around the same time that Theodor left his position as a manager. The Geisels then purchased this house on Sumner Avenue, where Theodor and Christine lived with their two youngest surviving children: Adolf and Christine. Dr. Seuss's father, Theodor R. Geisel, does not appear to have lived here in this house with them, since the move occurred the same year that he married his wife, Henrietta Seuss.
In 1902, the elder Theodor and his son Theodor established a new brewery, the Liberty Brewing Company, located near the corner of Liberty and Chestnut Streets. That same year, Theodor Seuss Geisel, the future Dr. Seuss, was born at his parents' house on Howard Street. Then, in 1906, Theodor and Henrietta moved to Forest Park, to a house on Fairfield Street only a few blocks away from here. Young Dr. Seuss would have undoubtedly made many visits to his grandparents house here on Sumner Avenue, although his grandmother Christine died in 1908 when he was just six years old.
After his wife's death, Theodor continued to live here in this house, along with his daughter Christine and her husband, James L. Wallace, whom she married in 1910. They had two children, Theodor and Richard, and Christine also served as a caretaker for his father as he got older. He retired from the brewery business in the early 1910s, selling Liberty Brewery to Springfield Breweries, in what turned out to be fortuitous timing on his part. The Eighteenth Amendment, which established nationwide prohibition on alcoholic beverages, was ratified in 1919, bringing about the demise of the vast majority of America's breweries. As for Theodor himself, he did not live long enough to see Prohibition enacted; he died on December 5, 1919, at the age of 79, just six weeks before Prohibition went into effect on January 17, 1920.
James and Christine inherited the house after Theodor's death, and they continued to live here with their sons. They were still here when the first photo was taken in the late 1930s, with James working as a manager for a paper company in Holyoke, Theodor working as a civil engineer, and Richard working as a switchboard operator. The two sons later moved out, but James and Christine lived here for the rest of their lives, until Christine's death in 1961 and James's in 1965.
After more than 60 years in the Geisel family, this house has seen few significant changes, and it looks essentially identical to its appearance when the first photo was taken nearly 80 years ago. For the most part, the other surrounding houses have also been well-preserved, including the William May House on the left, and today these houses make up part of the Forest Park Heights Historic District, which was added to the National Register of Historic Places in 1982.