Looking up Round Hill Road from Elm Street in Northampton, around 1894. Image from Northampton: The Meadow City (1894).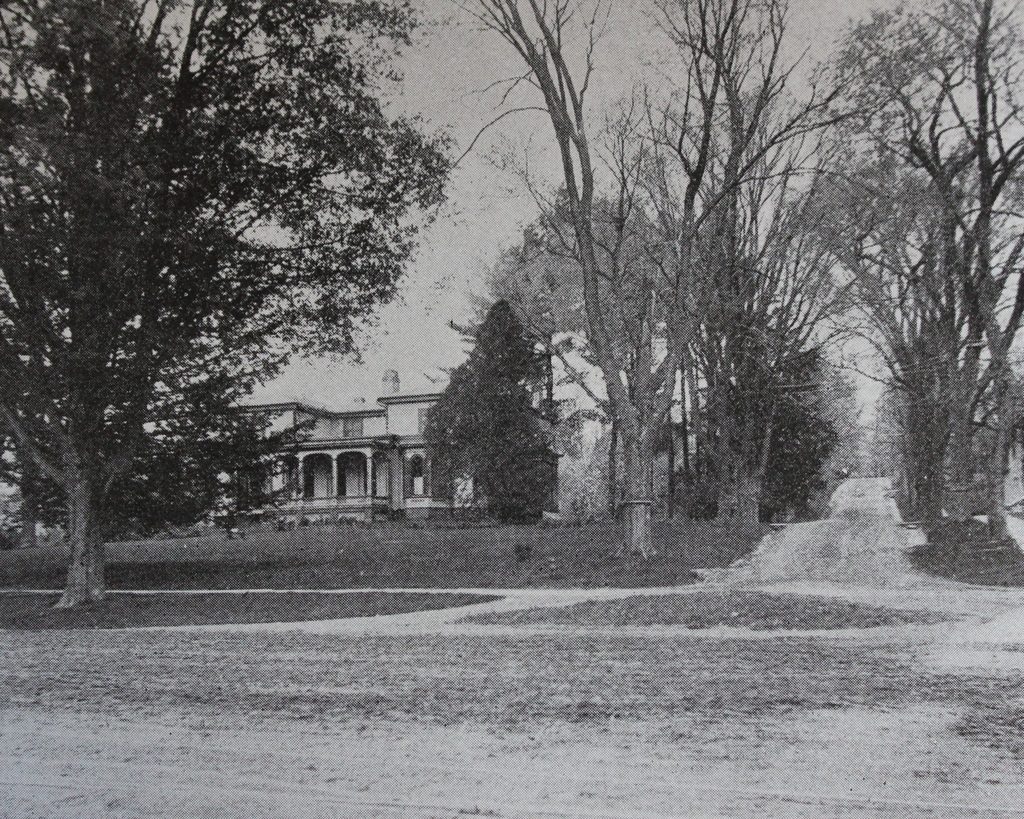 The scene in 2017: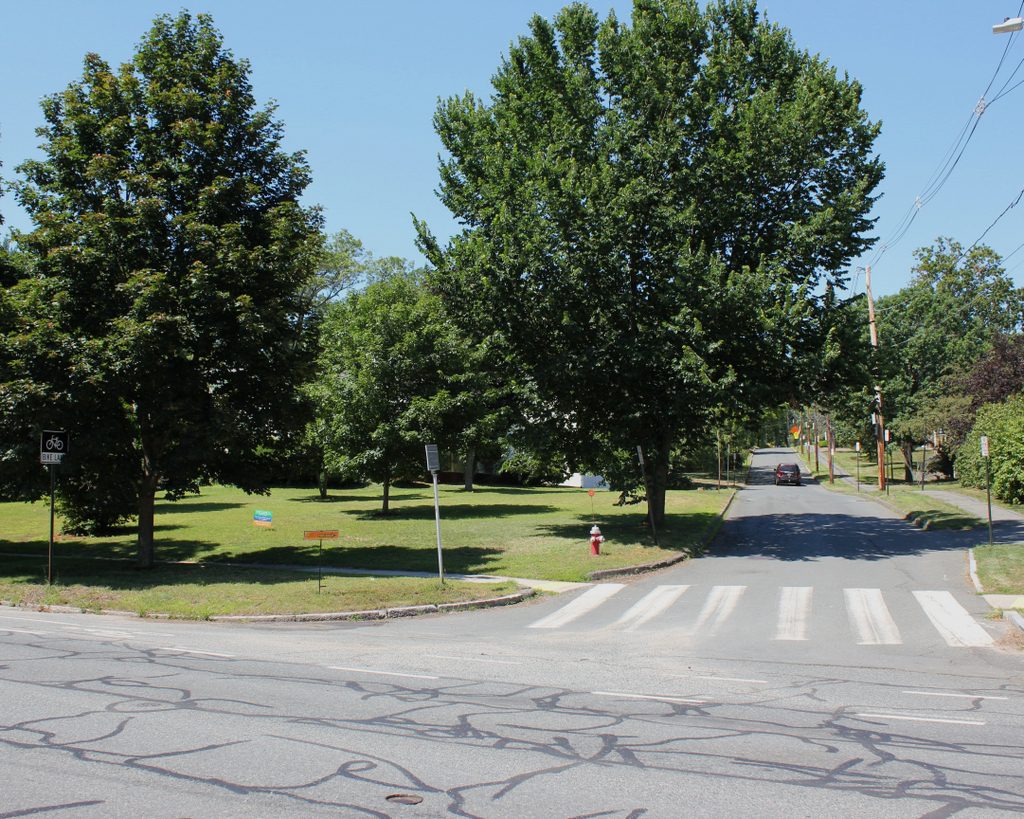 By the mid 19th century, this area around Round Hill had become home to some of Northampton's leading residents, including attorney Charles P. Huntington, who built the house on the left side of the photo in 1841. Born in 1802 in Middletown, Connecticut, Huntington later moved with his family to Hadley, where he attended Hopkins Academy before entering Harvard, where he graduated in 1822. He later attended the short-lived Northampton Law School, and while in Northampton he married his wife Helen Mills in 1827. He practiced law in North Adams for some time, but later returned to Northampton. From 1842 to 1850, he also served as the first president of the Northampton Institution for Savings, and in 1855 he became the namesake of the town of Huntington, Massachusetts. Formerly named Norwich, the town was renamed in his honor after he helped to resolve a boundary issue with surrounding towns.
Charles and Helen had seven children together before her death in 1844 at the age of 37. The oldest of their children, Helen Frances "Fanny" Huntington, later married Josiah Philips Quincy of Boston. Both his father and his grandfather had been mayors of Boston, and Josiah and Helen's oldest son, Josiah Quincy VI, would also become mayor of Boston, serving from 1896 to 1900. In the meantime, Charles Huntington remarried in 1847 to Ellen Greenough, the younger sister of noted sculptor Horatio Greenough. Together, Charles and Ellen had two more children, who grew up here in this house. In 1855, Charles was appointed as a judge to the Suffolk County Superior Court in Boston, and soon after the family left Northampton and moved to Boston, where he lived until his death in 1868.
This house was then sold to William Silsbee, the pastor of the Unitarian Church. He lived here for several years, but in 1864 he sold it to Merritt Clark, a tailor who owned a shop on Main Street for many years. Originally from Milford, Connecticut, he came to Northampton as a teenager in 1846 and apprenticed in the tailor shop of Charles Smith & Co. He later purchased the business, and by the 1870 census he had become a wealthy man, with a listed net worth of $50,000, or nearly $1 million today. He and his wife Sarah never had any children, but his nephew Orman Clark was his business partner for many years, followed by Orman's son Howard after Orman's death in 1891. Merritt remained a part of the company for the rest of his life, and he continued to live here in this house until his death in 1919, when he was about 90 years old.
The house remained in the family for several more decades, with Merritt's niece Mary Clark living here until her death in 1939. It was later acquired by the Mary A. Burnham School in 1965, but three years later the school merged with the Stoneleigh-Prospect Hill School in Greenfield. The house has since reverted to private ownership, and it is still standing today, although it is completely hidden from view by the trees in the 2017 scene. Overall, besides the trees, very little has changed with this view in the 125 years since the first photo was taken. Many of the historic 19th century homes around Round Hill are still standing today, although the Luther Bodman House – just out of view on the right side of the first photo – has since been demolished and replaced with Smith College's Helen Hills Hills Chapel.