The commercial block at 176 Main Street in the Springfield neighborhood of Indian Orchard, around 1938-1939. Image courtesy of the Springfield Preservation Trust.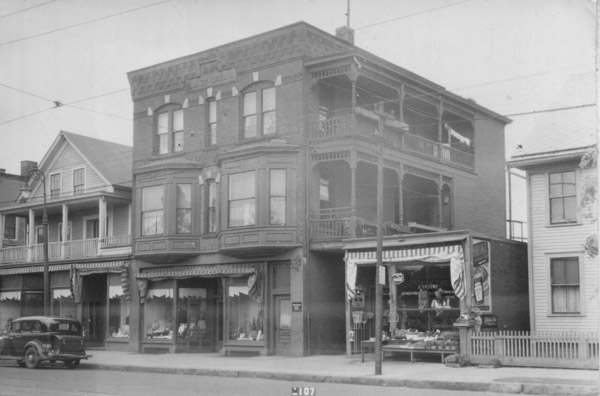 The scene in 2017: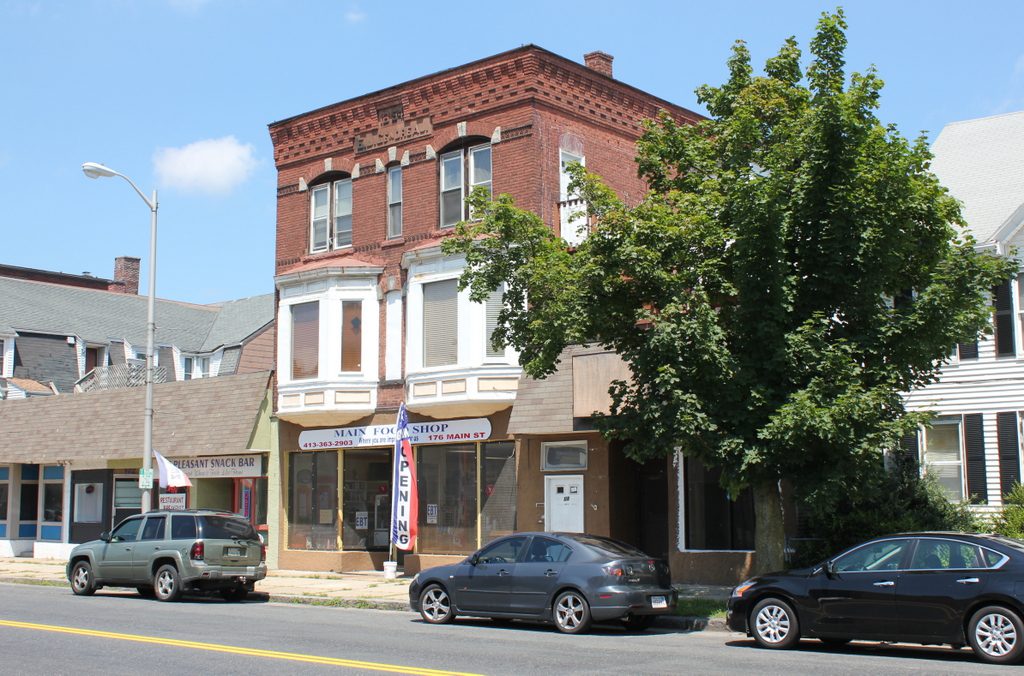 This three-story, mixed-use building was built around 1894, and was originally owned by Edmund J. Gendreau, whose name still appears at the top of the photo. Born in Quebec, Gendreau came to the United States in 1873 when he was about 20 years old, and he subsequently settled here in Indian Orchard, which had a large French-Canadian population at the time. The 1880 city directory shows him working as a store clerk, but by the end of the decade he had gone into business for himself and was running a grocery store on Main Street.
Gendreau moved his store to the ground floor of this building once it was completed, and the 1895 directory shows that he sold dry goods, groceries, boots, and shoes here. The upper two floors had a total of four apartments, and Gendreau lived in one of them with his wife Alida and several of their children. During the 1910 census, for example, they were living here with their son Joseph and two daughters, Anna and Corrine, plus Joseph's wife Albina and Corrine's husband, Louis Jacques. At the time, Joseph was working as a clerk in a grocery store and Louis was a painter, while Edmund appears to have changed careers and opened a real estate office here in the building.
Edmund lived here in this building until his death in 1930, and the property was still owned by his family when the first photo was taken nearly a decade later. The 1940 census shows Joseph and Albina still living here, with their daughter Alice, her husband, Donald Viens, and their four children. Joseph's brother Wilfred also lived in an apartment here in this building, along with his wife Louise, their daughter and son-in-law, and three grandchildren. Since then, the building has not significantly changed, aside from the loss of the porches on the right side, and it remains a well-preserved example of a late 19th century commercial block. Many of the surrounding buildings are also still standing, except for the one to the left of it, which was evidently either demolished or trimmed down to one story.