The Francis Goodhue House on Main Street in Brattleboro, probably around 1870-1885. Image from Picturesque Brattleboro (1894).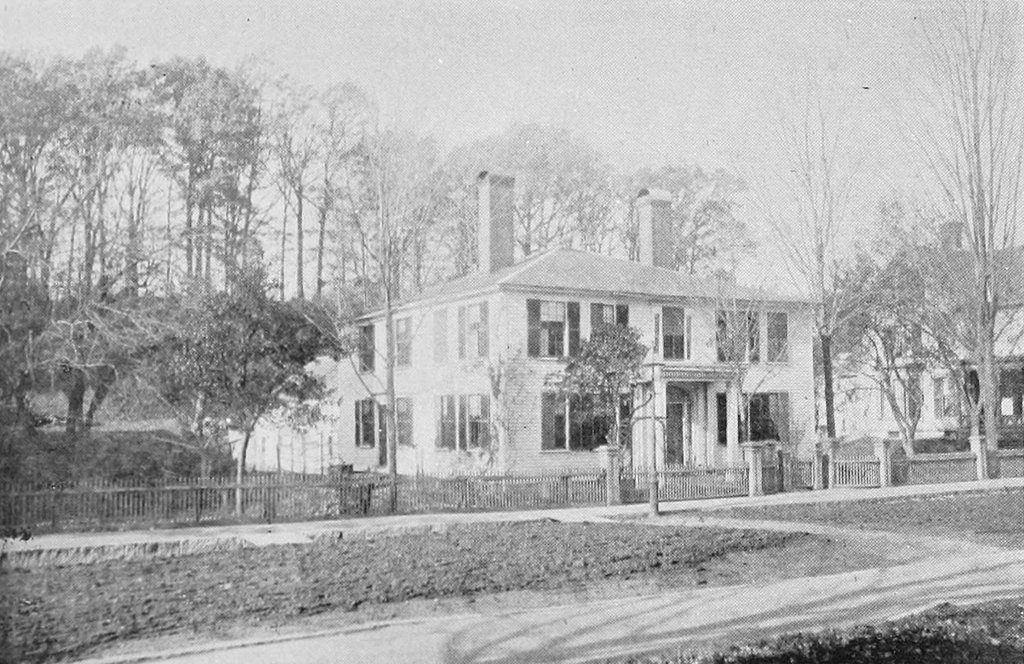 The scene in 2017: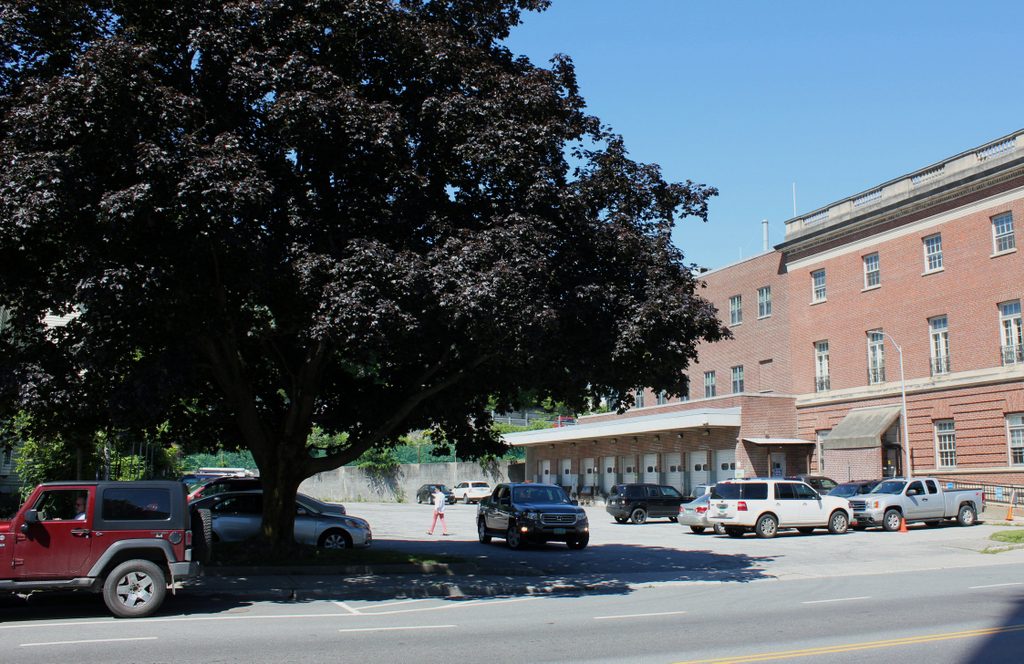 This house was built in 1815, and was originally the home of Francis Goodhue, a businessman who had previously lived in Swanzey, New Hampshire, and Weathersfield, Vermont. In 1811, when he was about 43 years old, Goodhue moved to Brattleboro, which at the time was still a small town of fewer than 2,000 residents. He built this house a few years later, and went on to become a prominent local figure. He had a wide variety of business ventures, and was also involved in a proposed canal that, if constructed, would have linked Brattleboro New Haven by way of Northampton, Massachusetts.
An 1880 biographical sketch in Brattleboro, Windham County, Vermont describes how Goodhue "carried on a wool-carding, cloth-dressing, saw and grain mill, cotton spinning, distilling, and a large store of such goods as were sold from country stores at that time. He was also erecting a building of some kind every year, and largely, at the same time, engaged in farming, yet his note was never worth less than 100 cents on the dollar."
Francis Goodhue lived here with his wife Mary and their three children: Joseph, Lucy, and Wells. In 1834, Francis gave this house to Joseph, and he and Mary moved to a house across the street, where they lived until Francis's death in 1839 and Mary's death a decade later. In the meantime, Joseph lived here in the old family home with his wife Sarah until his death in 1862. Sarah outlived Joseph by more than two decades, and was presumably still residing here until she died in 1883, at the age of 87.
The first photo was probably taken during Sarah's lifetime or soon after her death, because around 1885 the house was demolished by businessman and philanthropist George Jones Brooks, in order to build a public library on the site. Brooks had grown up in the Brattleboro area, but made his fortune as a merchant in San Francisco during the Gold Rush. Later returning to Brattleboro, he built the landmark Brooks House hotel in 1871, and in 1885 began work on a permanent home for the town's public library. Brooks was the older brother of Mary E. Goodhue, whose husband was Francis J. Goodhue, the son of Joseph and Sarah, so Brooks likely acquired the property through this connection.
The George J. Brooks Library was dedicated in January 1887, only a few weeks after its benefactor's sudden death, and it was used as the Brattleboro public library for about 80 years. However, by the 1960s the building was overcrowded, and the neighboring post office needed the room to expand. As a result, in 1967 the current library building was completed just to the north of here, and the old building was demolished in 1971. Today, there are no surviving traces of either the Goodhue House or the library that had replaced it, and the site is now a parking lot for the post office, which can be seen on the right side of the photo.