The house at the corner of Moody Street and Highland Avenue in Northfield, around 1910. Image from All About Northfield (1910).
The house in 2017: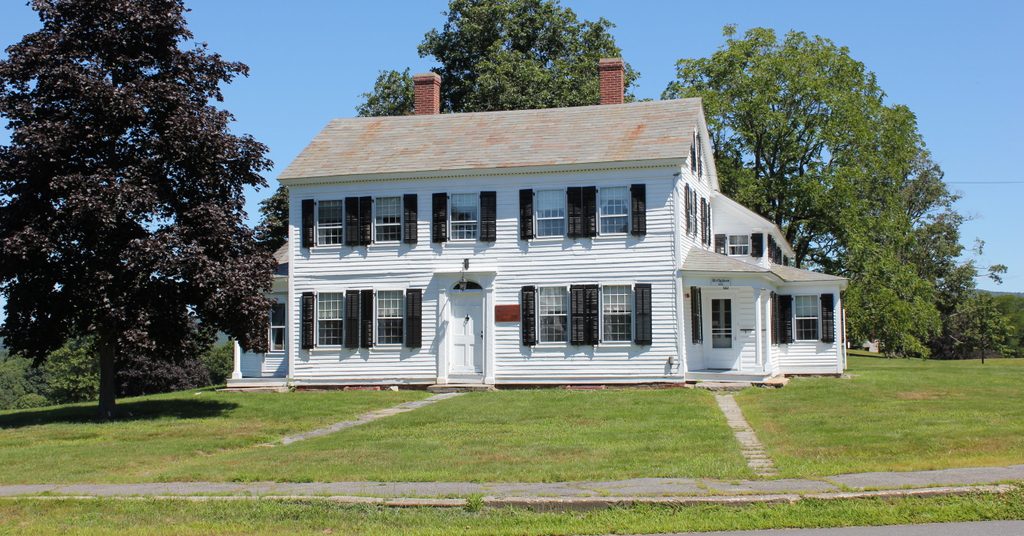 During the late 19th century, Northfield underwent a transformation, shifting from a small New England farming community and into an important educational and religious center. This came as a result of the efforts of Dwight L. Moody, a Northfield native who went on to become a world-famous evangelist in the 1870s. Returning to his hometown, he established the Northfield Seminary for Young Ladies in 1879, and the Mount Hermon School for Boys in nearby Gill in 1881, and for many years he held major religious conferences here on the Northfield campus. In the process, Northfield became a summer colony for Christians from around the country, who came for the various conventions that were held each year.
Despite his influence later in life, Moody came from a humble background. He was born here in this house on February 5, 1837, and was the sixth child of Edwin and Betsey Moody. The house itself was built sometime before 1827 by Simeon Moody, a cousin and brother-in-law of Edwin, and was purchased by Edwin in 1828, the same year that he married Betsey. Edwin, like his father Isaiah Moody, was a brick mason, and he also ran a small farm here at his house. However, the family struggled financially, and the situation only got worse after Edwin's sudden death in 1841, at the age of 40.
Betsey was left to raise seven children, the oldest of whom was 13, and a month after his death she gave birth to twins. Edwin had been heavily in debt, and after the funeral one of his creditors took most of the furniture in the house, along with a horse and buggy and livestock. However, Betsey was able to retain the house itself, and the four oldest boys were able to earn money by working at nearby farms. She also received assistance from Oliver C. Everett, the pastor of the Unitarian First Parish Church, and in 1843 she became a member of his church.
Dwight was just four when his father died, and was unable to join his four older brothers in supporting the family. He did attend school, although not always consistently, and in later years a close friend of his estimated that Moody only had the equivalent of a fifth grade education. Moody lived here in this house until 1854, when he was 17. That year, he moved to Boston, where he found a job with his uncle, Samuel Holton, who ran a boot and shoe store on Court Street. However, Holton did place one condition on Moody's employment, requiring him to attend a church. Growing up in Northfield, Moody had never been particularly interested in religion, and had dreaded spending his Sundays at the Unitarian church. However, he complied with his uncle's demand, and began attending the Mount Vernon Congregational Church.
It was through the church's Sunday school that Moody ultimately converted to evangelical Christianity, beginning what would be a long career in the ministry. As a conscientious objector during the Civil War, Moody did not enlist to fight, but he did serve with the United States Christian Commission, and made many trips to the front to provide support for Union soldiers. After the war, he started a church in Chicago, and was present when most of the city – including his home and his church – was destroyed by the Great Chicago Fire of 1871. He went overseas in 1872, where he spent the next few years holding revival meetings across Great Britain, often drawing crowds of thousands of people.
Moody's tour of Britain helped to establish him as a major evangelist and an internationally-renowned figure. Upon his return to America, Moody came back to Northfield, purchasing a house just down the hill from his birthplace, where his mother and several of his siblings were still living at the time. Then, in 1879, he opened the Northfield Seminary for Young Ladies. The school was originally located in his new house, but over the next few years it expanded to include multiple buildings on a sprawling campus just to the north of his birthplace and to the northeast of his house. The Seminary was followed two years later by the Mount Hermon School for Boys in the neighboring town of Gill, and these two schools would eventually merge to form the present-day Northfield Mount Hermon School.
In the meantime, Betsey Moody continued to live here in this house until her death in 1896, nearly 70 years after she moved in to the house, and more than 50 years after her husband's untimely death. At some point during the 19th century, the house had been divided into two units, with Betsey living with her son Edwin, Jr. on the left side, and her son George on the right side. Edwin never married, but George had a large family, and lived in his half of the house with his wife Harriet and their eight children. During this time, he expanded his half of the house to accommodate his growing family, adding a porch on the right side and a wing on the rear of the house.
Dwight L. Moody outlived his mother by just three years, and his brothers George and Edwin died in 1905 and 1907, respectively. The house would remain in the family until it was sold in 1921 to Moody's brother-in-law, the publisher Fleming Revell. He converted the house into a faculty retreat, and subsequently gave it to the Northfield School. It was later used as a museum as well, and it remained a part of the Northfield campus throughout the rest of the 20th century. In 2005, the Northfield Mount Hermon School closed the Northfield campus, consolidating their operations at Mount Hermon, and later sold most of the property. However, the school still retains ownership of this house, which has not seen significant changes in its exterior appearance in more than a century since the first photo was taken.