Looking north on Oak Street from the corner of Hampshire Street in Holyoke, around 1891. Image from Holyoke Illustrated (1891).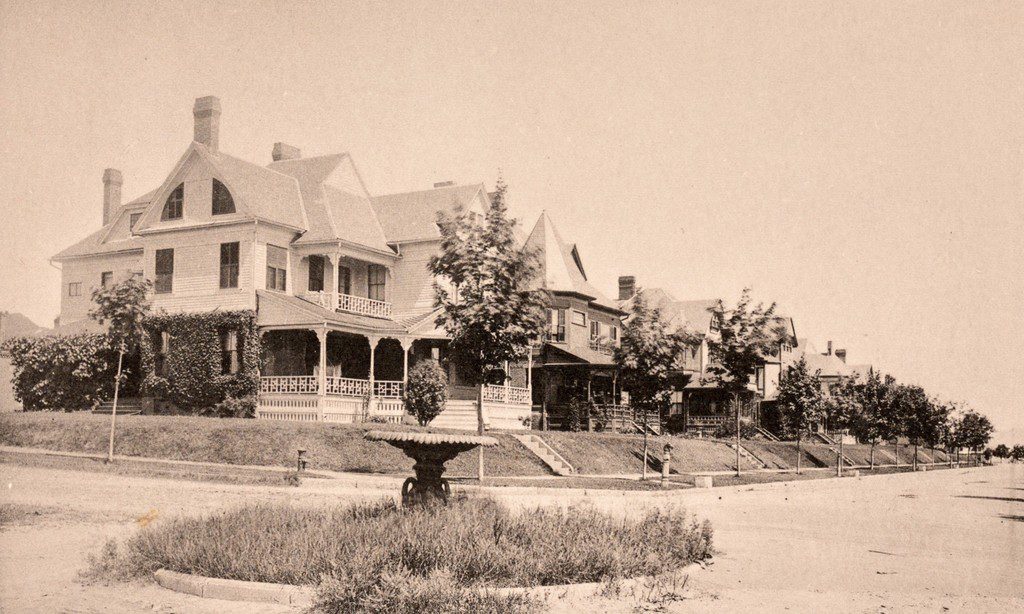 The scene in 2017: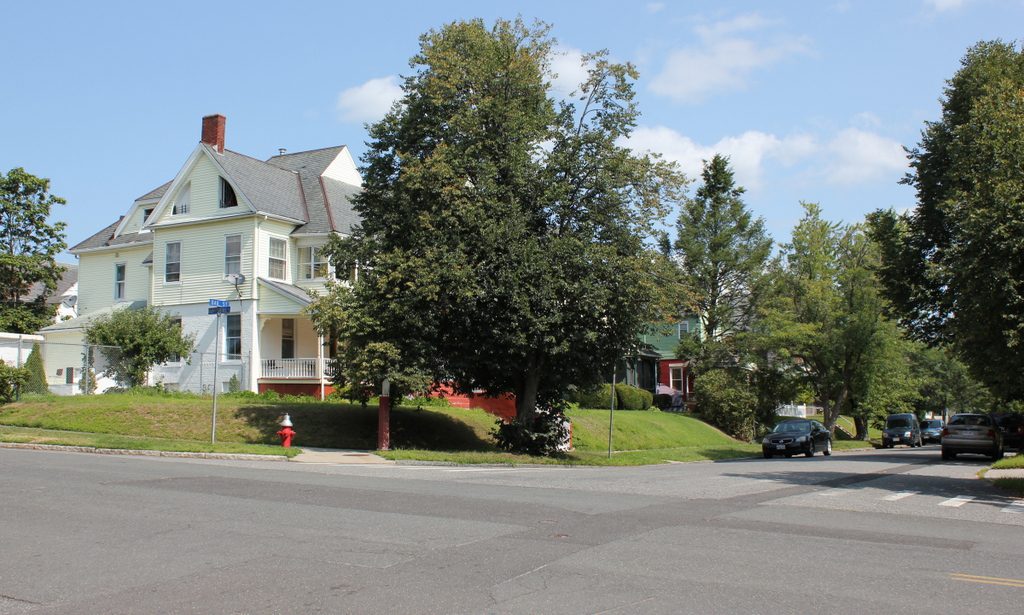 This section of Oak Street, between Hampshire and Cabot Streets, was developed in the mid-1880s by contractor Leslie B. White. It was known as Fairmount Square, and this block included six homes on each side of the street. Each one had a brick exterior on the first floor, with wood on the upper floors, and all had similar Queen Anne-style architecture, although no two homes were identical. The houses on the west side, shown here in this scene, were at a higher elevation than the street, and had sloping yards with steps leading to the front door. Driveways are conspicuously missing from the scene, but a rear alley provided access to the garages on the properties.
The first photo was taken only a few years after the development was completed, and shows the street lined with newly-planted trees. At the time, Holyoke was at its peak of prosperity as an industrial center, and these houses attracted a variety of middle class residents. The house on the far left, at 253 Oak Street, was originally the home of brickmaker George W. Richards, and he lived here with his wife Helen and their theee children. Just to the right, 251 Oak Street was the home of Charles E. Watson, who worked as a bookkeeper for the National Blank Book Company, although by the early 1890s it was the home of attorney Richard D. Kilduff. Further to the right, barely visible in the first photo, 249 Oak Street was the home of H. Dwight Bradburn, a manager at the Nonotuck Paper Company.
Today, more than 125 years after the first photo was taken, all of the houses on this block of Oak Street are still standing. However, most have undergone significant exterior changes over the years, particularly the addition of artificial siding. Only a few houses on either side of the street still retain their original Victorian-era details, and the name Fairmount Square has long since disappeared from use. Overall, though, the block still survives as one of Holyoke's upscale 19th century residential developments, and provides a hint of the economic prosperity that the city experienced during this time.