The house at 67 Fairfield Avenue in Holyoke, around 1891. Image from Holyoke Illustrated (1891).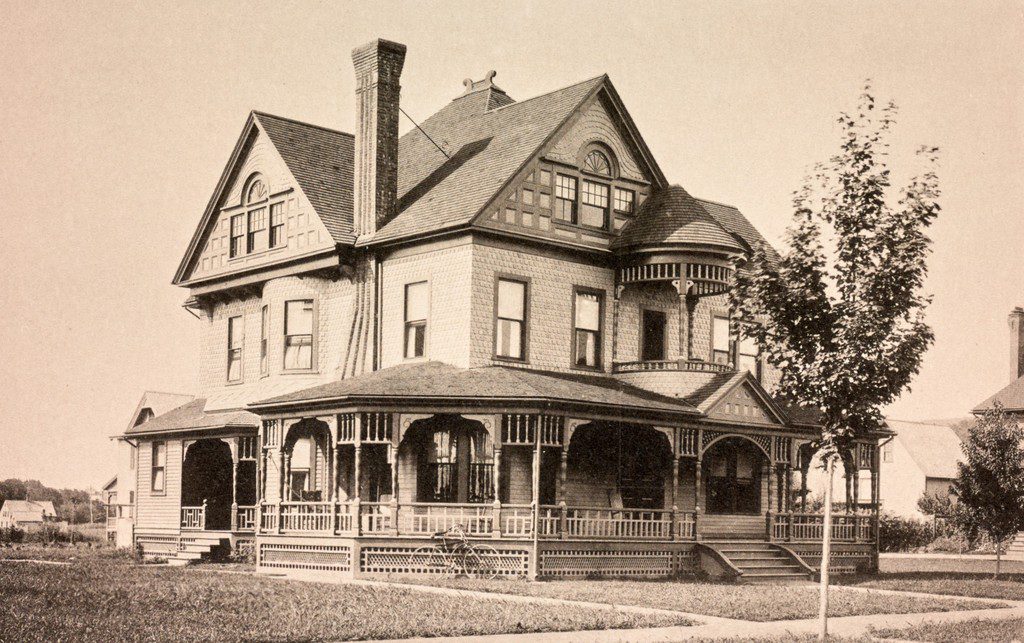 The house in 2017: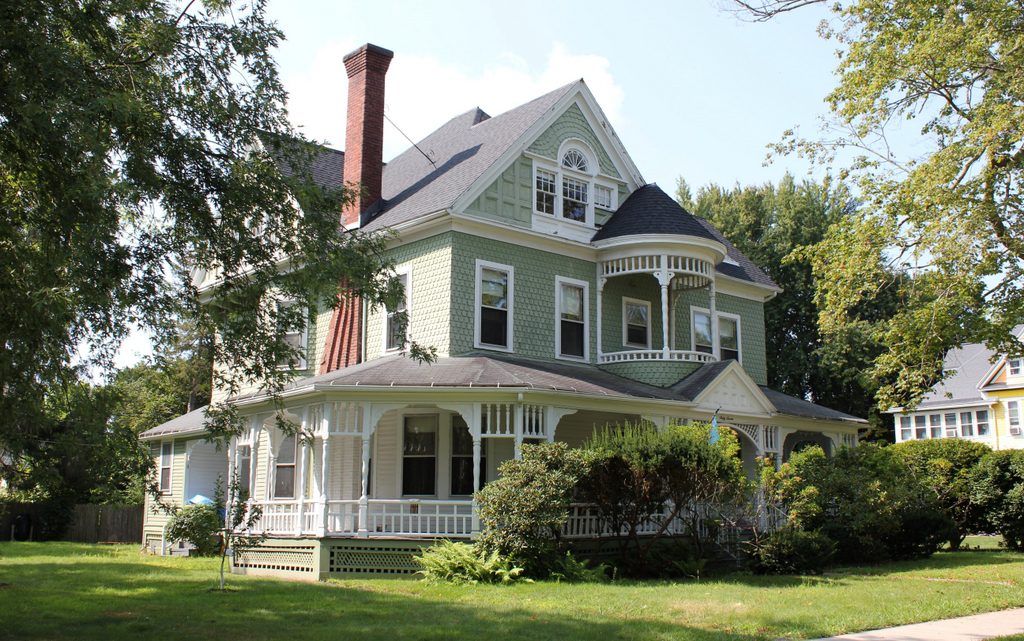 This house was built in 1891 in the Highlands neighborhood of Holyoke. Located to the northwest of downtown, this area was developed in the late 19th century after streetcar lines made it easy to commute from here. Fairfield Avenue was one of the centerpieces of the neighborhood, with its landscaped median and elegant homes, and it attracted a variety of upper middle class residents. The original owner of this house was William H. Wilson, who worked as a foreman at the Hampden Glazed Paper and Card Company. The house was designed by prominent local architect George P. B. Alderman, and featured a Queen Anne-style design that was fashionable for houses of this period.
William Wilson only lived in this house for a few years, and by 1897 he had relocated to a house nearby on Lincoln Street. From around 1897 to 1899, this house on Fairfield Avenue was the home of Charles E. Walden, a publisher whose company produced a variety of trade journals and books relating to the paper industry, including U. S. Paper Maker, New England Stationer and Printer, New England Paper and Pulp Trade, and Walden's ABC Pocket Guide for Paper Makers, Dealers and Stationers. However, by 1900 Walden had left this house moved to New York City.
The next owner of the house was its architect, George P. B. Alderman. Earlier in the 1890s, he had lived two houses away at 63 Fairfield Avenue – which he had also designed – but by 1900 he had purchased this house at 67 Fairfield. He was 37 years old when the 1900 census was taken, and he lived here with his wife Belle, their four children, and a servant. The couple had two other children who had died young, and they would go on to have one more child, who was born in 1901.
Alderman was originally from Connecticut, but came to Holyoke as a teenager and became a carpenter. However, he soon began working for local architect James A. Clough, and in 1885 he went into business for himself. His architectural career coincided with Holyoke's height of prosperity, and in the ensuing years he designed a number of churches, schools, commercial blocks, and houses in the city and throughout the region. He designed many of the homes here on Fairfield Avenue, and some of his other important works in Holyoke included the First Congregational Church (1887 and 1893), the First Methodist Episcopal Church (1889), the former Steiger's building (1899 and 1901), the recently-demolished Mater Dolorosa Church (1901), the William Whiting School (1910), the Strand Theatre (1920), the Masonic Temple (1922), and the Post Office (1933).
The Alderman family lived here in this house until around 1908. By the 1910 census, George and Belle had divorced, and George was was living with his parents in a house nearby on Pearl Street. He later remarried to Hortense Bacon, a young widow who was about 20 years his junior. They had three children together, and by 1924 they were living almost across the street from here, in a house at 52 Fairfield Avenue. It is not clear whether he was the architect of that house, but he and Hortense lived there until his death in 1942, at the age of 80.
In the meantime, his former home here at 67 Fairfield Avenue had several other owners in the subsequent decades. By 1911, it was the home of Dr. Arthur B. Wetherell, a physician who lived here with his wife Erminie until his death in 1927. The next owner was James J. Dowd, who was living here by 1930 along with his wife Clare and their four young children. Dowd was an insurance executive, and he also served as the city's postmaster from 1933 to 1949, coincidentally working in the new post office building that Alderman had designed.
James Dowd lived here in this house until his death in 1960, and Clare sold the property in 1967. However, the exterior of the house has hardly changed since the first photo was taken more than 125 years ago, and it still retains its Queen Anne-style details. It is one of many well-preserved homes that still stand here on Fairfield Avenue, and today the street comprises the Fairfield Avenue Local Historic District, which was established in 2007 as the city's first local historic district.