The Hotel Monat, at the corner of Main and Mosher Streets in Holyoke, around 1910-1915. Image from Illustrated & Descriptive Holyoke Massachusetts.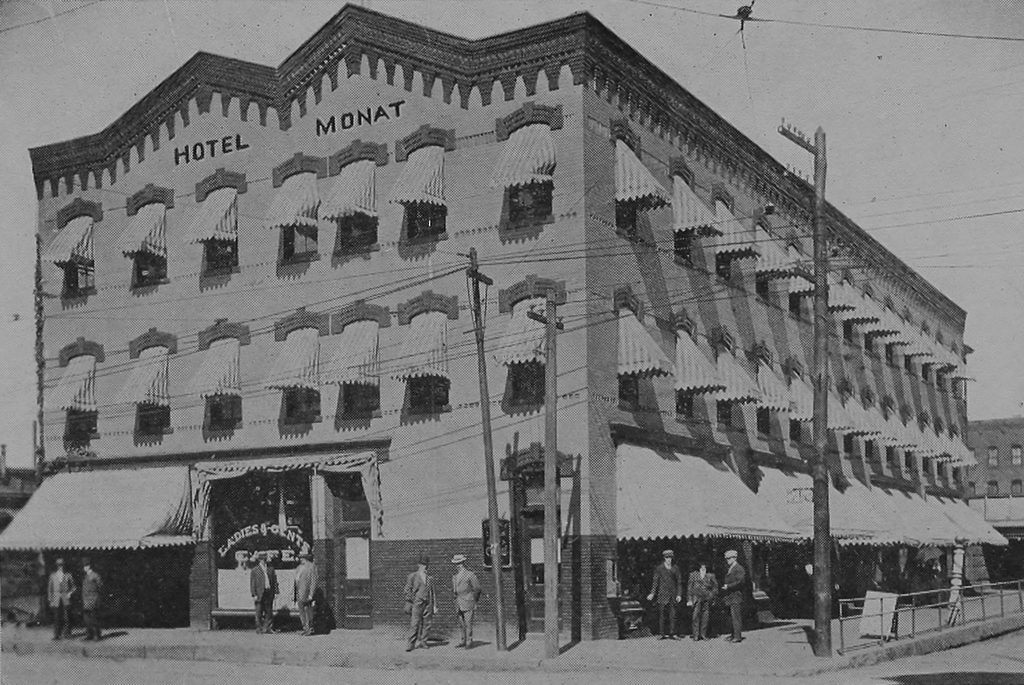 The scene in 2017: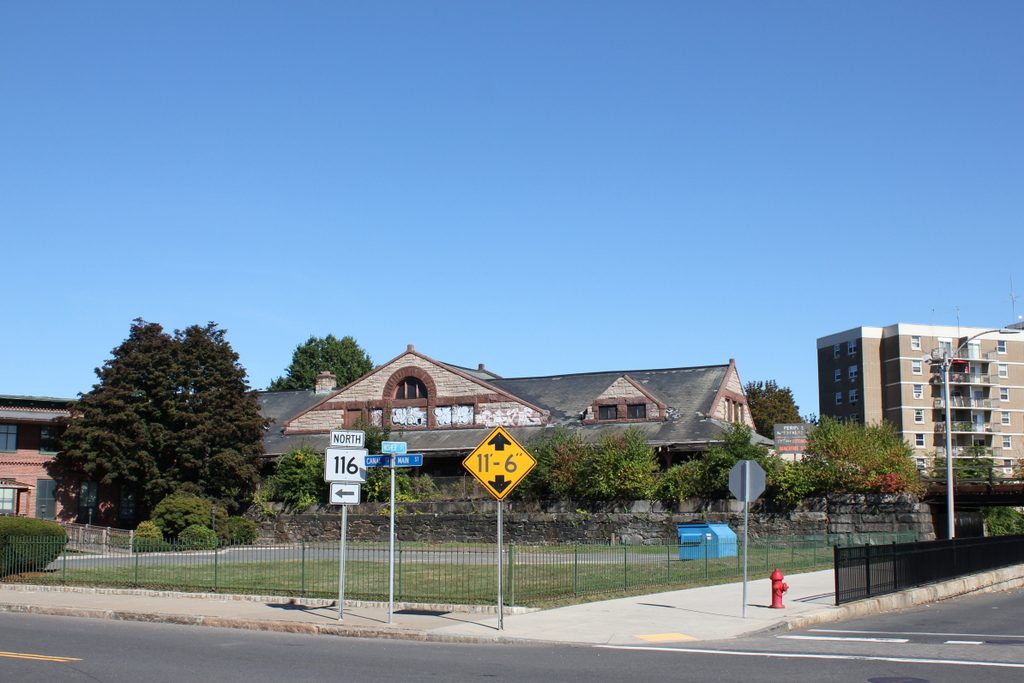 This hotel was originally built in the mid-1880s as the Norris House. It was much smaller at the time, with only eight rooms, but the building was either significantly expanded or completely rebuilt around the turn of the 20th century, and by the time the first photo was taken it had 46 rooms. In 1906, the hotel was purchased by Henry Monat, a French-Canadian immigrant who renamed it the Hotel Monat.
It occupied a convenient location directly across the tracks from the railroad station, which is seen in the present-day view. The hotel was evidently used by both short-term guests and long-term residents, with the 1910 census showing 21 boarders living in the hotel along with Henry Monat himself. Nearly all of them were either single or widowed, and all but three were men. At least three of the residents worked in the nearby paper mills, three more worked in a livery stable, and other occupations included a waiter, a baker, and a policeman.
The first photo was taken sometime around 1910-1915, and was published in the book Illustrated & Descriptive Holyoke, Massachusetts, which provides the following description of the hotel:
In a city like Holyoke, visitors look for the highest degree of comfort in their hotel accommodations and there is no place in the city where the traveller is made to feel more at home than at the Hotel Monat, of which Henry N. Monat is the genial proprietor. It is a house of moderate size and is equipped with a large proportion of the modern conveniences. there are forty-six rooms all open to daylight and sunshine, the hotel being nicely located on a corner. These rooms are all well heated and ventilated and furnished in a comfortable and homelike manner. The house is conducted on both the European and American plan and at popular rates. There is also a cafe connected with the hotel where the finest brands of liquid refreshments are served at all times. With its fine location and its modern equipment, the service is up-to-date and efficient in every respect.
The Hotel Monat building stood here throughout much of the 20th century, but it was ultimately destroyed by a fire in 1978. Today, its site is one of many empty building lots along this section of Main Street, and the property is used only as parking for the adjacent Holyoke Gas & Electric building. In the background, the Henry H. Richardson-designed railroad station is still standing, although it has been vacant for many years and its future is uncertain.