The east side of Main Street, looking toward the corner of Court Street in Springfield, around 1938-1939. Image courtesy of the Springfield Preservation Trust.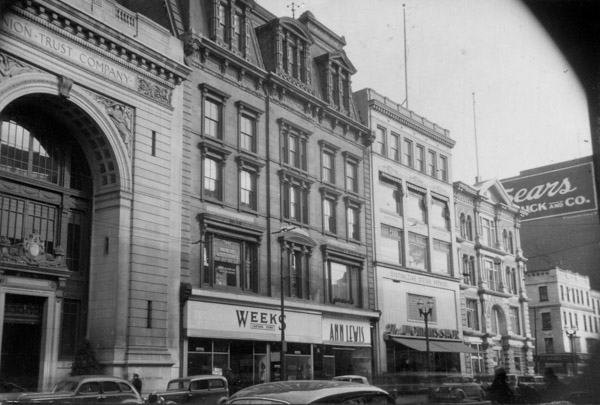 The scene in 2017: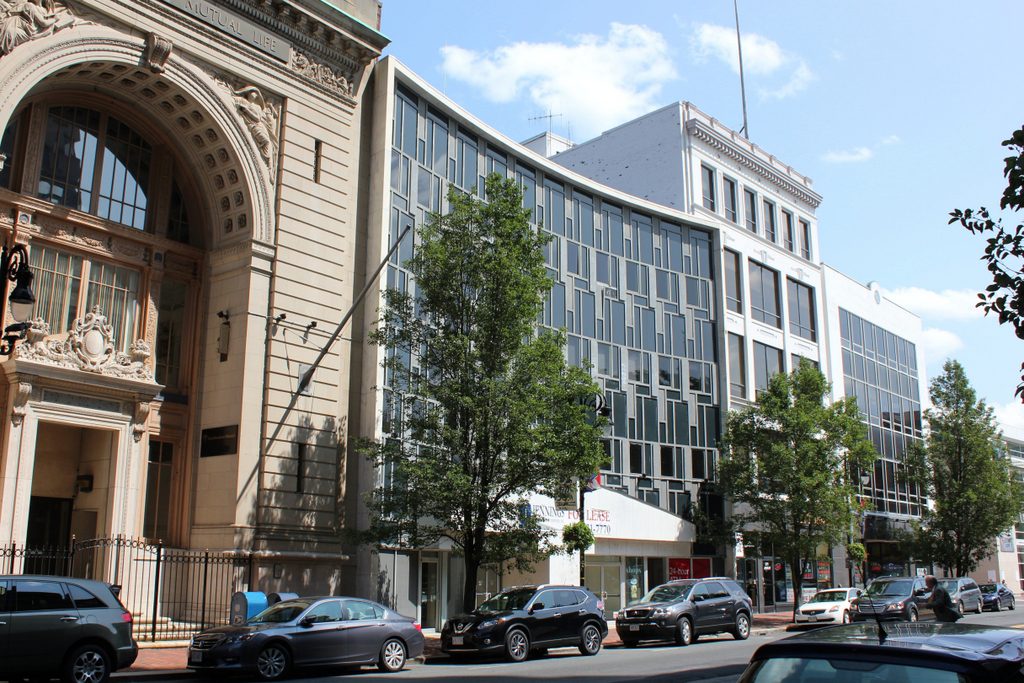 The first photo shows a group of four buildings along the east side of Main Street, representing a wide range of late 19th and early 20th century architectural styles. On the left side is the ornate Beaux Arts-style Union Trust Company building, which was completed in 1907. It was designed by the noted architectural firm of prominent Boston-based architectural firm of Peabody & Stearns, and housed the Union Trust Company. This company was formed by the 1906 merger of three city banks, and it still occupied the building when the first photo was taken in the late 1930s.
Just to the right of the Union Trust Company, in the center of the first photo, is a five-story Second Empire-style building that once housed the Massachusetts Mutual Life Insurance Company. The company was originally located in the Foot Block, at the corner of Main and State Streets, from 1851 to 1868, before moving into this building. However, its offices were only here for about five years before the building was gutted by a fire on February 5, 1873, although it was soon reconstructed based on plans by architect George Hathorne. The company would remain here until 1908, when a new, larger office building was completed a block south of here, where the Foot Block had previously stood.
The third building to the right was probably built sometime in the early 20th century, based on its architectural style. By the time the first photo was taken, the ground floor of this five-story building housed the Woman's Shop, which offered "Distinctive Outer Apparel," according to the sign above the entrance. To the right of it, at the corner of East Court Street (now Bruce Landon Way), is the Springfield Five Cents Savings Bank. It was built in 1876, and featured an ornate Main Street facade, including cast iron columns. A better view of the exterior can be seen in an earlier post, which shows the view of this scene from the opposite direction.
Today, almost 80 years after the first photo was taken, most of the buildings are still standing. The former Woman's Shop building has remained relatively unaltered except for the exterior of the second floor, and the Union Trust Company building is now listed on the National Register of Historic Places because of its architectural significance. Even the Five Cents Savings Bank building is still there in the distance, although it is hard to tell from this angle. The Main Street facade was rebuilt in the mid-20th century, but the building itself remains standing, with the original southern facade visible along Bruce Landon Way. Overall, the only building from the first photo that is completely gone is the former MassMutual headquarters, which was demolished sometime around the 1950s and replaced with the current Modernist building.