Looking north on Spring Street from the corner of Church Street in Newport, around 1887. Image courtesy of the Providence Public Library.
The scene in 2017: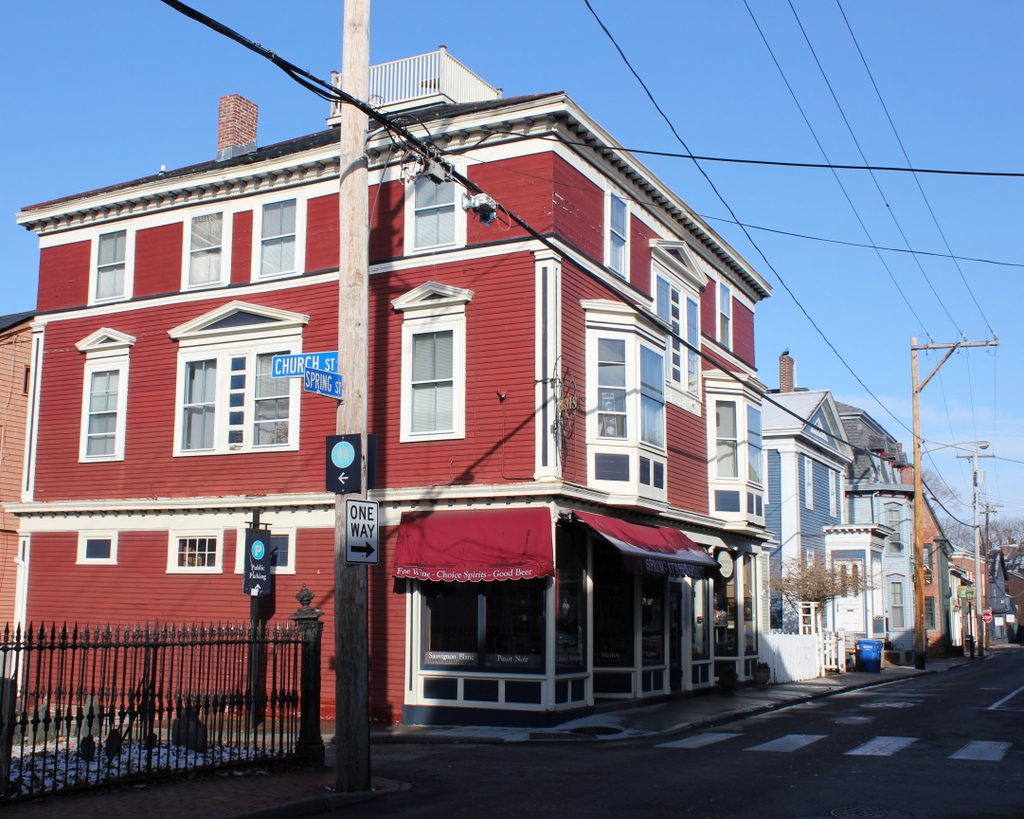 These photos were taken directly across Spring Street from Trinity Church, and show the west side of the street, on the block between Church and Mary Streets. A small portion of the churchyard is visible on the far left side of the scene, with an assortment of commercial and residential buildings beyond it. Most of the buildings from the first photo are still standing today, with remarkably few exterior changes, but the one significant difference between the two photos is the building in the foreground, at the corner of Church Street. The first photo shows a colonial-era, gambrel-roofed house that was probably built in the early or mid-18th century. It was probably constructed as a house, but by the late 19th century it included a storefront on the Spring Street facade, which was occupied by the L. Schaefer shoe repair shop. However, the building was demolished sometime around the turn of the 20th century, when the present-day building was constructed on the site.
Further down the street, most of the buildings are still standing. Starting closest to the foreground is the blue and white John Preston Mann House, which was built around 1827. Next to it, with the mansard roof and two-story bay window, is the William B. Sherman House, which was built around the 1860s and is now the Outlook Inn. Further in the distance, barely visible in both photos, is the gambrel-roofed Samuel Barker House. This elegant house was built around 1714, and stands as probably the oldest recognizable building in this scene, predating most of its neighbors by more than a century. Today, all of these buildings, including the turn-of-the-century corner building, are now contributing properties in the Newport Historic District, which was designated as a National Historic Landmark in 1968.