The house at 29 Buckingham Place in Springfield, around 1938-1939. Image courtesy of the Springfield Preservation Trust.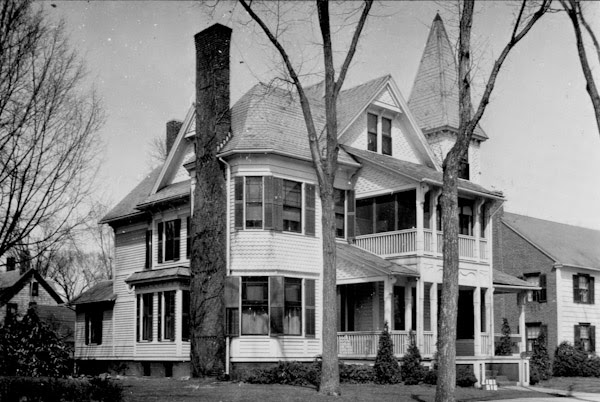 The house in 2018: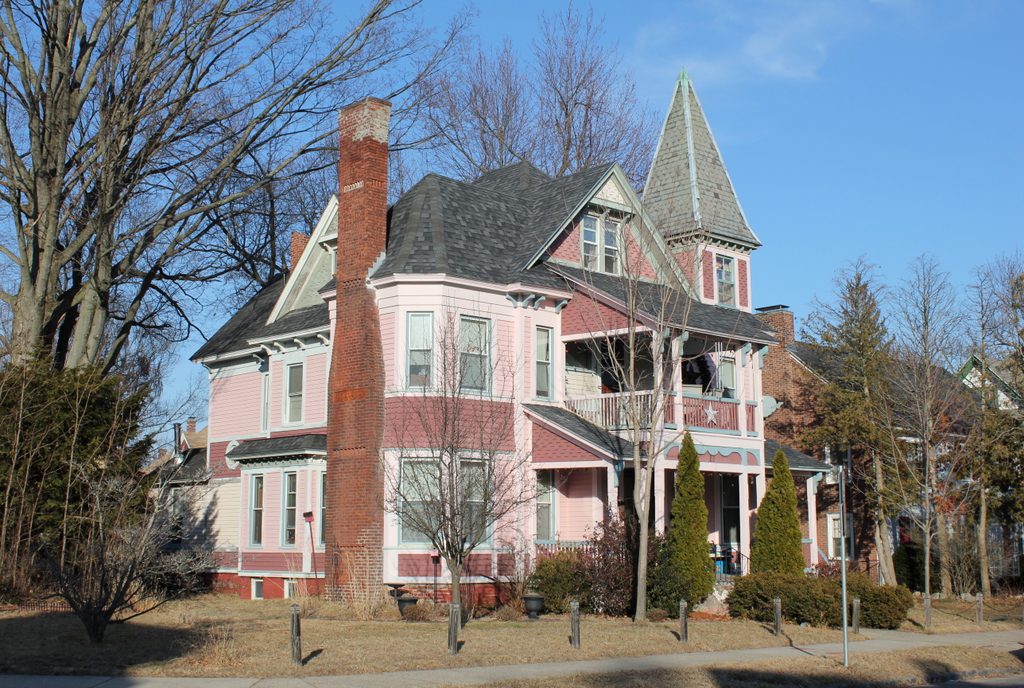 This ornate Queen Anne-style house was built in 1884, and was originally the home of banker Andrew L. Fennessy. At the time, he was cashier for J. G. Mackintosh & Co., but in 1886 he started the banking firm of Fennessy, Armstrong & Co. This business evidently prospered, because within just a few years he was building a new, much larger home on Maple Street. The house was completed in 1888, but his stay there was also short-lived, because in 1891 he moved to Boston and sold his Maple Street residence to paper manufacturer and philanthropist Nathan Bill.
In the meantime, his former home here on Buckingham Place was purchased by Edward H. Phelps, the treasurer and editor of the Phelps Publishing Company. This Springfield-based company had its origins in 1878, when Phelps left his position with the Springfield Union newspaper in order to purchase the New England Homestead. Phelps revived this moribund agricultural journal, and subsequently expanded his company's holdings to include Farm and Home, American Agriculturalist, and the Orange Judd Farmer. He remained with the company until 1890, when, shortly after purchasing this house, he decided to retire from publishing because of poor health. However, his ailments did not prevent him from starting the Phelps Music Company, which he ran until his death in 1897 at the age of 55.
Following his death, this house remained in the Phelps family for about 20 years. The 1910 census shows his widow, Harriet, living here with their son Walter, his wife Flora, and their daughters Harriet and Dorothy. Walter carried on the family tradition by publishing the Springfield Weekly Guide, and he lived here with his mother until her death in 1914. By 1917, though, he and Flora had moved to a newly-built house on Trinity Terrace in the Forest Park neighborhood, and this house on Buckingham Place was subsequently sold.
The next owner of this house was G. Fred Estey, the treasurer of the H. W. Carter Paper Company. A native of New Brunswick, Estey came to the United States as a teenager. He held a variety of jobs in Boston during the late 19th century, eventually working for many years in the accounting department of the Boston Rubber Shoe Company before coming to Springfield in 1908 to work for H. W. Carter Paper. He and his wife Geneva had two children, Helen and Roger, who were born during the family's time in Boston, but Geneva died in 1909, shortly after the move to Springfield. The 1920 census shows Estey living here along with Helen, Roger, his aunt Ester Sutherland, and a servant. They would remain here until the mid-1920s, but by 1926 Estey had moved to a house on Westford Circle.
Subsequent owners of this house included Henry G. Miller,a phonograph salesman who was living here during the 1930 census along with his wife Carrie and their four children. By 1933, though, the house had changed hands again, and was the home of Elwin O. Rowell, an engineer for the Boston & Maine Railroad. He and his wife Dell were still living here when the first photo was taken in the late 1930s, and the 1940 census shows them renting a room to Horace G. Clark, a city police officer.
Today, this house is one of the many fine Victorian-era homes that still stand in Springfield's McKnight neighborhood. At one point during the 20th century, the house was covered in aluminum siding, but this has since been removed and the exterior has been restored to its original appearance. As a result. the present-day view shows very few changes since the first photo was taken some 80 years ago, and the house is now part of the McKnight Historic District, which was added to the National Register of Historic Places in 1976.