The Harriet Beecher Stowe House on Forest Street in Hartford, around 1905. Image courtesy pf the Library of Congress, Detroit Publishing Company Collection.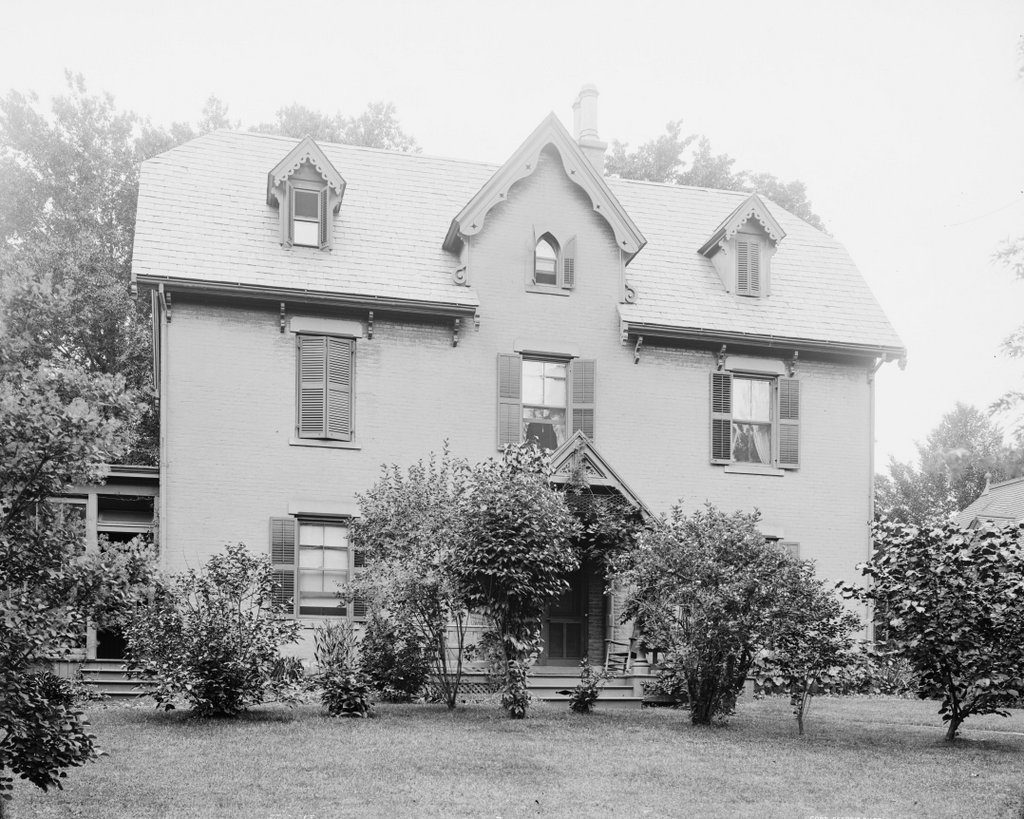 The scene in 2020: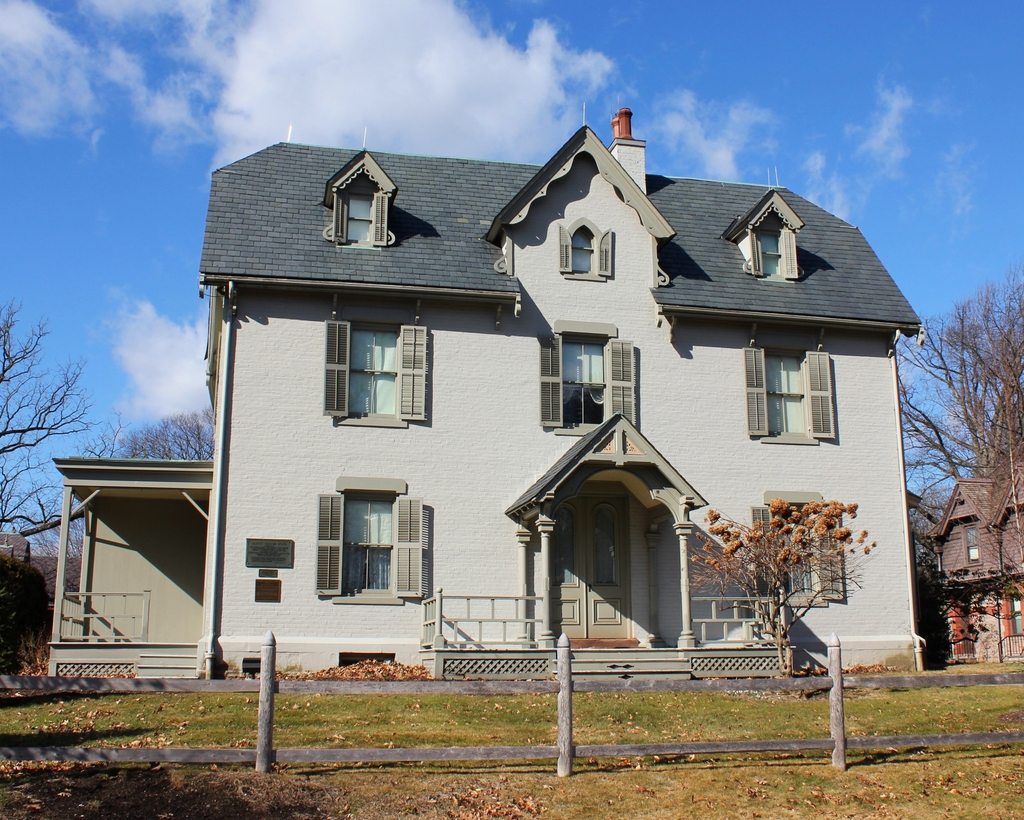 Harriet Beecher Stowe, the author who was made famous by her 1852 anti-slavery novel Uncle Tom's Cabin, was born in 1811 in Litchfield, Connecticut. She grew up in Connecticut and attended the Hartford Female Seminary, but she subsequently moved to Ohio, where she met her husband, Calvin Ellis Stowe, and then to Brunswick, Maine, where she wrote Uncle Tom's Cabin. From there, they moved to Andover, Massachusetts, before finally returning to Connecticut in 1864.
Here in Hartford, the Stowes constructed a Gothic Revival mansion along the banks of the Park River. Known as Oakholm, the house was a dream home for Harriet, and she built it using much of the money that she had earned through the sale of her books. However, it proved too expensive to maintain, and the Stowes ultimately sold the house in 1870. The house was demolished in 1905, and the site of the house is now approximately where Interstate 84 crosses Capitol Avenue.
The Stowes' final house, seen here in these two photos, was constructed in 1871 by Franklin Chamberlin, a lawyer who owned a large tract of land at the corner of Forest Street and Farmington Avenue. The Stowes purchased the house in 1873, and a year later they were joined by Mark Twain, who built a house just around the corner from here on Farmington Avenue. These two famous authors became the leading figures in Hartford's flourishing literary scene, and they remained neighbors until 1891, when Mark Twain and his family moved to Europe.
In the meantime, Harriet Beecher Stowe continued to write while living in this house, although none of her subsequent works could top her first novel, which had sold more copies during the 19th century than any other book except for the Bible. She was also involved in civic organizations such as the Hartford Society for Decorative Art, which she helped to establish in 1877 along with several other notable Hartford women, including Mark Twain's wife Olivia Clemens. The society was later renamed the Hartford Art School, and it is now part of the University of Hartford.
Calvin Stowe died in 1886, and Harriet's health soon began to deteriorate. She evidently suffered from Alzheimer's disease, and displayed erratic behavior such as wandering around the neighborhood, sometimes even entering her neighbors' gardens and homes. She also took to rewriting Uncle Tom's Cabin from memory, unaware that she had already written it. She outlived her husband by a decade, and lived here in this house until her death in 1896, at the age of 85.
Stowe's children subsequently sold the house to Frances Z. Niles, a wealthy heiress whose father, Jonathan S. Niles, had been a prominent foundry owner. She was living in the house when the first photo was taken around 1905, and the 1910 census shows her here along with her niece, Caroline Hansell, and two servants. Neither Frances nor Caroline had ever married, and they lived here until Frances's death in 1922. She left an estate that was valued at over $90,000, or nearly $1.4 million today. The house itself was valued at $17,000, but her single greatest asset was 33 shares of Aetna, valued at over $44,000.
In 1924, nearly 30 years after the Stowe family sold the house, it was purchased by Harriet's niece, Katharine Seymour Day. She moved into the house, and became an outspoken advocate of historic preservation. Perhaps her single most important accomplishment in this field came in the late 1920s, when she spearheaded an effort to rescue the neighboring Mark Twain House from potential demolition. Through her leadership, the Mark Twain Memorial and Library Commission was established, which purchased the house in 1929 and subsequently restored it. Then, in 1940, she purchased the house directly to the right of hers, which had once been owned by Franklin Chamberlin.
Today, very little has changed in this scene. The house is still standing, and it is now the centerpiece of the Harriet Beecher Stowe Center, which offers guided tours of the home. The organization also owns the house on the right, which is now known as the Katharine Seymour Day House. It now houses administrative offices, along with a research library. Although not visible in this scene, the Mark Twain House is also still standing, and it is located directly behind the Stowe House. It is operated by a separate organization, but it is also open to the public for tours. Because of their connections to two of the most important American writers of the 19th century, both of these homes are now listed as National Historic Landmarks, the highest level of recognition on the National Register of Historic Places.