The porch on the south side of Ventfort Hall in Lenox, around 1893. Image courtesy of the Lenox Library Association.
The scene in 2018: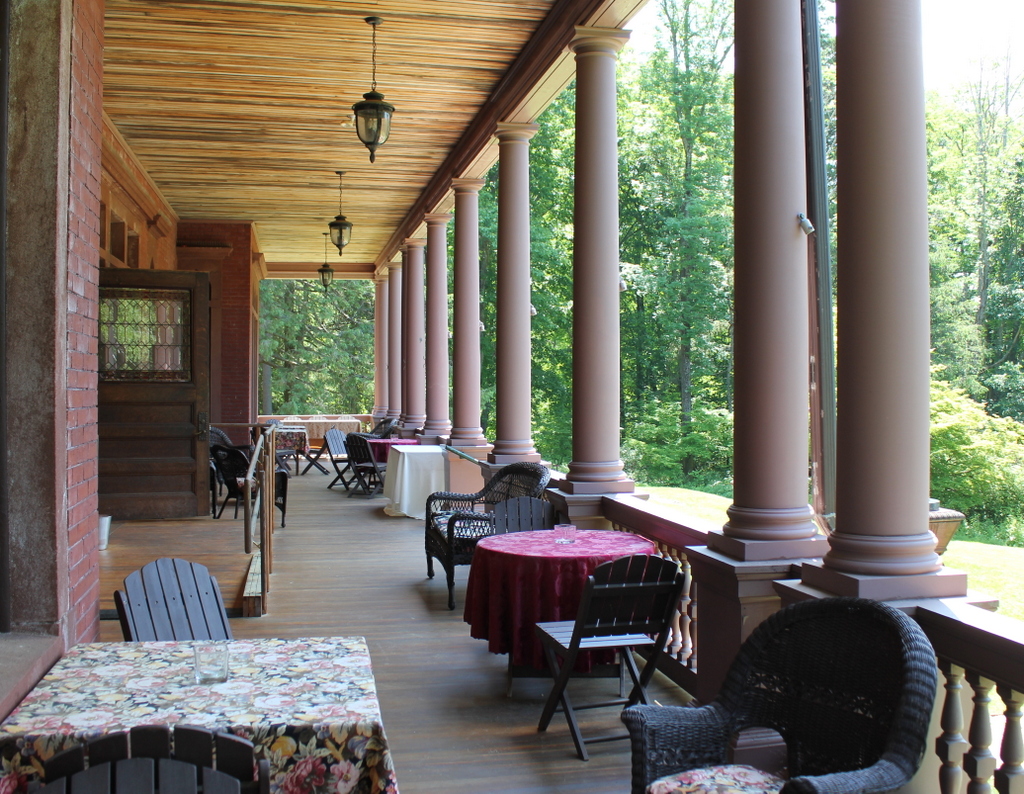 As discussed in an earlier post, Ventfort Hall was built in 1893 as the summer home of George and Sarah Morgan. George was a wealthy New York banker, and his wife Sarah – whose maiden name was also Morgan – was the sister of financier J. P. Morgan. The house was the work of the Boston-based architectural firm of Rotch & Tilden, and it features a Jacobean Revival design that gives it the appearance of a 17th century English country house.
The main entrance of the house is located on the northeastern side of the house, which faces toward Walker Street. On the opposite side of the house is a long porch, shown here, which faces to the southwest. The first photo was probably taken soon after the house was completed, and it shows the porch cluttered with a mix of wicker furniture. Also visible in this photo are curtains attached to each column, which presumably provided shade on sunny summer afternoons.
Today, around 125 years after the first photo was taken, this scene has not changed significantly. Ventfort Hall was last used as a private residence in the mid-20th century, and it subsequently became a dormitory, hotel, ballet school, and religious organization, before ultimately being restored in the late 1990s. It is now open to the public as the Ventfort Hall Mansion and Gilded Age Museum, and it is one of several historic house museums in the Lenox area.