The Robertson Paper Company on Island Street in Bellows Falls, around 1910-1920. Image courtesy of the Rockingham Free Public Library.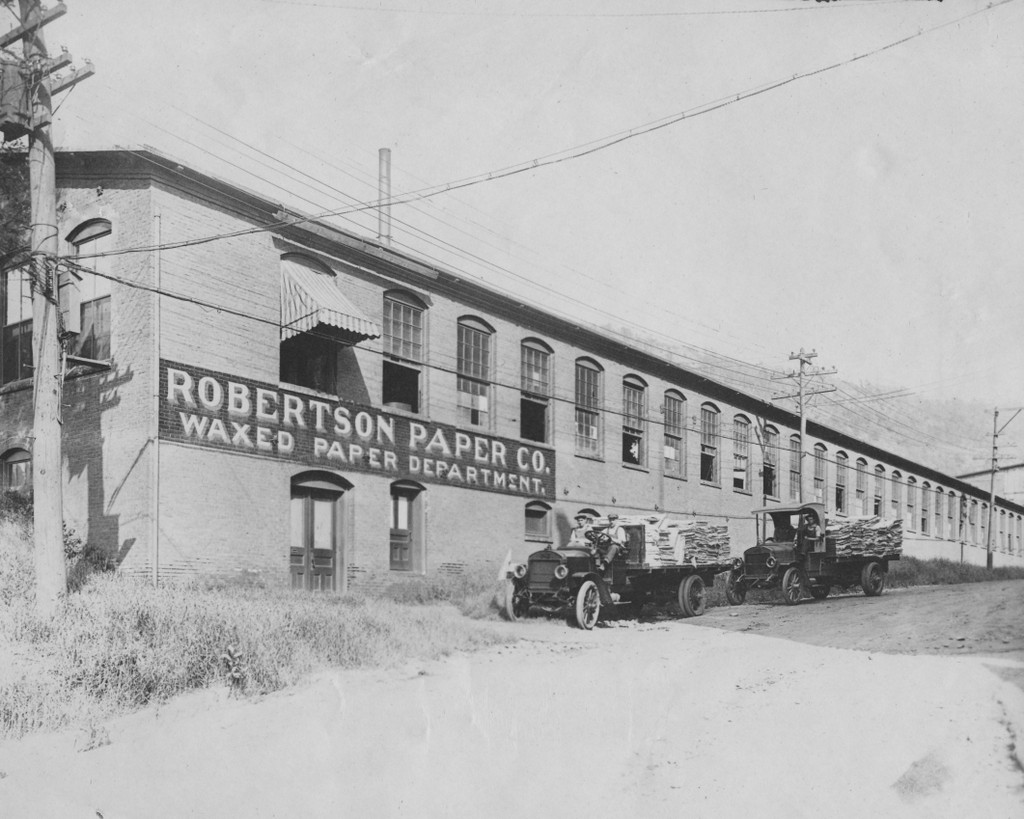 The scene in 2018: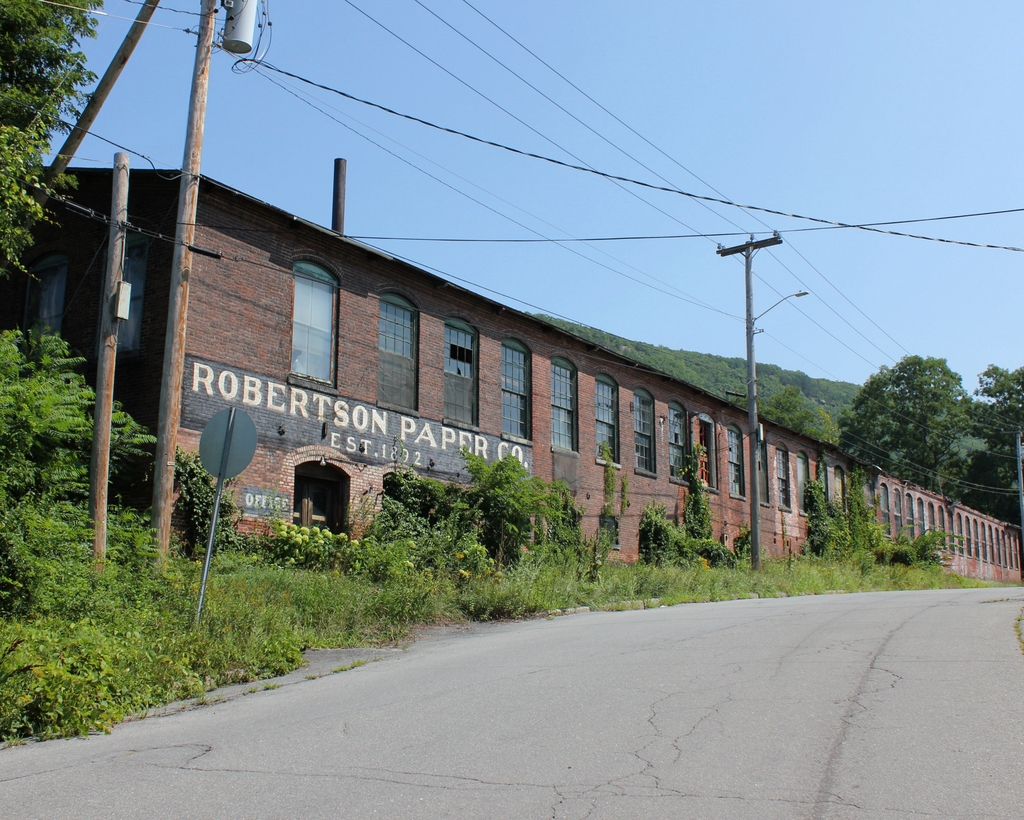 During the late 19th and early 20th centuries, the village of Bellows Falls was a thriving papermaking center, thanks to its position at a 52-foot drop in the Connecticut River. In 1802, a canal opened here, bypassing the falls and allowing riverboats to travel further upstream. Over time, this river traffic waned, but by mid-century the canal had been repurposed as a power canal, and a number of paper mills were built here.
Much of the industrial development was located on "the island," a roughly 35-acre piece of land located between the river and the canal. This particular factory was built in 1891 for C. W. Osgood & Son, which produced papermaking machinery. The main floor of the building housed the machine shop, while the lower level, shown here in the foreground of this scene, was the company offices. The company went through several name changes, and over the next decade it was variously known as Osgood & Barker Machine Company and Bellows Falls Machine Company.
Then, in 1902, the owners of the Robertson Paper Company purchased the Bellows Falls Machine Company, and within a few years they had converted this building into a waxed paper factory. During the early 20th century, Robertson was one of the country's leading producers of waxed paper, and this facility was steadily expanded with the construction of new buildings. By 1920, around the time that the first photo was taken, the factory included new buildings for shipping, storage, and the production of paper boxes, in addition to the original building here in this scene, which made the waxed paper.
The Robertson Paper Company remained in business here for many years, outlasting most of the other industries in Bellows Falls and becoming one of Vermont's oldest paper manufacturers. However, the company ultimately closed in 1987, after more than 80 years here at this site. The factory buildings were added to the National Register of Historic Places in 1990, and from 1992 to 2014 a portion of the property was used by another paper company.
The condition of the buildings steadily deteriorated over the years, though, with little maintenance or improvements. The town of Rockingham acquired the property in 2014, and by this point the buildings had missing bricks, lost mortar, rotting timbers, water damage, and deteriorating and collapsing roofs, along with other structural problems. The complex was still standing when the second photo was taken during the summer of 2018, but the buildings were ultimately demolished in the spring of 2019. The site is currently vacant, but it is slated for a redevelopment project involving a new commercial and industrial building here.