The building at 423-427 State Street in Springfield, around 1938-1939. Image courtesy of the Springfield Preservation Trust.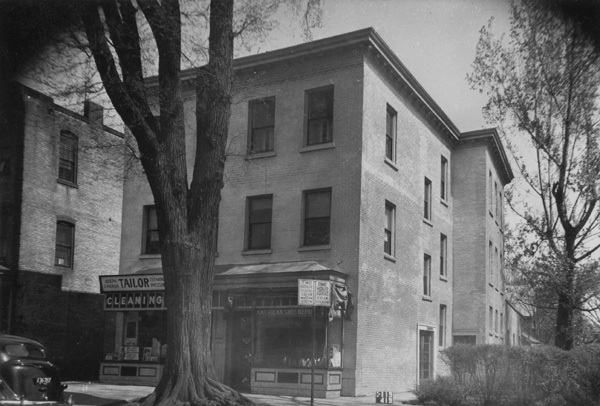 The scene in 2019: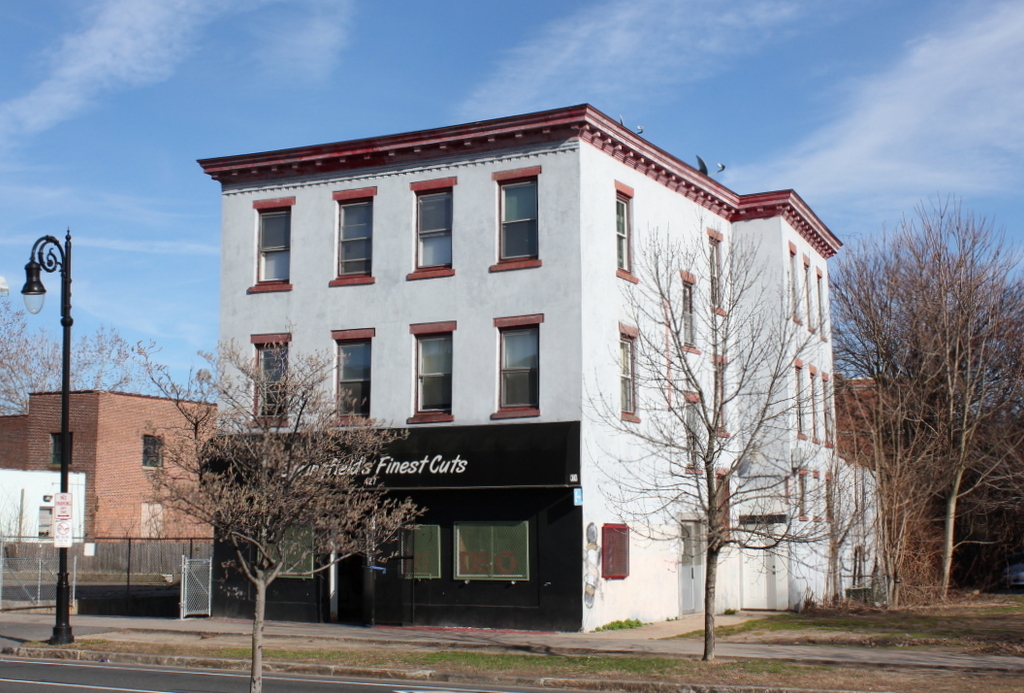 It seems difficult to determine exactly when this building was constructed. City maps show buildings on this lot as early as 1851, although this particular building clearly does not date that far back, at least not in its current form. This property was sold at auction in 1890, and the classified ad for it described the building as a "Good two-tenement brick house, 12 rooms, also a small barn." The current building seems much larger than just two units with 12 rooms total, so it was likely either built shortly after this sale, or significantly expanded. Either way, it had largely assumed its present appearance by 1892, as it is visible in the background of a photo taken of the neighboring Olivet Church. At the time, though, the building had a three-story porch on the right side, and there was no storefront here on the ground floor.
By this point, the building was owned by Frederick B. Taylor, a merchant who sold building materials such as doors, windows, blinds, and paint in his shop on Market Street. It does not seem clear as to how many apartments were in this building, but the 1900 census shows at least two different families living here, and contemporary classified ads suggest that there were least two other units that were vacant at the time of the census. Of the two tenants listed on the census, one was Dr. Delia L. Chapin, a physician who lived here and also had her medical practice in the building. She was 45 years old at the time, and lived with her younger sister Sarah, who worked as a nurse. The other tenant was Louisa E. Madison, a 48-year-old African-American woman who worked as a laundress. She lived here with her two teenaged sons, Walter and Lawrence.
The first photo was taken almost 40 years later in the late 1930s, and by then the porch on the right side had been removed, and two storefronts were added to the ground floor. The business on the left was the tailor shop of Joseph D'Aversa, and the one on the right was a shoe repair shop owned by Saverio Gozzi. During the 1940 census, there were at least four different families living on the upper floors, and they paid between $22 and $33 per month in rent. These residents held a variety of jobs, including a maintenance man at an apartment complex, a salesman, a waitress, and a milling machine operator and an assemblyman at Indian Motocycle. They all worked full-time, and their wages ranged from $480 per year for the waitress, to $1,200 per year for the salesman.
More than 80 years after the first photo was taken, this building is still standing. According to city records, it currently has five apartment units, and on the ground floor it currently houses a barbershop. It has seen some changes over the years, including the removal of the early 20th century storefronts, and the brick exterior has been covered in stucco. Overall, though, it is still easily recognizable from the first photo, and it stands as one of several historic 19th century commercial buildings along this section of State Street.