The Masonic Temple on State Street in Springfield, around 1938-1939. Image courtesy of the Springfield Preservation Trust.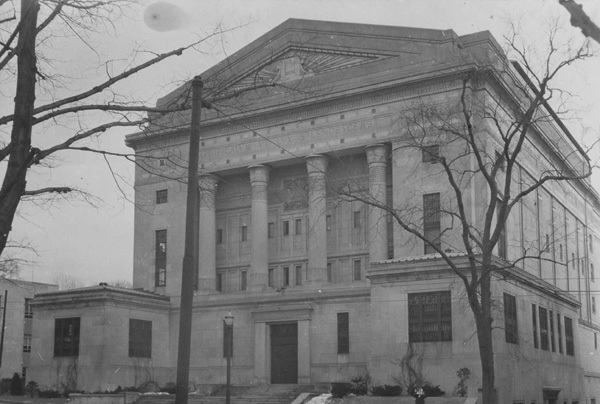 The building in 2019: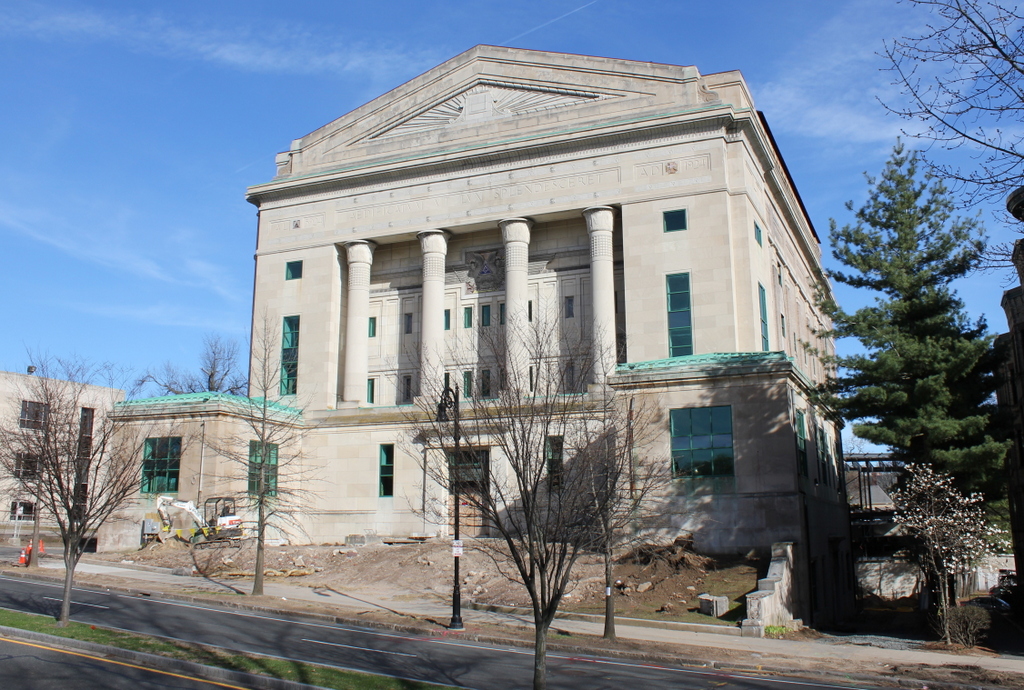 The first Masonic organization in Springfield was the Hampden Lodge, which was established in 1817. The lodge originally met at the Hampden Coffee House on Court Square, and throughout most of the 19th century Springfield's Freemasons met in a succession of rented quarters in the downtown area. However, in 1893 they moved into a building of their own, at the corner of Main and State Streets. This was used for the first few decades of the 20th century, but by the early 1920s the Freemasons were looking to construct a new building, located on this site further up State Street, opposite the Armory.
The new Masonic Temple was designed by local architects Edward McClintock and Charles Craig, both of whom were Freemasons, and it featured a Classical Revival-style design with an exterior of Indiana limestone. The architects also borrowed from ancient Egyptian and Assyrian designs, which was done, according to a contemporary article in the Springfield Republican, in order to "symbolically link the mythology of the past to the reality of the present and represent the earliest beginnings of Freemasonry." On the interior, the building included lodge rooms on the first and second floors, and the third floor consisted of a large auditorium that could seat up to 1,500 people.
Construction began in October 1923, although the cornerstone was not laid until June 24, 1924. The building was completed by early 1926, and it was formally dedicated on February 16, 1926. The ceremony was attended by a variety of state and local Masonic leaders, including Frank L. Simpson, the Grand Master of the Grand Lodge of Massachusetts. After the ceremony, over 500 people gathered in the basement for a banquet, before moving upstairs to the auditorium for speeches by Simpson and other Masonic dignitaries.
The building was used by the Freemasons for far longer than any of their previous locations in Springfield, but they ultimately sold the building in 2007, amid high maintenance costs and declining membership. It was sold to a church organization and renamed the Basilica of the Holy Apostles, but the new owners faced similar financial challenges in trying to maintain and improve the building, so it was sold again just a few years later. Since then, the building has undergone a major renovation to convert it into the new home of the Springfield Conservatory of the Arts School. This work was still ongoing when the first photo was taken during the spring of 2019, but it was completed later in the year, with the building reopening in the fall of 2019.