The Derby House on Derby Street in Salem, around 1910. Image courtesy of the Library of Congress, Detroit Publishing Company Collection.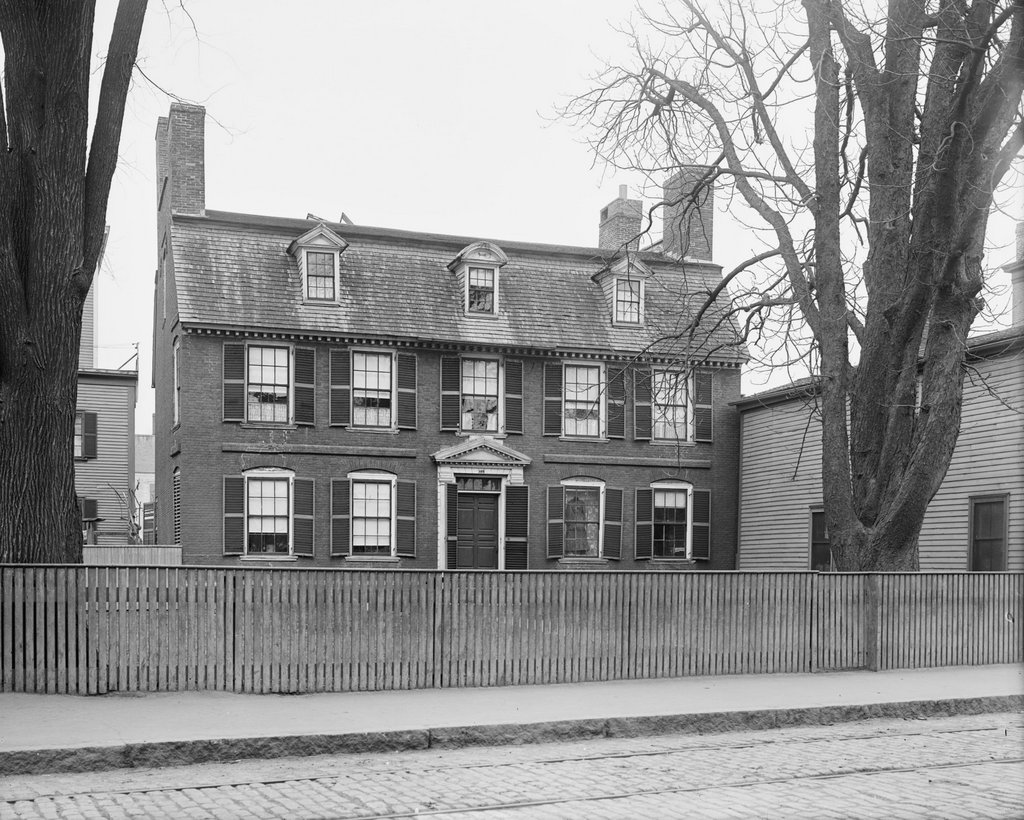 The house in 2019: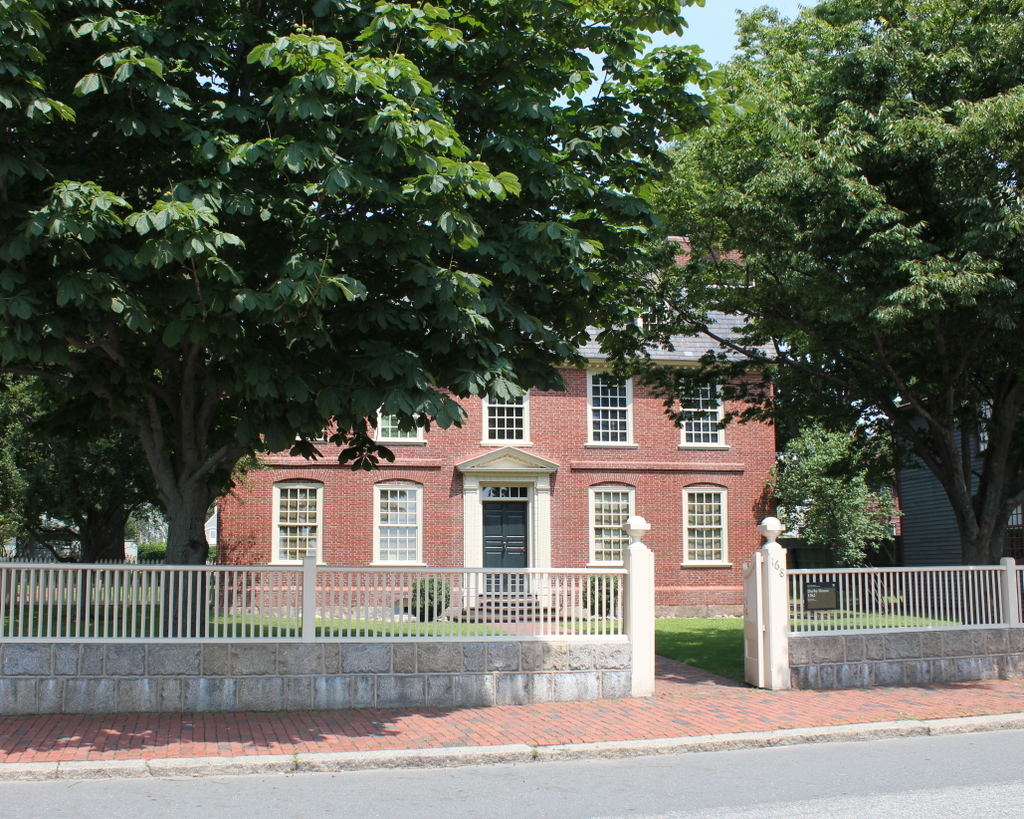 Salem was at the peak of its prosperity as a seaport during the late 18th and early 19th centuries, and perhaps no family better exemplified this golden age than the Derby family. The family patriarch was Richard Derby, a ship captain who lived most of his adult life in a house nearby at the corner of Derby and Herbert Streets. Derby eventually retired from sailing in 1757, and he spent the next few decades as a merchant here in Salem. He owned a fleet of ships, and in 1762 he began construction of Derby Wharf, which would eventually become the largest wharf in the port.
Richard and his wife Mary had three sons and three daughters. Two of their sons became ship captains, and the other son, Elias, joined his father in the merchant business. In 1761, at the age of 21, Elias married Elizabeth Crowninshield, and that same year his father began constructing this house for the newlyweds. The house was completed a year later, and it features a brick exterior with Georgian-style details, including a gambrel roof, which was typical for homes of this era. The architect and builder is unknown, although Joseph McIntire—father of the famous Salem architect Samuel McIntire—was apparently involved in the construction, because in 1762 Richard Derby paid him 40 shillings for unspecified work.
The house is situated on the north side of Derby Street, opposite Derby Wharf, where it overlooks the harbor. From here, Elias could keep a close eye on the activity at the wharf, which included the arrival of merchant ships and, during the American Revolution, privateers. He owned or held shares in about half of all the Salem privateers that preyed on British shipping during the war, and he made a significant profit from their success, while simultaneously benefitting the American war effort. Then, at the end of the war, these privateering ships were well-suited for conversion to merchant ships. This put Elias in a good position to expand foreign trade networks, and he became one of the first Americans to trade with China and other ports in southeast Asia.
By the late 18th century, Salem was the seventh-largest city or town in the country, along with being the richest on a per-capita basis. Elias Hasket Derby played a significant role in this prosperity, and he was regarded as one of the wealthiest merchants in New England at the time. Many years later, Nathaniel Hawthorne would famously give him the moniker "King Derby" in his prologue to The Scarlet Letter, in which Hawthorne recounted the glory days of Salem and contrasted them with the mid-19th century decline of the port city.
However, Elias and his wife Elizabeth did not live here in this house for his entire merchant career. They lived here through at least the early years of the Revolution, and raised their seven children here, but they appear to have moved elsewhere by around 1778. They were definitely gone by 1782, when they moved into a house closer to the center of Salem, at what is now the corner of Washington and Lynde Streets. Then, in 1799 they moved again, this time to a newly-built house designed by Charles Bulfinch. However, both Elias and Elizabeth died that same year, and that house was ultimately demolished in 1815 to build a new town hall.
In the meantime, the Derby family continued to own this house here on Derby Street for most of the late 18th century, before ultimately selling it to Henry Prince in 1796. Price, who apparently had begun renting the house from the Derbys as early as 1784, was a successful sea captain who sailed for some of Salem's leading merchants, including Derby. He also played a role in the career of famed navigator and mathematician Nathaniel Bowditch; Prince was the captain on Bowditch's first voyage, departing Salem in 1795 aboard the Derby-owned Henry.
Like many prosperous captains, Prince subsequently became a merchant, and by the early 19th century he had ownership interests in a number of vessels, including the appropriately-named 219-ton ship Golden Age. However, by this point the golden age of Salem was already nearing its end. Thomas Jefferson's Embargo Act of 1807 severely damaged the American economy in general, but it was particularly devastating for Salem, which was dependent upon foreign trade. The War of 1812 caused further disruption to trade, and these financial hardships eventually forced Prince to sell both this house and his warehouse.
Various sources give somewhat different information as to when Prince lost his house, but in any case it was ultimately acquired by Henry Ropes, who married Henry Prince's daughter Mary in 1821. Born in Salem in 1791, Ropes was the son of Captain George Ropes, who died at sea in 1807, and the brother of George Ropes Jr., a noted artist who specialized in maritime themes. Henry Ropes likewise became a ship captain, and made a number of voyages to India before retiring from the sea. He subsequently became involved in banking here in Salem, including serving for many years as the treasurer of the Salem Savings Bank.
Henry and Mary had nine children, three of whom died in infancy. Of their six children who survived to adulthood, most of them still died relatively young, with only two living past the age of 43. Henry died in 1861, but Mary continued to live her in her father's old house until her own death in 1873. The 1870 census shows here with several generations of her family, including her only two living children, Joseph and Benjamin, who were both in their 30s and unmarried. She also shared the house with Priscilla, the widow of her oldest son George. Priscilla was 44 years old at the time, and she lived here with her daughters Priscilla and Mary, who appear to have been the only grandchildren of Henry and Mary Ropes who survived infancy.
Mary Ropes died in February 1873, and by late May the property, which was described in the Salem Register as consisting of a "two-story brick dwelling and other buildings and 22,000 square feet of land," had been sold to Daniel Leahy for $6,700, or about $145,000 today. Leahy was an Irish immigrant who was about 26 years old at the time, and he moved in here with his wife Mary and their infant daughter Johanna. Just a few years earlier, during the 1870 census, the couple had been living in Peabody. According to the census, he worked as a laborer, had a personal estate of $150, and was unable to read or write.
The historical record does not seem to indicate how an illiterate immigrant laborer with $150 to his name in 1870 was able to, within three years, purchase a house that had once belonged to one of the wealthiest merchants in New England. However, this example serves to illustrate just how far Salem had fallen in prosperity since the days of "King Derby." Nathaniel Hawthorne was no longer alive at this point, but if he had been he likely would have seen this as further proof of what he discussed in the prologue to The Scarlet Letter.
In any case, by the 1880 census Daniel and Mary were living here with a number of other family members. In addition to eight-year-old Johanna, they had a four-year-old son Thomas, and they also lived here with Daniel's mother Johanna, his siblings Bartholomew, Michael, Mary, Catherine, and Margaret, and Bartholomew's wife Catherine and infant son Patrick. Daniel and his two brothers all worked as stevedores, perhaps on the same wharves that Elias Hasket Derby had once built, and the three sisters worked in cotton mills. The family also had three young Irish women living here as boarders, all of whom also worked in cotton mills.
The Leahy family lived in this house until around the turn of the 20th century, but they continued to own the property for many years. The first photo was taken sometime around 1910, and that year's census indicates that it was rented by two different families. In one unit was William and Annie Doyle, middle-aged Irish immigrants who lived here with their 11-year-old adopted daughter Agnes. In the other unit was John and Julia Szezechowicz, their four children, and John's brother Bradislaw. They were all immigrants from Poland, arriving in the United States only three years earlier.
The house continued to be used as a residence, but it was eventually acquired by the Society for the Preservation of New England Antiquities in 1927. Now known as Historic New England, this organization restored the house to its original appearance, and then in 1937 transferred it to the National Park Service. A year later, the house became part of the Salem Maritime National Historic Site, which was established that year as the first national historic site in the country.
Today, the Derby House is still part of the Salem Maritime National Historic Site. It is partially hidden behind the trees in the present-day view, but it stands as one of the many well-preserved historic 18th and early 19th century homes in Salem. In the rear of the house, the property also includes a formal garden, which is a recreation of the gardens that were typical for Salem merchants of this period. Just to the left of the house, outside of view in this scene, is the Benjamin Hawkes House, and beyond it is the Salem Custom House, both of which have likewise been restored as part of the national historic site.