The First Church in Albany, located at the corner of North Pearl and Orange Streets in Albany, around 1907. Image courtesy of the Library of Congress, Detroit Publishing Company Collection.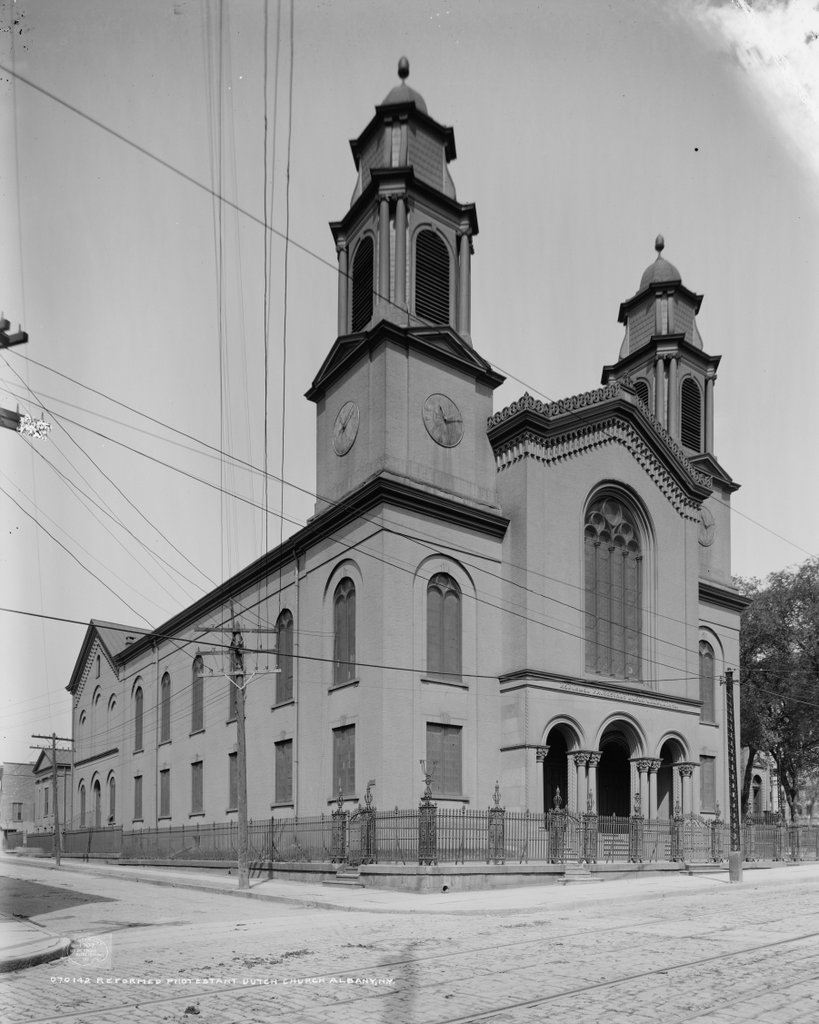 The church in 2019: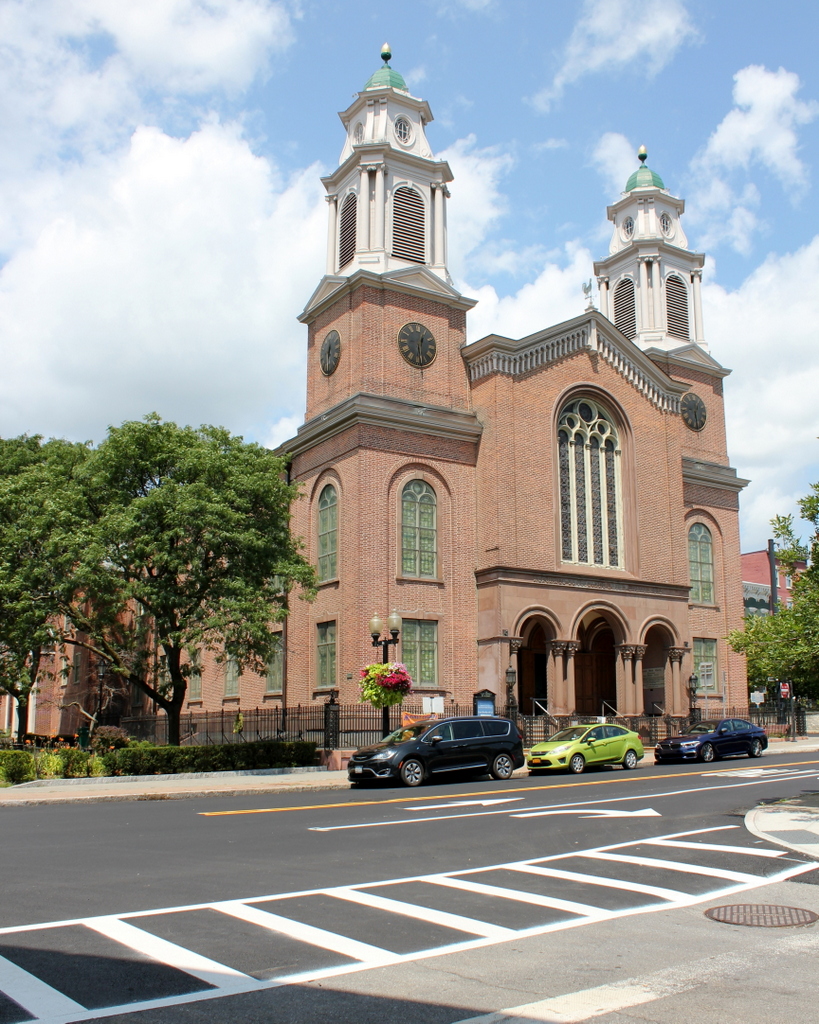 The First Church in Albany was established in 1642, back when New York was still the Dutch colony of New Netherland. The British took control of the colony in 1664, renaming it New York, but the Dutch inhabitants continued to live here, and they continued to influence the region's culture for several centuries. During this time, the members of the First Church met in several different buildings before the completion of the current one in 1799, at what is now the corner of North Pearl and Orange Streets.
The building was designed by Philip Hooker, a young Albany architect who would later go on to design other important buildings in the city, including Albany Academy, the old state capitol, and the old city hall. His design for the church featured a symmetrical main facade, with a columned portico that was flanked on either side by identical towers. In many ways its original appearance bore a strong resemblance to Charles Bulfinch's Hollis Street Church in Boston, and Hooker may have drawn inspiration from it. However, Bulfinch's church was built of wood and lasted barely 20 years before being replaced, while Hooker's brick church has remained in use for more than two centuries.
The church here in Albany has seen some alterations over the years, though. The first major renovation came in 1830, with an addition to the rear of the church. This was late in Hooker's career, and he was involved in the design process. A second renovation occurred in the late 1850s, which included removing the original Greek-style portico and replacing it with a new Romanesque-style entryway.
The first photo was taken around 1907, showing the view of the church from the southeast. A few years later, another renovation added Tiffany stained glass windows, along with other interior changes. Then, in 1939 the old addition on the rear of the building was demolished, and a new parish house was built in its place. Other more minor exterior changes have included the addition of small oval windows near the tops of the towers, and the removal of the ornate cornice above the front gable.
Throughout its history, perhaps the most famous parishioner of this church was Theodore Roosevelt, who attended services here during his time as governor. Another notable guest was Queen Wilhelmina of the Netherlands, who visited here as part of the church's 300th anniversary celebration in 1942. Today, the church is still in use, and its congregation is one of the oldest in New York. The building itself is also the oldest church in the city, and it is one of Philip Hooker's few surviving works. Because of its significance, it was added to the National Register of Historic Places in 1974.