The Christ Church Burial Ground, seen looking south from Arch Street in April 1859. Image courtesy of the Library Company of Philadelphia, Frederick De Bourg Richards Photograph Collection.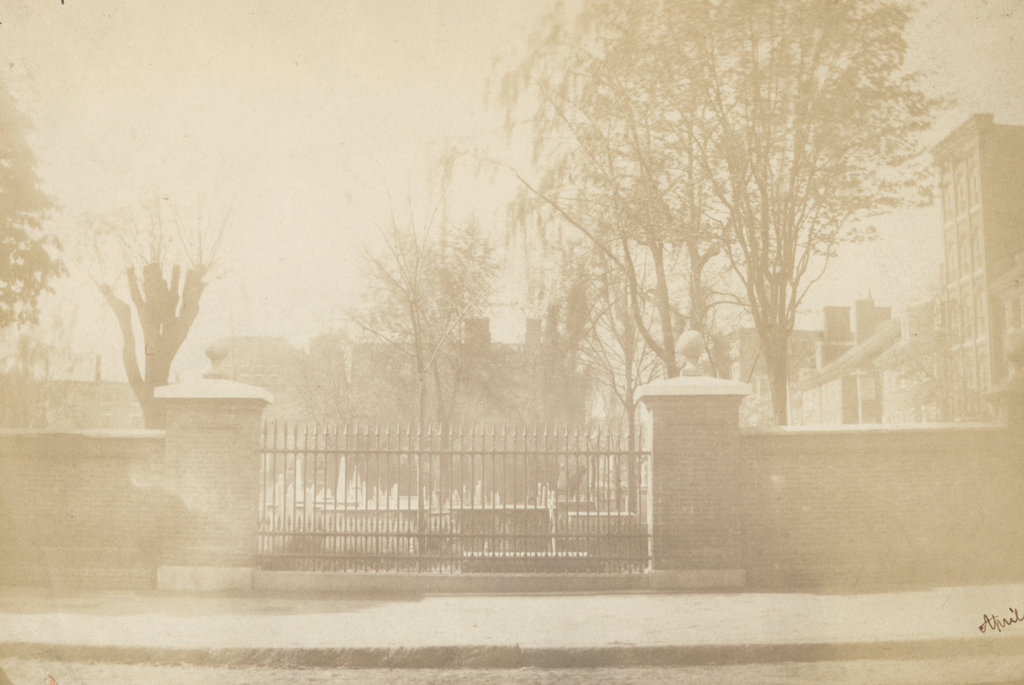 The scene in 2019: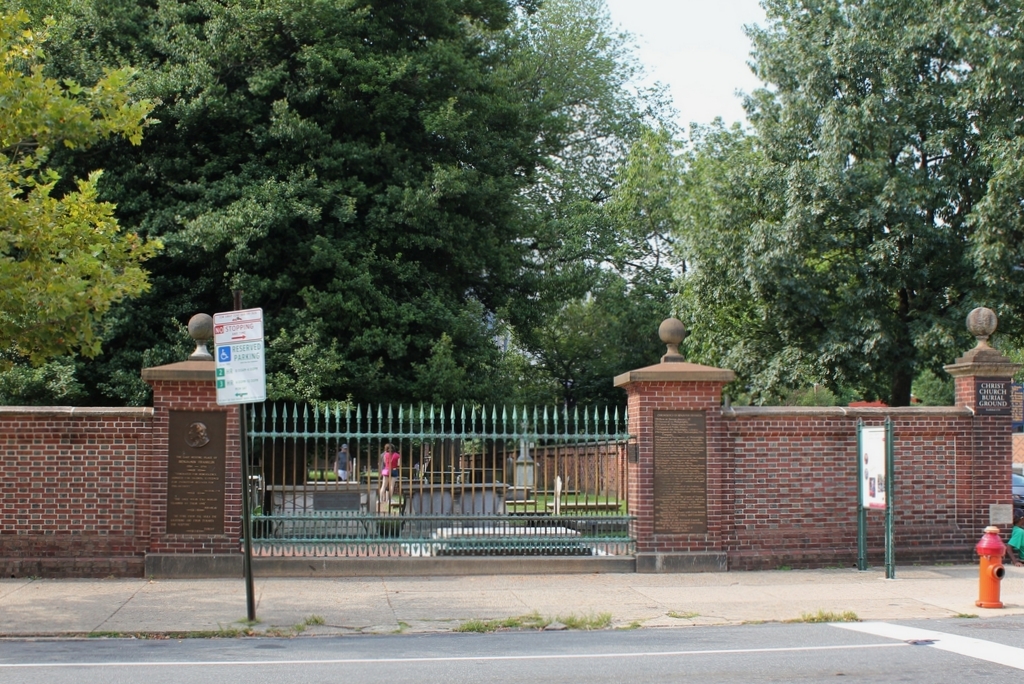 As discussed in an earlier post, Christ Church was established in 1695, and its parishioners originally worshipped in a small wooden church on Second Street, just north of Market Street. The church had a small burial ground next to it, but this soon became too small, so in 1719 the church purchased this property two blocks away at the corner of Arch and Fifth Streets. It would become the church's primary burial ground, along with being the final resting place for many of the city's most prominent colonial-era leaders, including five signers of the Declaration of Independence. The most famous of these is Benjamin Franklin, whose gravestone is the low slab on the other side of the iron fence.
A brick wall was constructed along the perimeter of the burial ground in 1772. When Franklin died 20 years later, he was interred here, right alongside the fence and next to his wife Deborah. His grave was only a few feet from the sidewalk, yet it eventually fell into obscurity because the fence obscured its view from the street. This became an issue in the mid-19th century, in part because of a rivalry between Philadelphia and Franklin's birthplace of Boston. By this point Boston had honored their native son with a massive pyramidal monument above Franklin's parents' gravesite, and had dedicated a statue in front of City Hall. In the meantime, though, Franklin's gravesite here in Philadelphia languished in a rarely-visited corner of the graveyard until 1858, when proponents persuaded Christ Church to allow this section of the brick wall to be replaced with an iron fence, in order to make the grave visible from the street. The first photo was taken a year later, showing the grave just beyond the lower right side of the iron fence.
Today, more than 160 years after the first photo was taken, all of the buildings in the background are long gone, but the burial ground is still here. The wall looks the same as it did in the first photo, but it was actually reconstructed in 1927, using many of the bricks from the original wall. The gap in the brick wall was retained here, and it is now flanked by plaques describing Franklin and his life. Notwithstanding the rebuilt fence, though, the graveyard fell into disrepair by the late 20th century, and it was closed for many years before finally reopening in 2003 following an extensive restoration project. It is now open to the public for a small fee, and offers both self-guided and group tours.