The house at the corner of Longmeadow Street and Cooley Drive in Longmeadow, on June 12, 1910. Image courtesy of the Longmeadow Historical Society, Paesiello Emerson Collection.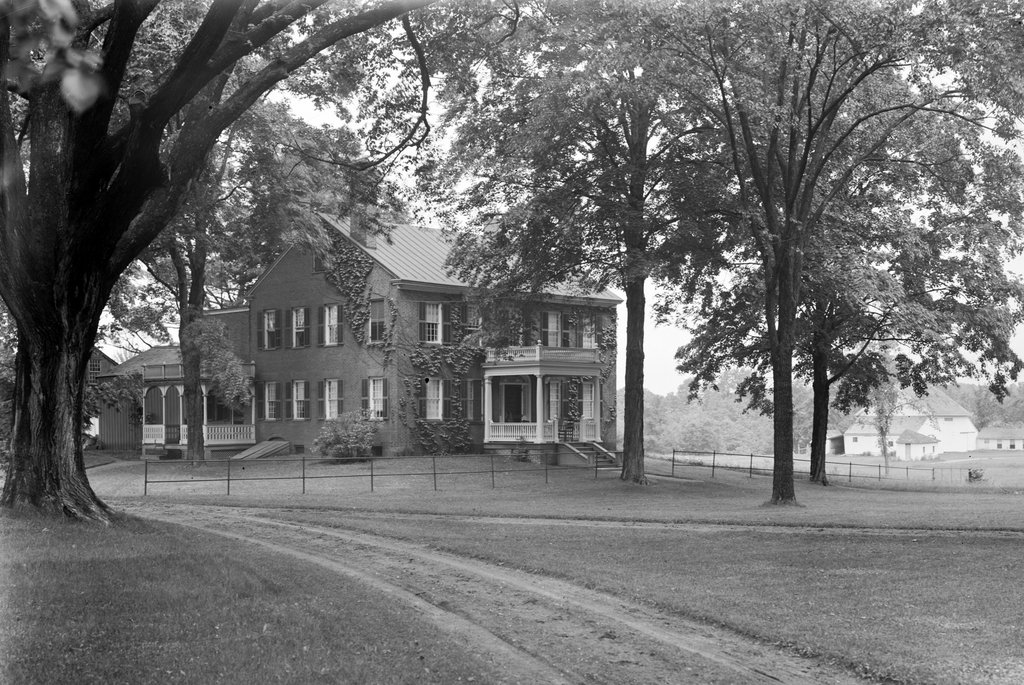 The house in 2023: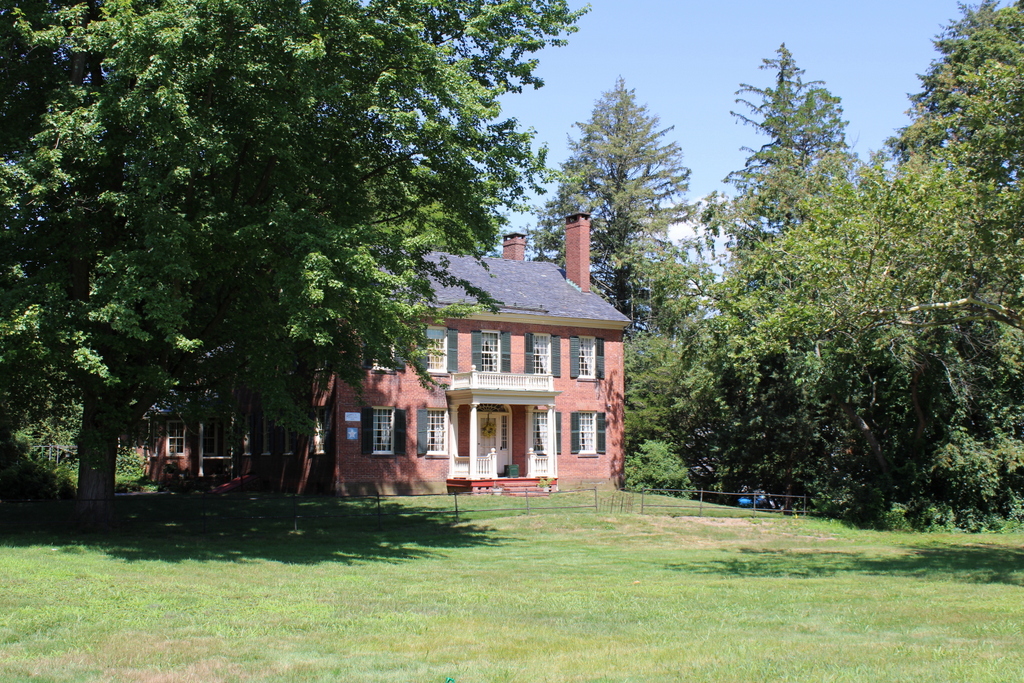 This house is one of a number of homes in this part of Longmeadow that were once owned by the Cooley family. It was built in 1827 as the home of Calvin Cooley, and it would remain in his family for well over a century afterwards. It still stands today as a good example of Federal-style architecture, and it stands out as one of the few brick homes in Longmeadow from this time period.
Calvin Cooley was born in 1765, so he would have been in his early 60s when he built this house. He and his wife Eunice had eight children, although three of them died young. Their surviving children included their oldest son James, who went on to become a diplomat. In 1826, he was appointed as the first US Chargé d'affaires to Peru. He likely never saw this particular house, though, because he traveled to Peru in 1827 and died there a year later from an illness.
Calvin and Eunice both died in the 1840s, and their son Alford subsequently inherited this house. He had married his wife Caroline in 1833, and they had five children who were born between 1835 and 1847. Alford and Caroline both lived here for the rest of their lives, until their deaths in 1889 and 1886, respectively.
Two of Alford and Caroline's daughters, Martha and Mary, never married, and they lived here in this house for the rest of their lives. The 1900 census shows them here along with farm laborer Patrick White and domestic servant Lucy Shipley. Patrick was 23 at the time and had come to America from Ireland as a child, and Lucy was a 39-year-old African American woman from North Carolina. Given her age and birthplace, she may have been born into slavery and later moved north for greater opportunities.
By the time the first photo was taken in 1910, the property here was still being operated as a farm. As was the case for 18th and early 19th century farmhouses on Longmeadow Street, it was originally located on a long, narrow lot that extended over a third of a mile to the west, to the top of he bluff overlooking the "meadows" that form the floodplain of the Connecticut River. However, by this point change was underway in Longmeadow. It had long been a rural farming community, but its proximity to the rapidly-growing city of Springfield to the north made it a desirable place for commuters, especially once a trolley line opened along Longmeadow Street. By the early 20th century, many of the old farms had already been subdivided into new streets and house lots, and many more would soon follow.
Martha Cooley died in 1927 at the age of 90, and Mary continued to live here until her death a decade later in 1937, when she was just a few months shy of her 90th birthday. Since neither Martha nor Mary ever married or had children, the family home then went to their grand nephew, Noah Saxton Eveleth, who was the grandson of their sister Caroline.
At some point in the mid-20th century, most of the property here was subdivided, and Cooley Drive was laid out behind the house. However, the old house itself was spared, and the Eveleths continued to live here for many years. Noah died in 1971, but his widow Margaret lived here until her death in 1984. The house was subsequently sold, ending more than 150 years of ownership by the same family.
Today, this house still stands as one of the many historic homes that line Longmeadow Street. And, if anything, it is actually more historically accurate now than it was in 1910, since the metal roof from the first photo has been replaced with slate. Because of its historic and architectural significance, the house is now a contributing property in the Longmeadow Street–North Historic District, which was added to the National Register of Historic Places in 1994.