The house at 720 Longmeadow Street in Longmeadow, on August 10, 1909. Image courtesy of the Longmeadow Historical Society, Paesiello Emerson Collection.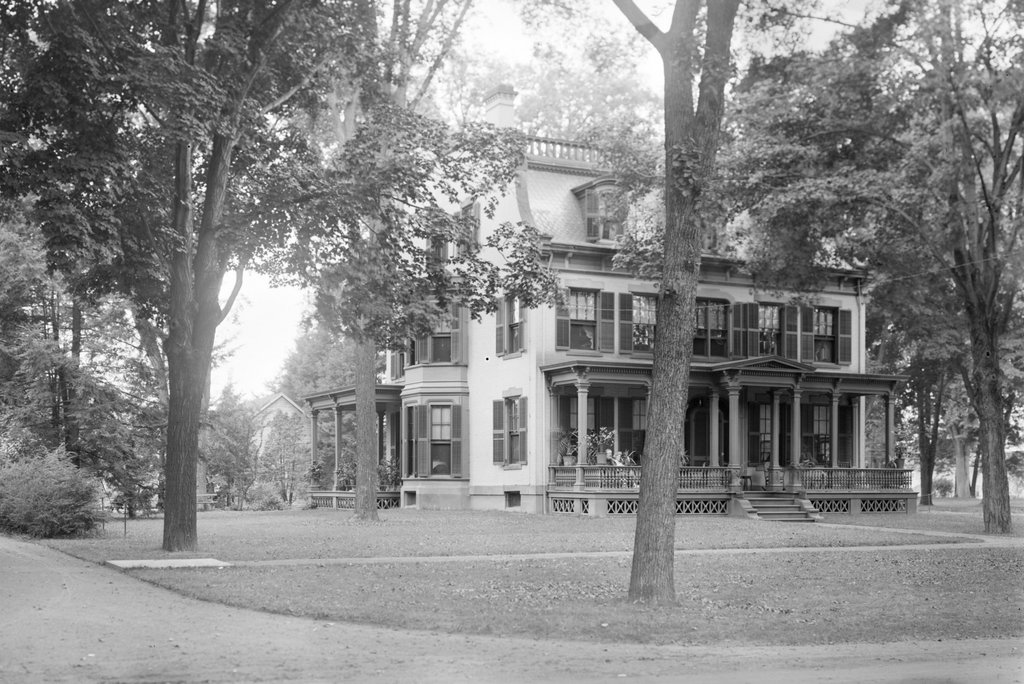 The scene in 2023: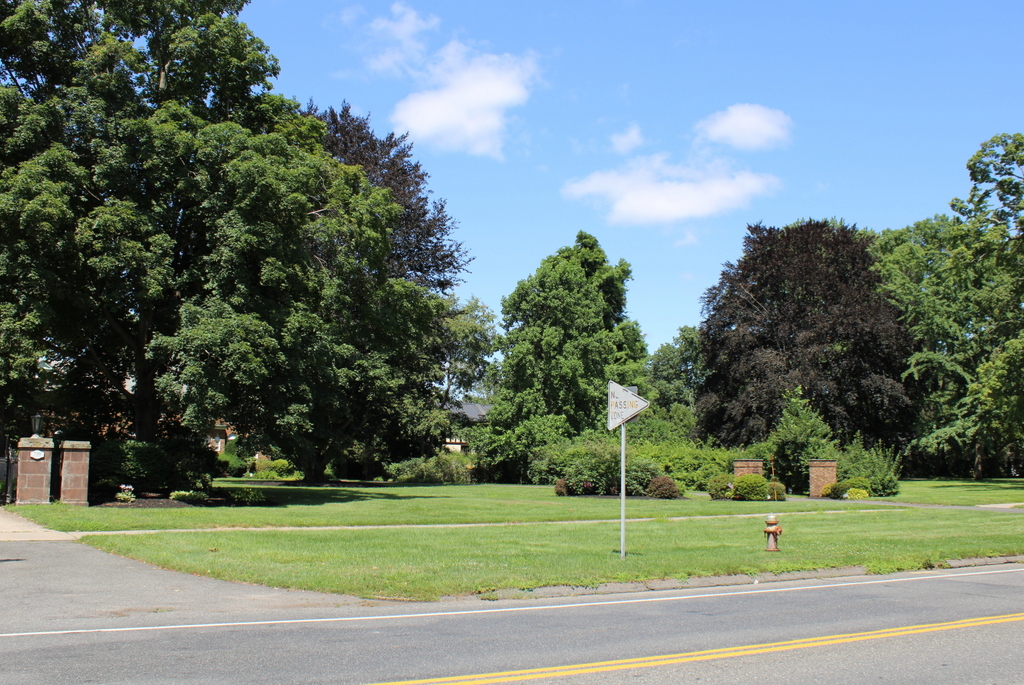 The house in the first photo was built as the home of Calvin and Experience Burt, although the exact date of construction seems unclear. Some sources cite 1786, which would be about two years after their marriage. However, contemporary newspaper accounts indicate that the Longmeadow home of Calvin Burt was "entirely consumed" by an accidental fire in 1814. Assuming this is the same Calvin Burt, that would indicate that the house in the first photo was not the same one that was built in 1786, unless there was enough of the structure of the house that survived and enabled it to be restored.
However, despite this apparent discrepancy in construction dates, the house was definitely the home of the Burt family. Calvin was a merchant, and in 1805 he built a store just a little to the south of here, which still stands on Longmeadow Street. He and Experience had nine children, who were born between 1785 and 1801. The couple would live here for the rest of their lives, until Experience's death in 1833 and Calvin' s death in 1848.
The next owner of this house was William G. Medlicott, who purchased it in 1851. Originally from England, Medlicott was the son of a shipping merchant. He became a sailor, but made a rather inadvertent arrival in America as a young man when he was shipwrecked on Long Island. He subsequently shifted his efforts to industry, eventually becoming a woolen manufacturer in Enfield and Windsor Locks, Connecticut.
William Medlicott was about 35 years old when he purchased this house. He had married his first wife, Marianne Dean, in New York in 1842. However, she evidently died at some point afterwards, because in 1854 he married his second wife, Eliza. The 1855 state census shows William and Eliza living here with four children. The three oldest—Arthur, Mary, and Agnes—were presumably from his first marriage, but the youngest child—three-month-old Bertha—was from his second marriage.
It was during Medlicott's ownership that he significantly altered the exterior of the appearance, in keeping with changing architectural tastes. This work occurred around the mid-1860s, and included the addition of a front porch, a Mansard roof, and a two-story bay window on the left side of the house. The result was an architectural hybrid that combined the original Federal-style house with newer Italianate and Second Empire features.
Aside from his industrial pursuits, Medlicott was also a rare book collector, specializing in Anglo Saxon and early English literature. He eventually amassed one of the world's most extensive collections in these fields, with about 20,000 volumes in his library. He made the books available to researchers, many of whom traveled to his home here in Longmeadow to study these works. Medlicott experienced a financial setback in 1876, and he had to sell a large portion of his collection. However, he retained about 13,000 works, and he continued to live here until his death in 1883.
By the time the first photo was taken in 1909, the house was still owned by the Medlicott family. According to the 1910 census there were 12 people living here. These included the homeowner, William B. Medlicott, who was the son of William G. Medlicott. He lived here with his wife Grace and their six children: William, Grace, Arthur, Alexander, Robert, and Harriet. William's older sisters Bertha and Mary also lived here, as did Irish-born servants Annie Flynn and Julia Devaney.
William B. Medlicott worked as an insurance agent, and in 1917 he moved to Cambridge to accept a position at a Boston-based firm. That same year, he sold his Longmeadow house to Stanford L. Haynes, who lived in a neighboring house directly to the north of here. He owned it until his death in 1921, and his heirs subsequently sold the former Medlicott house, which was then demolished.
A 1921 article in the Springfield Republican reported the concerns that many residents had about the demolition of this house, noting how "[t]his town is in danger of losing some of its identity by the removal of so many old landmarks. The tearing down of the Medlicott house is the cause of much regret, at least to older residents." Despite this concern, though, the house was demolished, and it was later replaced by a new house that is set further back from the road. The new house was built around 1927, and it is partially visible beyond the trees on the left side of the scene.
Today, more than a century after the Republican suggested that the town might be losing some of its identity, many of the old homes are still standing here on Longmeadow Street. The town has grown significantly since the 1920s, and is now a busy suburb of Springfield, but Longmeadow Street has maintained much of its colonial-era identity, including a number of historic homes that still line the street. These houses are now protected as part of the Longmeadow Historic District, which restricts exterior changes to homes along the Longmeadow Green.