Looking north on High Street between Suffolk and Dwight Streets, around 1908. Image courtesy of the Library of Congress, Detroit Publishing Company Collection.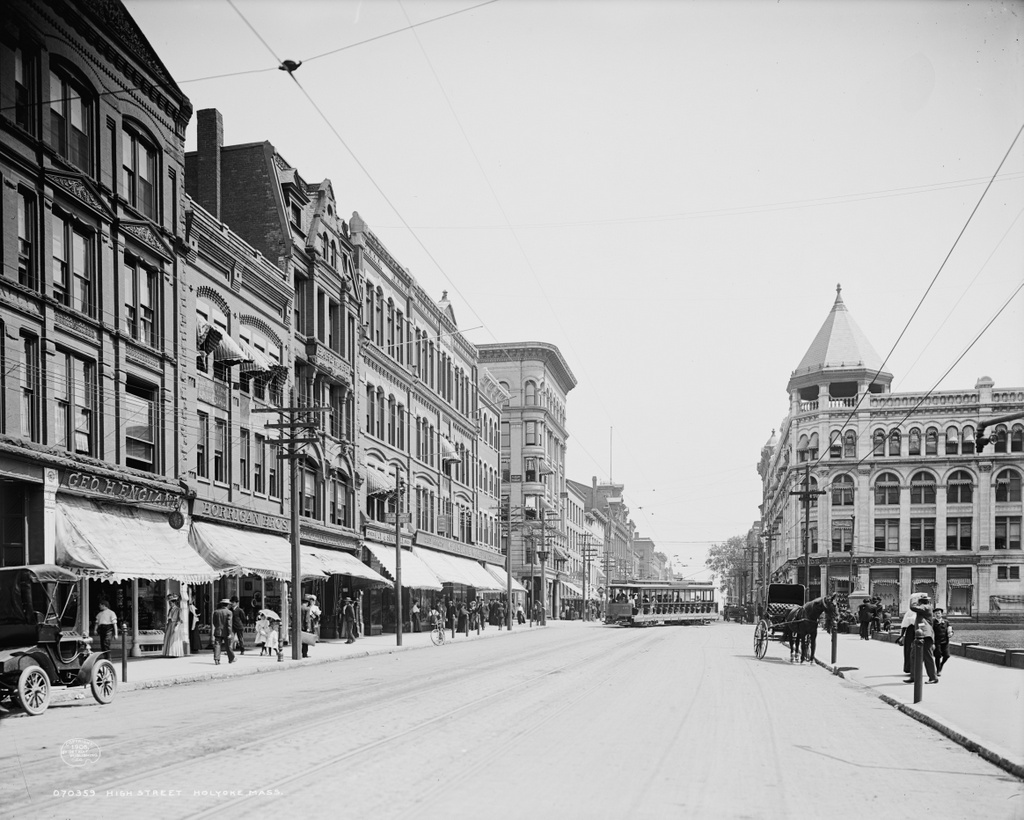 High Street in 2015:
Holyoke has a number of buildings that are listed on the National Register of Historic Places, but these photos show the only Historic District located within the city.  The two photos show a number of changes in the past 100 years, but even the most of the "new" buildings seen in the 2015 photo date to the 1920s or earlier.  Several notable buildings from the first photo have survived, though.  On the left-hand side, starting closest to the foreground, they are:
Mayberry Building (narrow red brick building) – Built in 1881, although it had a fourth story added at some point after the 1908 photo.
Russell-Osborne Building (the next red brick building) – Built in 1885, this building's ornate facade contrasts with most of the other more reserved architectural styles, but it has lost some of its decoration over the years, including the gargoyle-like carvings that can be seen in the 1908 photo.
Ball Block (yellow brick, in center of the photos) – Built in 1898 and located at the corner of High and Dwight Streets, this was an office building but was later converted into a bank.  However, most of the modifications were made to the interior, so from the outside it hasn't changed much in appearance since the first photo was taken.
Caledonia Building (in the distance, flying an American flag) – Built in 1874, its Second Empire architectural style with a mansard roof is very different from most of the other buildings along this part of High Street, but its exterior hasn't changed much since it was built.