Facing east in Kenmore Square, with Beacon Street to the left and Commonwealth Avenue to the right, on November 14, 1911.  Image courtesy of the City of Boston Archives.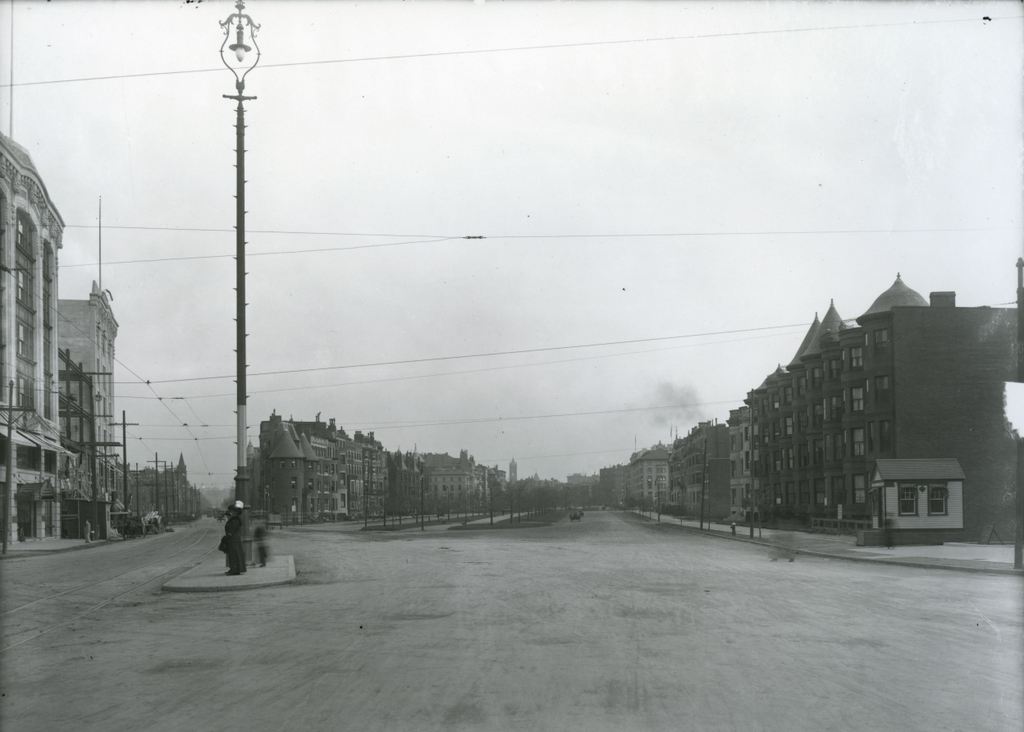 Kenmore Square in 2015: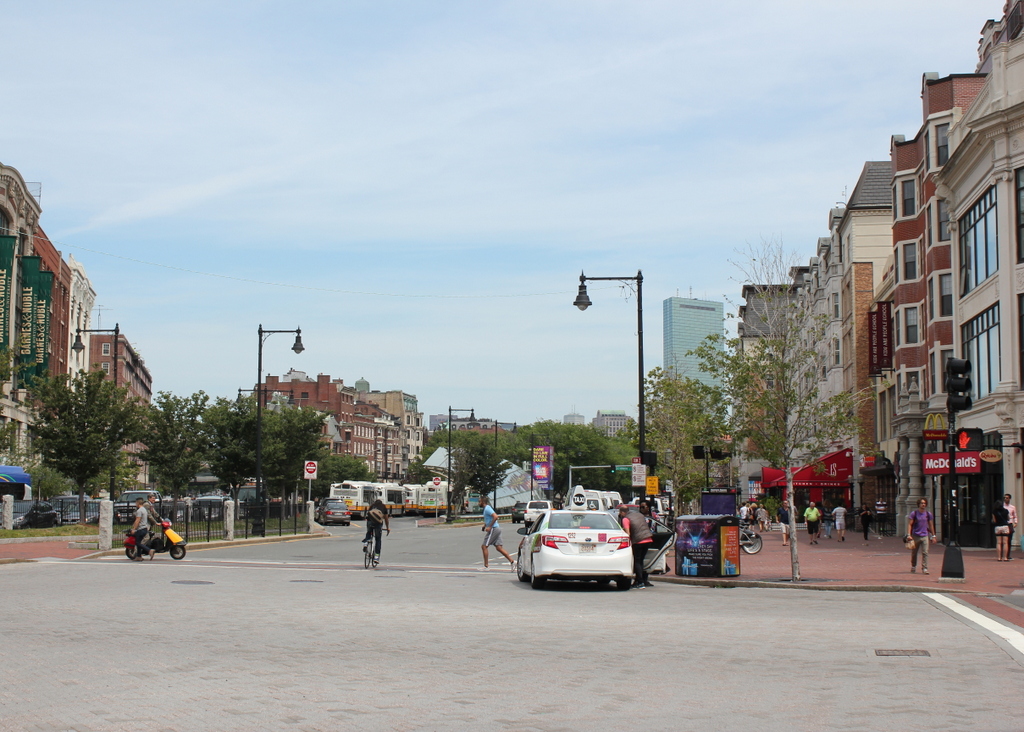 The area that makes up Kenmore Square today was originally Sewall's Point, on the edge of a large tidal marsh along the Charles River.  These photos were taken right about where the shoreline once was when European settlers first arrived in 1630, and there was no dry land from here until Boston Common, around a mile and a half away. This "back bay" of Boston remained relatively unchanged for nearly 200 years, and the site of Kenmore Square, which technically wasn't even part of Boston at the time, remained undeveloped.
Things started to change in 1821, when the Mill Dam was built across the Back Bay from here to Boston Common.  The idea was to use the tide to power factories in the area, and although that aspect of it was a failure, the dam was also used as a toll road.  Later in the 19th century, when the Back Bay was filled in, the road on the old dam became Beacon Street.  The original dam was never actually dismantled, so the wooden structure is still buried under the road today.
Once the landfill projects were completed around 1900, this area became the intersection of three major roads: Beacon Street, Commonwealth Avenue, and Brookline Avenue.  The houses along Commonwealth Avenue were primarily built in the 1890s, and within the next few decades larger commercial buildings opened here. The first was the 1897 Hotel Buckminster, which is located just behind where these photos were taken.
In the past century, Kenmore Square has not undergone drastic changes.  Many of the houses along Commonwealth Avenue are still standing, as are some of the commercial buildings to the left. Today, the square is probably best known for its association with the Boston Red Sox.  Fenway Park, which was under construction when the first photo was taken, is less than 300 yards to the right along Brookline Avenue, and the large Citgo sign that is prominently visible from the park is just out of view to the left, on top of Barnes & Noble building on the far left.