The Old State House in Hartford, seen from the Main Street side around 1907, during its time as Hartford City Hall. Image courtesy of the Library of Congress, Detroit Publishing Company Collection.
The building in 2016: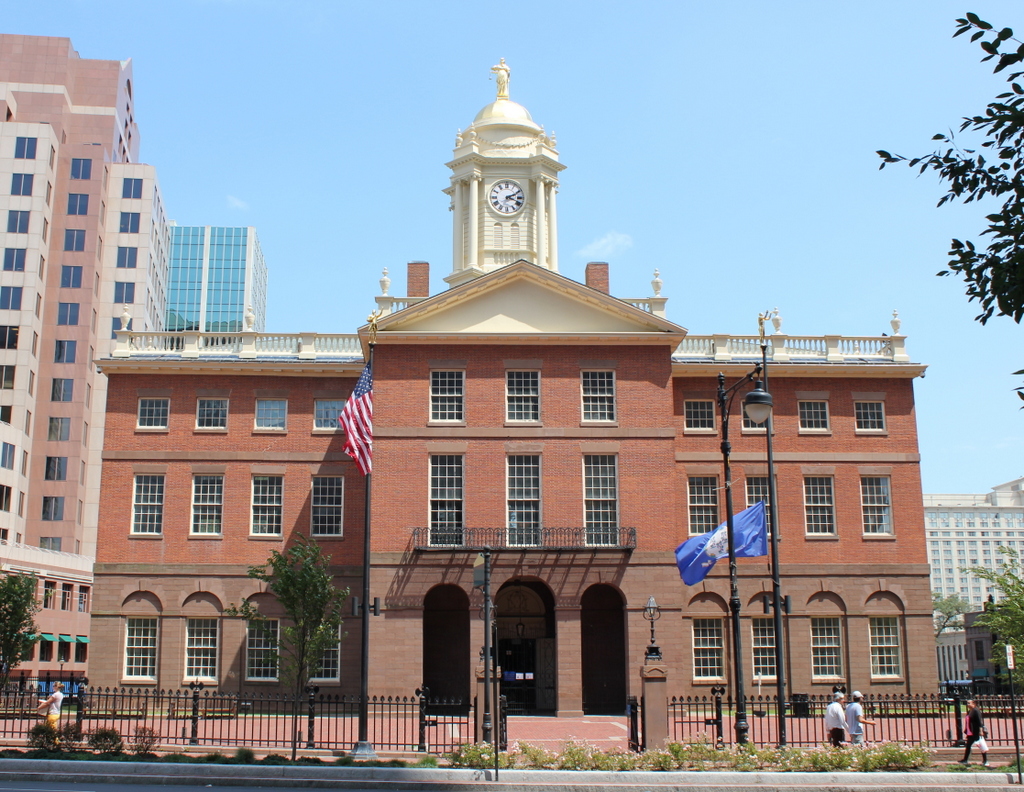 The Old State House in Hartford is one of the oldest existing buildings in the city. It was completed in 1796, and its design is generally credited to prominent architect Charles Bulfinch as one of his early commissions. Just a few years later, he would design the present Massachusetts State House, and he would later play a role in designing the US Capitol.
At the time, Connecticut actually had two capital cities, with the legislature meeting alternately between Hartford and New Haven. It may seem somewhat unusual for one of the smallest, most densely-populated states in the country to have two capital cities, each complete with its own capitol building, but the arrangement was not unheard of. Similarly-sized New Jersey had two capitals in colonial times, and, not to be outdone despite its small size, Rhode Island had five capitals in the early 19th century, with the legislature rotating through each of the state's five county seats.
Here in Connecticut, ease of transportation thanks to railroads meant that it was unnecessary to have redundant capitals just 35 miles apart, but the location of the capital city still carried significant symbolic value. In the end, Hartford won out over New Haven. In 1875, it was designated as the sole capital city, and three years later a new, much larger capitol building was completed at Bushnell Park.
When its days as a capitol ended, the old building became Hartford City Hall. It served in this role until 1915, when the current Municipal Building was completed. Since then, it has been threatened with demolition several times over the years, but it remains standing as a relic of Connecticut's history, and it is listed as a National Historic Landmark on the National Register of Historic Places.