The house at 222 North Main Street in Suffield, around 1935-1942. Image courtesy of the Connecticut State Library, WPA Architectural Survey Collection.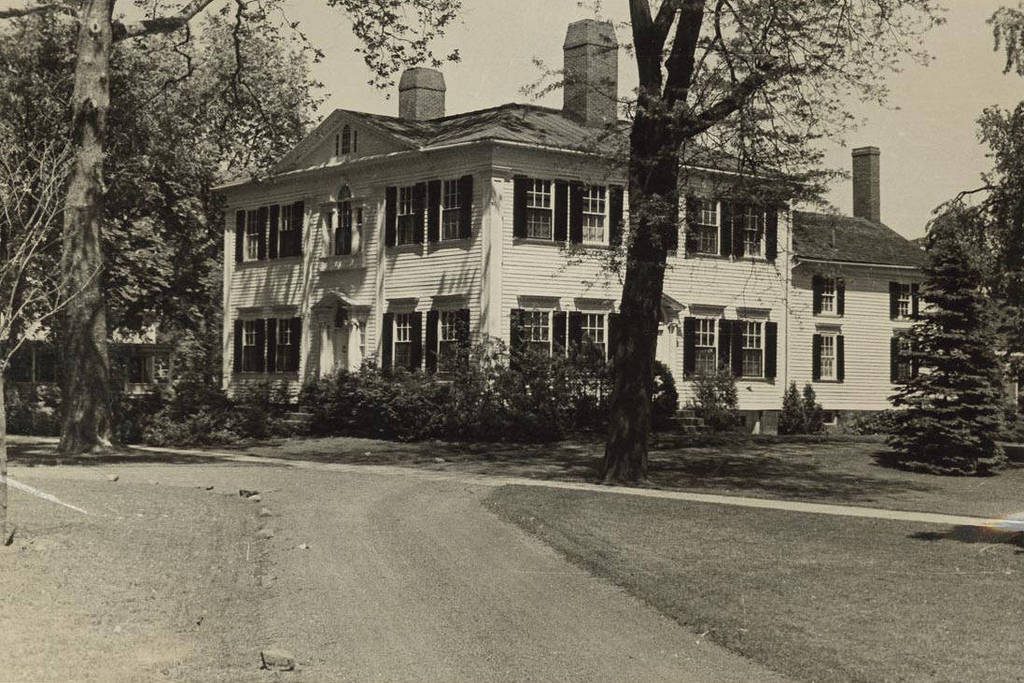 The house in 2017:

One of the finest 18th century homes in Suffield is the Gay Mansion, which was built in 1795 for Ebenezer King, Jr. He was a very wealthy man, with a net worth of reportedly over $100,000 (nearly $1.5 million today), and this is reflected in his Federal-style mansion. Around the same time that this house was built, King was an investor in the Suffield, Cuyahoga, & Big Beaver Land Company. This company, comprised of a number of other Suffield men, owned entire townships in the Western Reserve, a section of northern Ohio that was, at the time, claimed by Connecticut.
Unfortunately for King, he eventually lost much of his money, and had to sell his mansion in 1811. It was purchased by William Gay, a prominent lawyer and the son of Ebenezer Gay, who had been the longtime pastor of the Congregational church. Aside from his law practice, William Gay was also the postmaster of the town for 35 years, and for much of that time the post office was located here in his living room. After his death in 1844, two of his daughters, Mary and Elizabeth, continued to live here. They never married, and after their deaths in the 1880s the house was inherited by the children of their sister Deborah.
The house remained in the Gay family for over 100 years, and by the start of the 20th century it was still filled with old family heirlooms and other antiques. It was even featured in a Good Housekeeping article in 1907, because of its extraordinary level of preservation on both the inside and outside. In 1916, it was sold to Daniel R. Kennedy, Jr., the pastor of the Congregational Church, and he was still living here a couple decades later when the first photo was taken. Very little has changed in the appearance of the house, and it is now owned by Suffield Academy and used as the residence of the headmaster.