The house at 76 Spruceland Avenue in Springfield, around 1938-1939. Image courtesy of the Springfield Preservation Trust.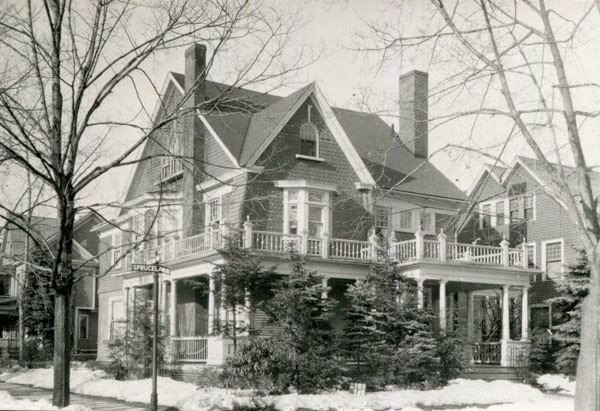 The house in 2017: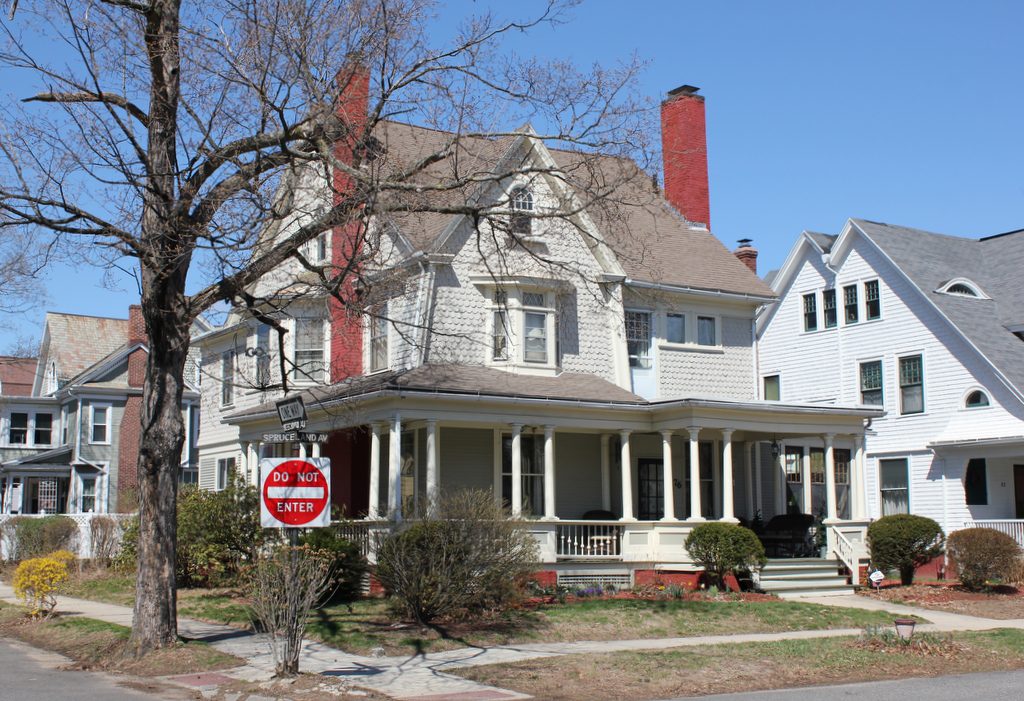 When the land on the south side of Sumner Avenue was developed in the last decade of the 19th century, one of the main focal points of this area was a traffic circle around a small floral park. This house, located at the corner of Spruceland and Beechwood Avenues, is diagonally opposite the park, and it was built in 1895 in the early years of the development. Its original owner was Albert W. Fulton, who lived here with his wife Rena, their two young children, and a servant. Fulton was involved in the publishing industry, and by the early 1900s he was the treasurer and agricultural editor of the Springfield-based Phelps Publishing Company. He would eventually go on to become the company's president, many years after the family had sold this house and moved to a more spacious home at 5 Ridgewood Terrace.
By 1910, the house was owned by Dr. William Goodell, a physician who lived here for many years with his wife Ethel and their daughter Elizabeth. Born in Amherst in 1878, Goodell was the grandson of prominent missionary William Goodell, and the son of Henry H. Goodell, who served as president of the Massachusetts Agricultural College from 1886 to 1905. The college later became UMass Amherst, and Henry Goodell remains the longest-serving president in the school's history. Despite his father's position, though, William attended the more prestigious Amherst College, before earning his doctorate from Harvard Medical School. He graduated in 1905, and two years later moved to Springfield, where he opened an office on Chestnut Street as an ear, nose, and throat specialist.
The Goodell family was still living here into the 1930s, but later in the decade they moved to nearby Longmeadow. By the time the first photo was taken, the house was owned by James F. Dillon, who lived here with his wife Alice and their four children. At the time, James was the treasurer and manager of Dillon's Package Store, but both he and Alice died only a few years later, in 1944. The house was subsequently sold, but his former business still exists today as Dillon's Liquors, which is still located in the same building on Main Street in the South End.
In the nearly 80 years since the first photo was taken, this scene has hardly changed at all. The balustrade above the porch has disappeared, but otherwise the house and the other surrounding homes have remained well-preserved. The tree on the left side appears to be the same one in both photos, and even the street signs have not changed, although a couple extra signs have been added. Today, the entire area is now part of the Forest Park Heights Historic District, which was added to the National Register of Historic Places in 1982.