Looking north on Westminster Street from the corner of Bay Street in Springfield, around 1892. Image from Picturesque Hampden (1892).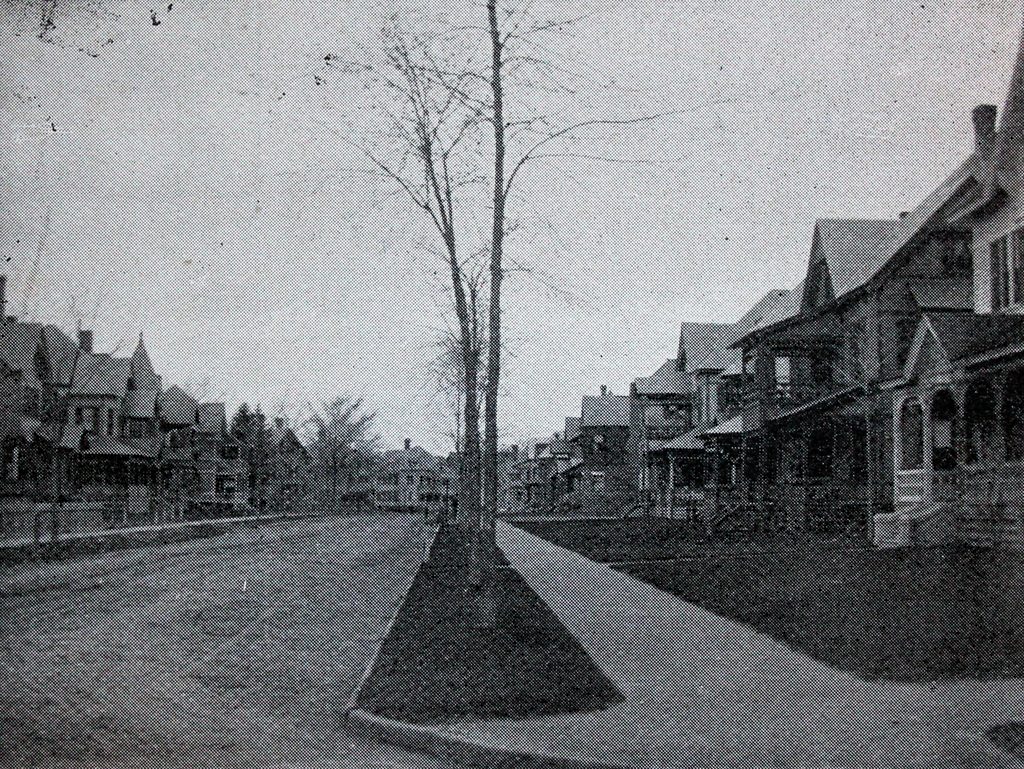 The scene in 2017: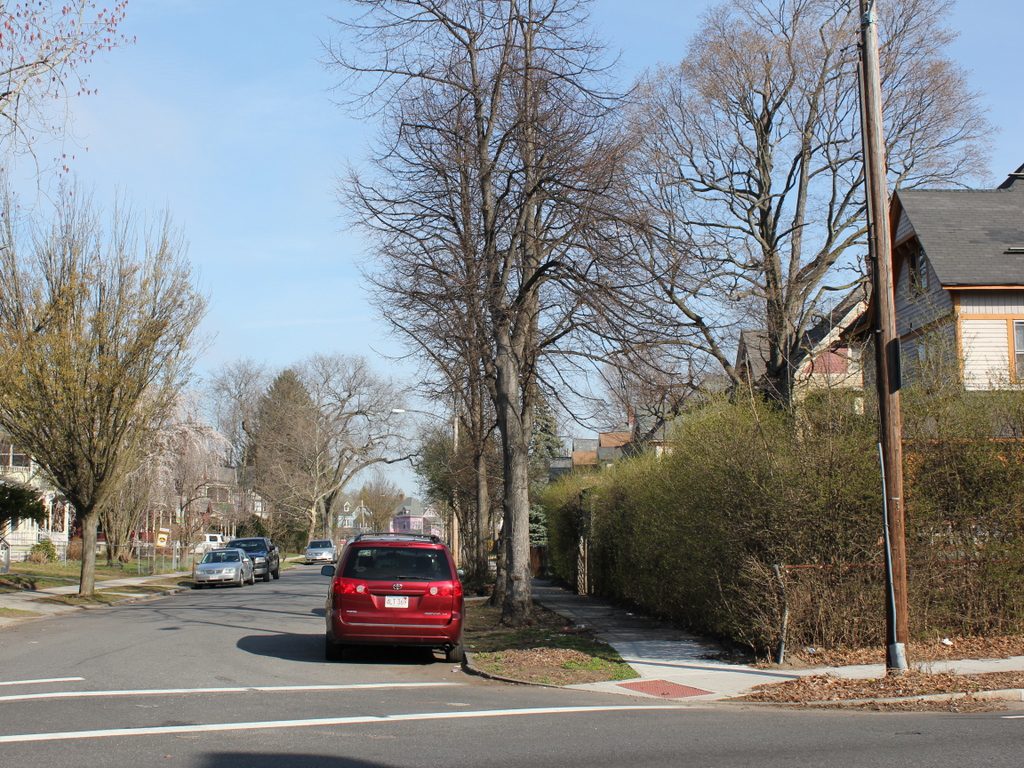 When brothers John and William McKnight entered the real estate business in the early 1870s, they began by purchasing the 22-acre farm of Josiah Flagg, which was located between State and Bay Streets. They laid out Thompson, Westminster, Buckingham, and Sherman Streets roughly perpendicular to State Street, and began subdividing the property into individual house lots. Because of a nationwide recession, development was slow in the 1870s, but began in earnest in the early 1880s. Most of the homes on Westminster Street to the south of Bay Street were built during this time, but the development soon extended to the north of Bay Street.
These two photos show the northern half of Westminster Street, from the corner of Bay Street. These homes were mostly built in the late 1880s and early 1890s, and construction was largely complete by the time the first photo was taken, although a few homes on the left side were built later in the 1890s. By the early 20th century, the entire McKnight development would go on to include some 800 homes for some of the city's leading residents. The northern part of the neighborhood, primarily around Worthington Street and Dartmouth Terrace, became a wealthy enclave with massive Queen Anne-style mansions, but other parts of the neighborhood, such as here on Westminster Street, remained more middle class, with residents who worked as teachers, insurance agents, ministers, contractors, factory managers, and similar middle-class professions.
Architecturally, the houses on this street have similar, but not identical Queen Anne-style designs, reflecting the prevailing architectural tastes of the 1880s and early 1890s. To ensure a consistent appearance throughout the neighborhood, the McKnights included deed restrictions on the properties that they sold, mandating setbacks from the street, prohibiting fences in the front yards, and setting minimum construction costs. These policies produced streetscapes like this, with unique houses yet a uniform appearance, and made McKnight a desirable neighborhood for the city's upper middle class.
Over time, the McKnight neighborhood entered a decline. By the mid-20th century, large numbers of middle class residents were leaving for the suburbs, and many of the large homes were converted into cheap rooming houses. Queen Anne architecture, with its eclectic style and often excessive ornamentation, had fallen out of favor, and many of these homes were renovated with plain exteriors of aluminum siding or asbestos shingles. However, the neighborhood remained one of the largest concentrations of Victorian homes in New England, and in 1976 part of it, including this section of Westminster Street, was added to the National Register of Historic Places as the McKnight Historic District. Since then, the neighborhood has undergone somewhat of a revitalization, and many of the homes have been restored to their original appearance, including most of the ones here on this block of Westminster Street.