The house at 393 Union Street in Springfield, around 1938-1939. Image courtesy of the Springfield Preservation Trust.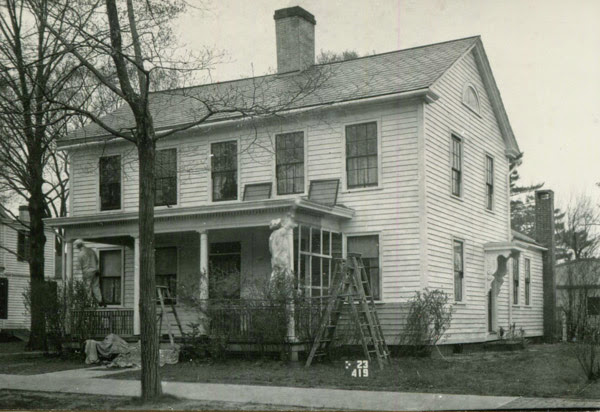 The house in 2017: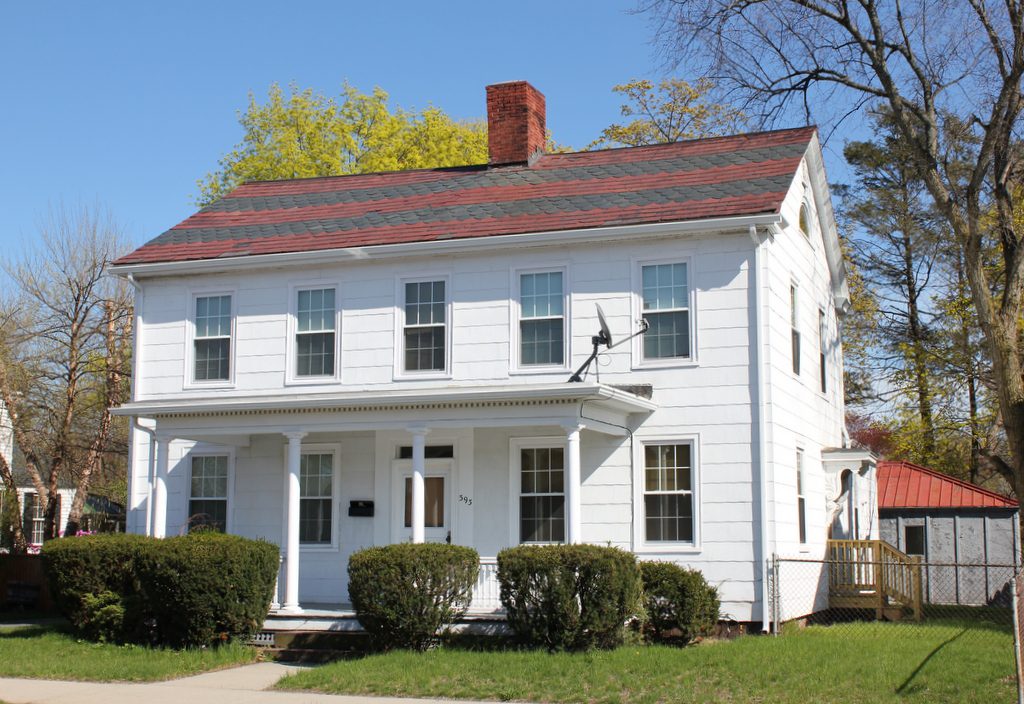 Like the neighboring homes on either side of it, this house is among the oldest surviving buildings in Springfield. It dates back to around 1828, and was part of a small community that formed around the Methodist church, which was located at the corner of Union and Mulberry Streets. The early ownership of this house seems unclear, but by 1861 it was the home of Alexander Chapin, who was working at the U. S. Armory at the time. However, within a few years he was working for S. D. Burbank, "manufacturer of Gold and Silver Spectacles, Eye-glasses, Thimbles, and Solid Gold Rings." He switched his occupation a few years later, though, because by 1865 he was selling boots and shoes with A. Chapin & Co.
Alexander Chapin died in 1866, but his wife Emily continued living here until her death a decade later. The house remained in the family, though, and during the 1880 census their daughters Frances E. Chapin and Maggie Montague were both living here, as were cousins William and Mary Bush, and Gordon Noble. At the time, Frances was 40 years old and unmarried, while Maggie was five years younger and a widow, having lost her husband William in 1865, just a year after their marriage. The family lived here into the early 1880s, but by 1883 it was the home of John S. Grant, a traveling salesman who lived here until around 1897, when he moved to Connecticut.
Around 1900, the house was sold to Oswin B. Brockett, who lived here with his wife Augusta and their young son Ralph. Originally from Blandford, Massachusetts, Oswin came to Springfield in 1871 when he was in his mid-20s, and became the court messenger for the Hampden County Superior Court.  He went on to hold this position for more than 50 years, and he lived in this house until his death in 1926. Augusta died four years later, but Ralph continued to live here for many more years. During the 1930s, he lived here with his aunt, Maria Knox, and he worked as vault custodian for the Springfield National Bank. They were here when the first photo was taken, and Ralph was apparently having the house repainted at the time, since the photo shows two painters at work on the front porch.
Ralph was single for most of his life, but late in life he married his wife, Alma. They lived here together until his death in 1965, and Alma owned the property until she finally sold it in 1978, ending more than 75 years of ownership by the same family. At some point, probably while Ralph lived here, the exterior was covered in asbestos shingles, replacing the old clapboard from the first photo. However, aside from this the house has retained much of its original appearance, and it still stands as one of three adjacent homes that all date back to the 1820s. All three of these homes, along with others nearby, now form part of Springfield's Ridgewood Local Historic District.