The house at 50 Fairfield Street in Springfield, around 1938-1939. Image courtesy of the Springfield Preservation Trust.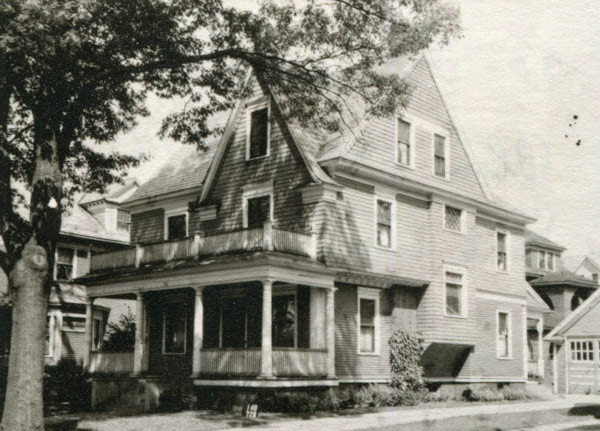 The house in 2017: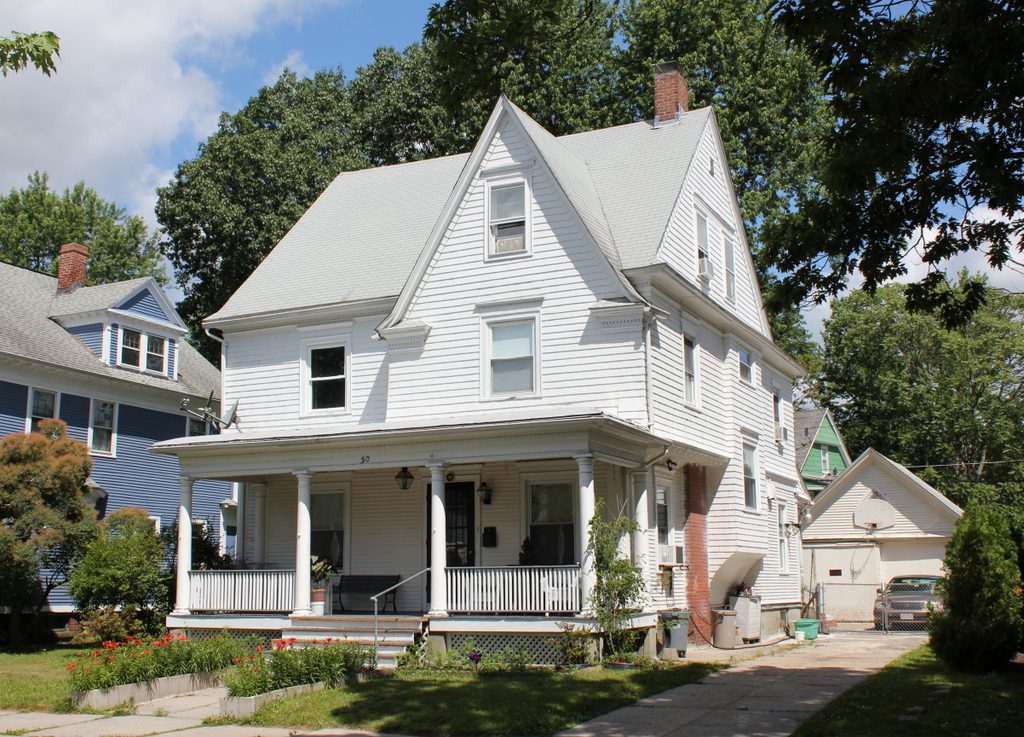 This house was built in 1902, and according to the state MACRIS database it was originally owned by a Charles Seymour. There is no record in the city directories of a Charles Seymour living here, but the house may have been used as a rental property, because it had a number of different residents during the first decade of the 20th century. In an eight year span from 1903 to 1910, city directories showed a new tenant almost every year, and included a variety of middle class professionals.
Starting in 1903, the residents included traveling salesman Douglas Clarke, dentist Walter S. Moody, C. B. Wire Works salesman William H. Miller, city board of assessors chairman George B. Smith, American Express route agent Herbert F. Millard, Faith Congregational Church pastor Frank W. Merrick, and finally, in 1910, Metropolitan Life insurance Company agent William F. Manning. Aside from Manning, who would go on to live here for many years, all of these men lived here for just a year or two before moving elsewhere.
William Manning purchased this house around 1909, when he was about 42 years old. Originally from Ireland, he came to the United States as a teenager in the 1880s and subsequently married his wife, Annie, in 1889. By the time they moved into this house they had four children: Frederick, William, Jr., Evelyn, and Everett. The children ranged in age from one to 20, and the oldest, Frederick, worked as a machinist in a machine shop during the 1910 census.
By the 1920 census the two oldest children had moved out, but Evelyn and Everett were still living here with their parents as late as the 1930 census. William died later in 1930, but Anna was still living here in the house when the first photo was taken in the late 1930s. Her younger children had moved out at this point, but William, Jr. had returned home and was living here with Anna and was working as a dentist. They would continue to live here until around 1950, but by the 1951 city directory Anna had moved to Boston and William to East Longmeadow.
Nearly 80 years after the first photo was taken, the house has not significantly changed, with the most noticeable difference being the loss of the balustrade above the front porch. Although they served no functional purpose, these decorative balustrades were common design elements on early 20th century Forest Park homes, but most have since been lost. Overall, though, the exterior remains well-preserved, and the house is now part of the Forest Park Heights Historic District on the National Register of Historic Places.