The house at 14 Fairfield Street in Springfield, around 1938-1939. Image courtesy of the Springfield Preservation Trust.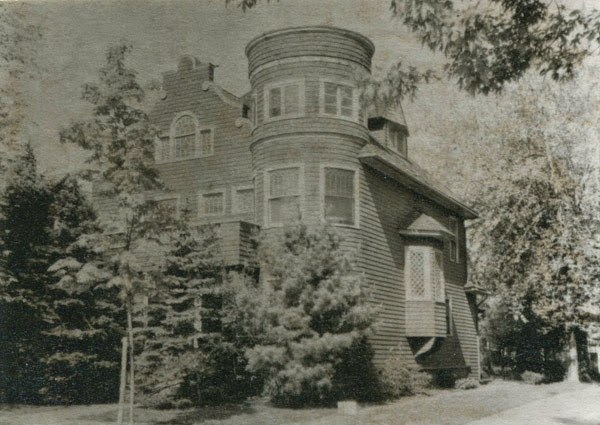 The house in 2017: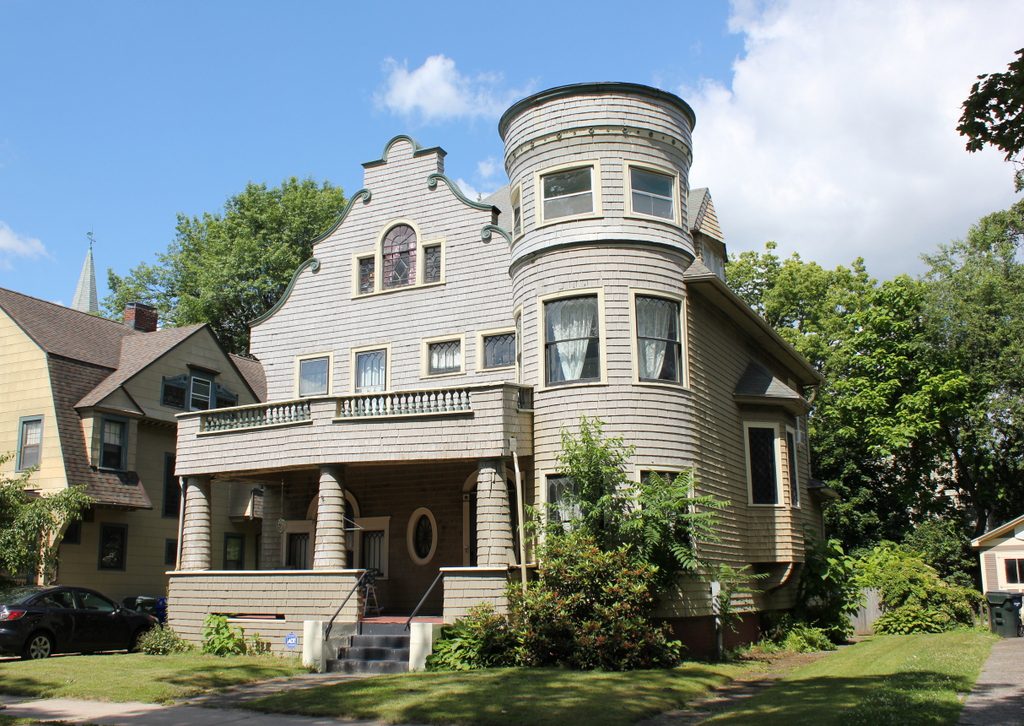 Nearly all of the homes in the Forest Park Heights neighborhood have unique designs, although often this involves similar houses that have only minor variations from one another. However, this house, located opposite the small Garfield Triangle park, is truly unique among the houses of Forest Park, with a three-story cylindrical tower, Dutch gables, and an exterior that is completely covered in shingles. It was built in 1902, and was originally the home of William F. Clark, the owner of the Clark Engraving Company. However, he evidently did not live here for very long, because by the 1905 city directory he was listed as living in Blandford.
The house was subsequently purchased by Edward C. Page, who was about 37 years old at the time. He had co-founded the Page-Storms Drop Forge Company several years earlier, and he lived here for a few years, along with his wife Charlotte and their sons Donald and Reginald. However, they moved out around 1909, and over the next decade the house would have several more residents, including Arthur K. McGinley, an attorney for Massachusetts Mutual Life Insurance Company; Horace D. McCowan, a bookkeeper for the Springfield Safe Deposit & Trust Company; and H. Anthony Treadwell, a real estate agent.
By 1920 it was the home of Salvatore Mazzraferro and his wife Maria, although he died in 1923. Maria was still living here a few years later, but by 1929 the house was owned by Ettore Capecelatro, an Italian-born physician. Along with his wife Margherita and their son Achille, Ettore had immigrated to the United States from Italy in 1920, and they were living here in this house during the 1930 census. However, like all of the previous residents, they only remained in this house for several years, and by 1933 Ettore was practicing medicine in Albany.
Around the time that the first photo was taken, the house was being rented by James F. Tucker, a tire salesman who lived here with his wife Nellie and three children: Kathleen, Barbara, and James, Jr. They were still living here as late as the mid-1940s, making them perhaps the longest-tenured residents of the house in its first 50 years of existence. Despite these many changes in ownership, though, the house remained well-preserved throughout the first half of the 20th century. Since then, the exterior has retained its original appearance, and today the house is one of the many turn-of-the-century homes in the Forest Park Heights Historic District, which was added to the National Register of Historic Places in 1982.