The house at 74 Fairfield Street in Springfield, around 1938-1939. Image courtesy of the Springfield Preservation Trust.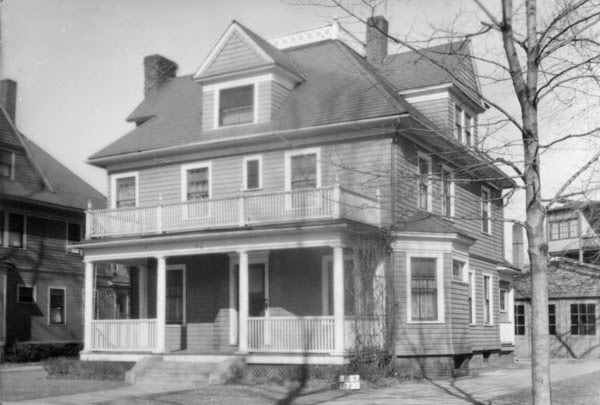 The house in 2023: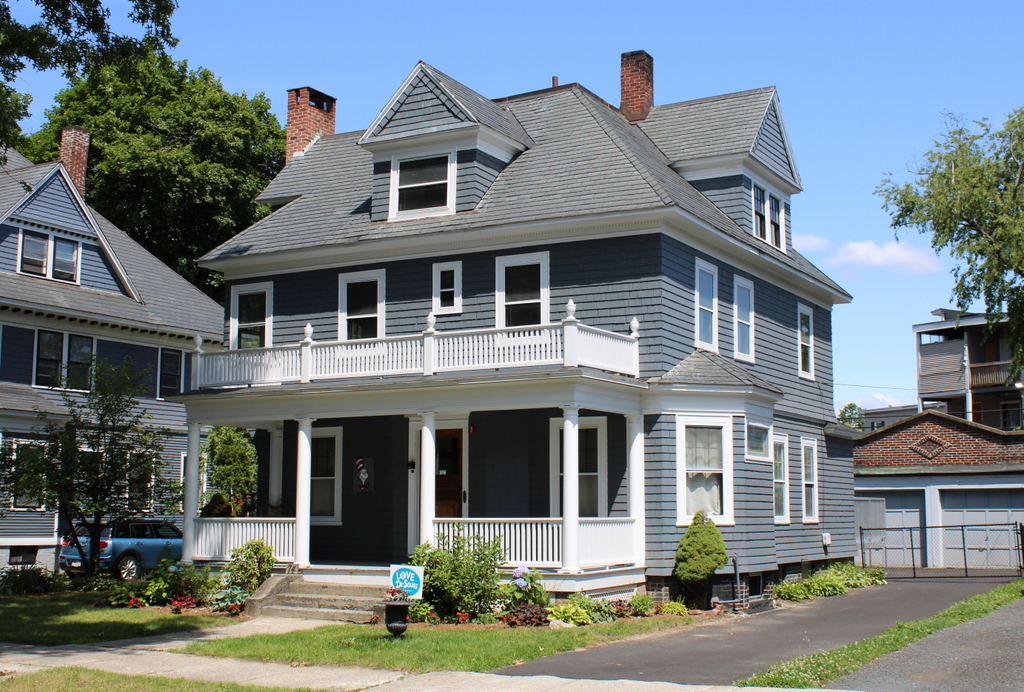 This house was built in 1903, as part of the turn-of-the-century development of Springfield's Forest Park neighborhood. Previously a sparsely-settled area in the southern part of the city, the neighborhood was connected to downtown Springfield via trolley lines in the 1890s, and developers soon followed. Here in the western section of the neighborhood, known as Forest Park Heights, upper middle class families moved into these newly-built homes, including Henry B. Russell, the associate editor of the Springfield Homestead newspaper, who purchased this house after its completion.
However, Russell did not live here for very long, because in 1906 the house was purchased by Theodor R. Geisel, a brewery manager who had previously lived on Howard Street in the South End. He was about 26 years old at the time, and he worked for the Liberty Brewing Company, which was owned by his father, Theodor Geisel. He and his wife Henrietta had been married in 1901, and by 1906 they had three young children: four-year-old Margaretha, two-year-old Theodor ("Ted"), and newborn Henrietta. However, Henrietta, who was born the same year that the family moved in, died of pneumonia in 1907, when she was just 18 months old, and her funeral was held here in this house.
Aside from Theodor and Henrietta Geisel, several other members of the family moved to the Forest Park neighborhood around this time. Theodor's parents, Theodor and Christine, had moved to a house nearby on Sumner Avenue in 1901, where they also lived with their two youngest children, Adolf and Christine. Henrietta's mother, Margaretha Seuss, moved to Forest Park around 1908, purchasing a house just down the street from here at 20 Fairfield Street, and she lived there with her daughter Bertha and Bertha's husband, William H. Klein.
It was in this setting that young Ted – who would grow up to become the author Dr. Seuss – spent all but the first two years of his childhood. He often visited nearby Forest Park, and he attended the neighborhood schools, including the Sumner Avenue School for elementary school and the Forest Park School for middle school, both of which were within easy walking distance of the family home. He subsequently attended Central High School from 1917 to 1921, and lived here with his parents until leaving for Dartmouth College in the fall of 1921.
In the meantime, Theodor Geisel continued to work for Liberty Brewing Company, which later merged with the Springfield Breweries Company in 1913. He became the general manager of the company, and in 1920 became president. However, by this point there was serious doubt about the long-term viability of the brewery, since Prohibition went into effect in January of that year. Geisel tried to adapt to the new law by producing nonalcoholic beer, root beer, and other soft drinks, but none of these were able to save the company, which went out of business several years later.
It was around this same time that Ted enrolled in Dartmouth, where he graduated in 1925. He subsequently attended Lincoln College at Oxford, although he did not graduate, and he returned to the United States in 1927. Ted lived here with his parents for a short time in 1927, where he drew cartoons and submitted them to magazines. One of his cartoons was ultimately published by the Saturday Evening Post on July 16, 1927, making it his first nationally-published work. He received $25 for it, and used the money to leave Springfield and travel to New York, where he found work with the humor magazine Judge.
While Ted's literary career was just beginning, tragedy struck in his family in 1931, when his mother died at the age of 52 from a brain tumor. That same year, though, his father Theodor began a new career when he was appointed as the city parks superintendent. He had been involved in the city's park system since 1909, when he began serving on the parks commission, and he would go on to serve as superintendent for 30 years, until his retirement in 1961.
At the time of Henrietta's death in 1931, Theodor was still living in this house, along with Margaretha and her daughter, Margaretha "Peggy" Dahmen. Margaretha had an accomplished academic career that included an undergraduate degree from Smith College, a master's degree from the University of Wisconsin, and a doctorate (she, unlike her more famous brother, actually earned the title of doctor) in German from Radcliffe College. She married her husband, Lloyd Dahmen, in the 1920s, and they had one child, Peggy, but they divorced soon after and Margaretha and Peggy were living here in Springfield by 1930.
By the time the first photo was taken in the late 1930s, Theodor, Margaretha, and Peggy were still living here in this house. Ted was still in New York at this point, along with his wife Helen, and he had just begun to publish children's books. His first, And to Think That I Saw It on Mulberry Street, had been published in 1937, and it was also the first of many of his books that drew inspiration from his childhood here in Springfield. He also wrote several other books around this time, including The 500 Hats of Bartholomew Cubbins, The Seven Lady Godivas (which was most certainly not a children's book), The King's Stilts, and Horton Hatches an Egg, before the outbreak of World War II led him to focus his efforts on drawing propaganda cartoons.
The Geisel family continued to live in Ted's childhood home until 1943, and since then the exterior has not changed significantly. The balustrade on top of the roof is gone, but overall it has retained its historic appearance. Along with the rest of the neighborhood, it is a part of the Forest Park Heights Historic District on the National Register of Historic Places, and it is now owned by the Springfield Museums, which purchased the property in 2015.