The Radding Building, at the corner of State and Willow Streets in Springfield, around 1938-1939. Image courtesy of the Springfield Preservation Trust.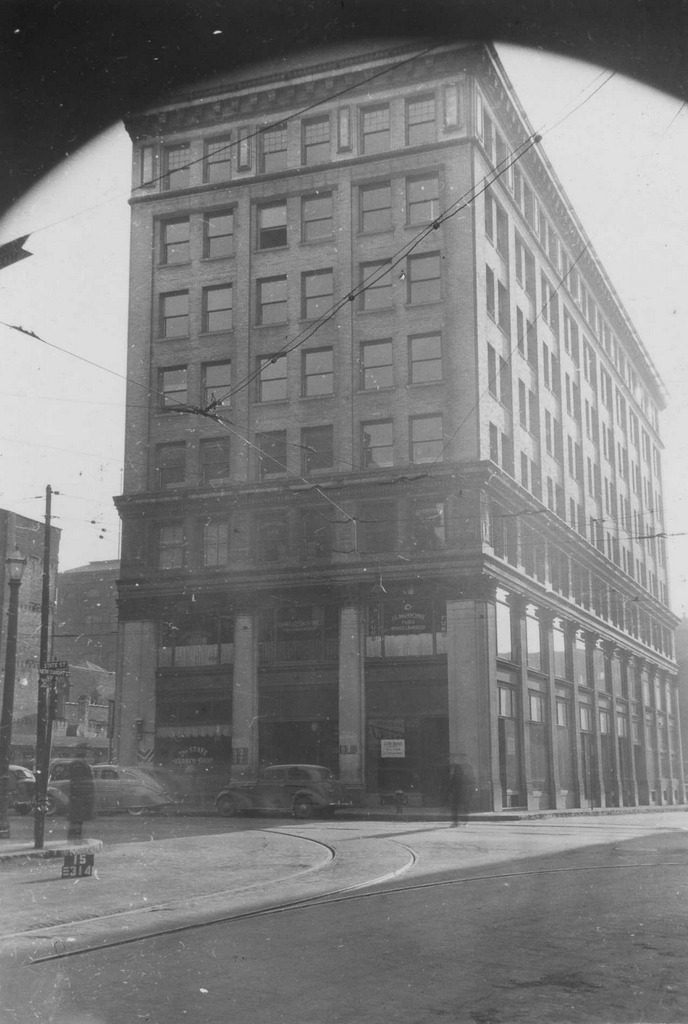 The building in 2017:
This eight-story, Classical Revival-style commercial building was built in 1915 by real estate developer Edward Radding, and was one of the largest early 20th century buildings on State Street. It was the work of Boston-based architect Charles R. Greco, and featured decorative elements such as Corinthian columns and pilasters on the first two floors, carvings in between windows on the third floor, and cornices above the third, seventh, and eight floors. Upon completion, the building housed a variety of commercial tenants, and included stores, offices, and assembly halls.
The first photo shows the building as it appeared in the late 1930s. There are a number of of signs in the windows, although only a few are legible. The ground floor storefront on the left side was the State Barber Shop, while the storefront on the right was vacant, with a "For Rent" sign in the window. Directly above this empty storefront was a fur retailer, but none of the other signs are visible from this distance. Only a few years later, in 1943, the Mutual Fire Assurance Company began renting space in the building. This company would later become its primary tenant, and was headquartered here for many years.
Nearly 80 years since the first photo was taken, the exterior of the Radding Building has seen few changes. Because of its level of preservation and its architectural significance, it was added to the National Register of Historic Places in 1983, and it remains well-preserved today. When the first photo was taken in 2017, it was undergoing major renovations to convert it from an office building to a Holiday Inn Express. This project was completed earlier in 2018, and the hotel now occupies the historic building.