The house at 80 Federal Street in Salem, around 1910-1920. Image courtesy of the Library of Congress, Detroit Publishing Company Collection.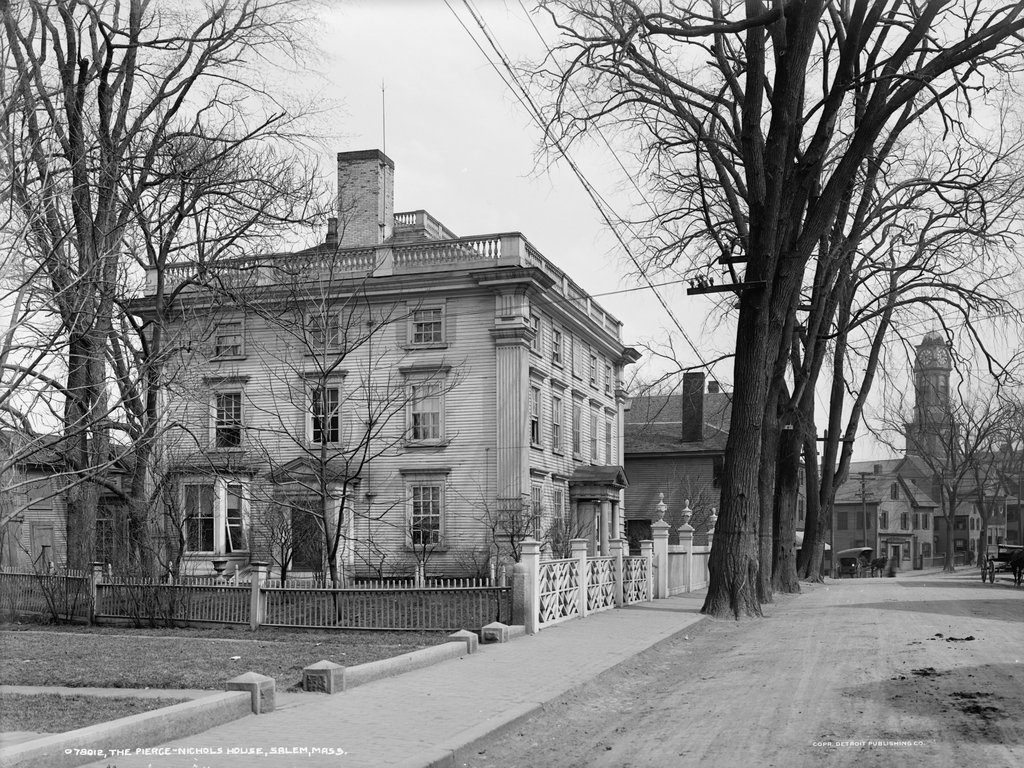 The scene in 2017:
This house is widely regarded as a masterpiece of early Federal-style architecture, and was among the first works by the prominent Salem architect Samuel McIntire. It was completed around 1782 as the home of Jerathmiel Peirce (1747-1827), a prosperous merchant who was a partner in the firm of Peirce & Waite. He was originally from Charlestown, but came to Salem in 1763 as a teenager, along with his older brother Benjamin. Here he worked as a leather dresser, and in 1772 married his wife, Sarah Ropes (1752-1796). However, Benjamin was killed three years later, in April 19, 1775, while serving as a minuteman in the opening battles of the American Revolution.
Later in the war, in 1778, Peirce went into business with Aaron Waite, as co-owners of the privateer Greyhound. Their partnership subsequently grew into a prosperous shipping firm, and within a few years the former leather dresser had commissioned McIntire to build this mansion. Although there is no surviving documentary evidence from the period that links the famous architect to this house, both family tradition and the visual appearance of the house suggest that it was the work of McIntire, and most historians seem to have accepted this as fact. Among other buildings in Salem, its exterior bears a strong resemblance to the home of Elias Hasket Derby, a merchant who hired McIntire to renovate his Washington Street home around the same time that Peirce's house was built.
Like so many of the other Salem mansions of the late 18th and early 19th centuries, it has a rectangular form with three stories, with the third story somewhat shorter than the other two. The exterior is clapboarded, with large pilasters on the corners, and the house is topped by a low hip roof that is partially hidden by a balustrade. A stable, partially visible behind the house in the first photo, was also built around the same time. The backyard was landscaped with a terraced garden, And the property originally extended as far as the North River, where the Peirce & Waite wharf and warehouse were located.
Peirce was about 35 years old when he moved into this house. He and Sarah had three living children at the time: Joseph, Benjamin, and Sarah. However, they had previously had two other sons, both named Benjamin, who had died young. After moving into this house, they would have three more daughters, all named Elizabeth, and a son, Henry. The first two Elizabeths both died when they were only a few months old, but the third Elizabeth and Henry both survived into adulthood. They would lose one more child in 1793, though, when Joseph died at the age of 18, and Jerathmiel was widowed three years later, when Sarah died in 1796 at the age of 44.
The interior of the house was remodeled in 1801, with McIntire evidently performing this work as well, and the fence in front of the house was also added during this time. These renovations coincided with the marriage of Jerathmiel's oldest daughter, Sarah (1780-1835), to her first cousin, George Nichols (1778-1865), who was a ship captain and merchant. They were married in the drawing room here in this house, in a small ceremony that the groom described in his memoirs many years later:
The ceremony took place on the 22nd of November, 1801, on Sunday evening. We were married by Rev. Dr. Hopkins, in my Father Pierce's great eastern room, which was finished and furnished only a short time before. Aunt Adams [Jerathmiel's older sister Rebecca] was buried from the same room, only three days before. My wife wanted only a day or two of being twenty-one years old, and I have often laughed and told her she was never free. No one was present at the wedding but the two families. Betsey and Charlotte [Sarah and George's sisters, respectively] were the bridesmaids, or at least considered themselves so. Sally's dress was a beautiful striped muslin, very delicate, made in Bombay for some distinguished person. I purchased it of Nasser Vanji, at five dollars per yard. . . . This muslin Sally wore over white silk. Her headdress was a white lace veil, put on turban fashion. Her cake, of which she had a large quantity, was made in a great bread tray by Nellie Masury, a sister of the late Deacon Punchard. She was quite a celebrated cook.
Following their marriage, George and Sarah Nichols moved into a house at the corner of Washington and Federal Streets. In the meantime, though, Jerathmiel continued to live here in this house. In 1803, his son Benjamin (1778-1831) married George Nichols' sister, Lydia Ropes Nichols (1781-1868). Benjamin and George subsequently went into business together, running a prosperous shipping firm in the years leading up to the War of 1812. Benjamin also had a successful political career during this time, including serving as a state representative for several years, and as a state senator in 1811. However, the war took a heavy toll on Peirce, Nichols, and many other Salem merchants, with Nichols later writing:
We were generally prospered in business and when the war broke out in 1812 I was quite a rich man for those times, being worth at least $40,000. This was a very disastrous war to me. I lost in it nearly one-half of all my property, notwithstanding I had a great deal of insurance. Every vessel in which I was concerned was captured. Among them was the "Rambler," a beautiful vessel, owned by my brother Peirce and myself. She was making a fine voyage, but she was taken by the British, off the Cape of Good Hope. Privateering was very common in that war, as in all wars, but I could not feel it to be right and therefore did not engage in it. At the close of the war in 1815, I engaged again in commerce with Benjamin Peirce and others, and for several years affairs went along somewhat prosperously. Then came on a long series of disasters, ruinous voyages were made, the effect of bad management, and in 1826 I found myself bankrupt, as were also my father Peirce and his two sons.
As a result of this change of fortune, George Nichols had to sell much of his property in order to pay off his creditors. Benjamin Peirce left the shipping business altogether and moved to Cambridge, where he worked as the librarian of Harvard College until his death in 1831. His son, also named Benjamin Peirce (1809-1880), went on to become a prominent mathematician, and was the father of philosopher Charles Sanders Peirce (1839-1914) and diplomat Herbert H. D. Peirce (1849-1916). In the meantime, Jerathmiel Peirce was also hit hard by these financial troubles, and in 1827 he was forced to sell this mansion in order to pay his creditors. He subsequently moved in with George and Sarah, but only lived in their house for a short time before his death on August 20, at the age of 80.
The property here on Federal Streeet was purchased by George Johonnot, an elderly friend of the Peirce family. He lived here until his death in 1839, and his wife Martha died the following year, leaving the house to George Nichols, who moved into the house in August 1840. By this point his wife Sarah had died, and in 1836 he had remarried to her younger sister, Elizabeth Peirce (1787-1864). George and Elizabeth died a year apart in the 1860s, but the house remained in the Nichols family for another half century until 1917, when it was sold to the Essex Institute.
The first photo was taken around the time that the Essex Institute acquired the property. Over the following decades, this museum would continue to add historic Salem houses to its properties. These would all become part of the Peabody Essex Museum following a 1992 merger between the Essex Institute and the Peabody Museum of Salem.  Because of its architectural significance, the Peirce-Nichols was designated as a National Historic Landmark in 1968, and it is also a contributing property in the Chestnut Street Historic District on the National Register of Historic Places. Today, the house has seen few exterior changes since the first photo was taken, although the house is now partially hidden by trees from this angle.