The Old Country Store at 776 Longmeadow Street, near the corner of Williams Street in Longmeadow, on October 14, 1912. Image courtesy of the Longmeadow Historical Society.
The scene in 2018: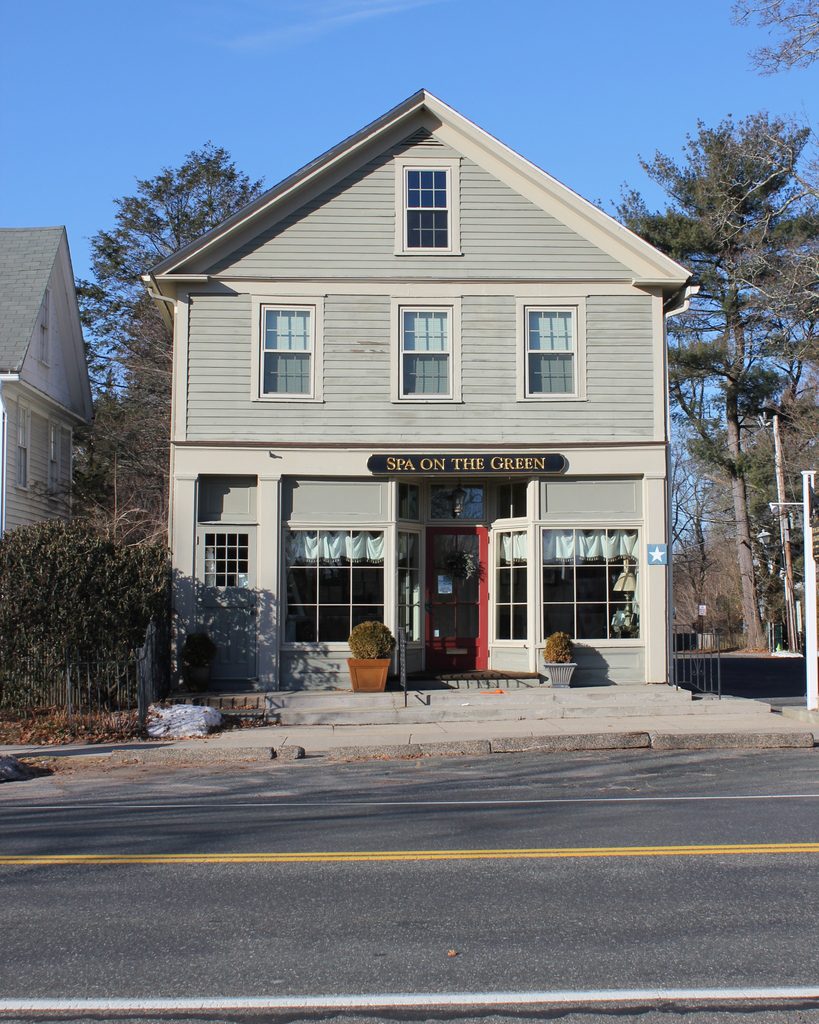 This building was constructed around 1805, and was originally owned by Calvin Burt, who operated a general store out of the first floor. The post office was also located here for many years, and the building housed a variety of retail occupants throughout the 19th century. These included William White, who had a gold and silver thimble shop here from 1839 to 1848, in addition to his duties as a postmaster. He was succeeded by button manufacturer Dimond Chandler, whose factory was located here in a part of the building that has since been demolished. Chandler went into business with his son-in-law, Nelson C. Newell, an Nelson's brother Samuel, and the two carried on the business after Chandler's retirement in 1855. They would subsequently relocate to Springfield in 1864, opening a large factory on Howard Street.
The store was later used as a spectacle shop, but by the end of the 19th century it had again reverted to a general store, run by Charles Allen. He died in 1909, and by 1911 the store had been sold to Charles L. Wood, whose shop is visible in the first photo.The sign above the door advertises for "Meat and Groceries" and "Fish and Oysters," and there is an assortment of fresh fruits and vegetables visible in the window on the left side. To the right of the door is a large display for "Pillsbury's Best Flour," which was "Made from selected hard wheat," and "never disappoints." On the left side of the building, just beyond the mailbox, is a bulletin board with a number of flyers, including one that reads "$20 reward," although the rest of this flyer, including the details of the reward, is unreadable from this distance.
The business would be owned by several more merchants during the first half of the 20th century, and remained as a general store until 1964, when it became a women's clothing store called The Separate Shop. The building now houses the Spa on the Green, but it has seen very few exterior changes since the first photo was taken more than 100 years ago. It survives as a rare, well-preserved early 19th century commercial building, and it is a contributing property in the Longmeadow Historic District, which was added to the National Register of Historic Places in 1982.