Orchard House, at 399 Lexington Road in Concord, around 1900-1906. Image courtesy of the Library of Congress, Detroit Publishing Company Collection.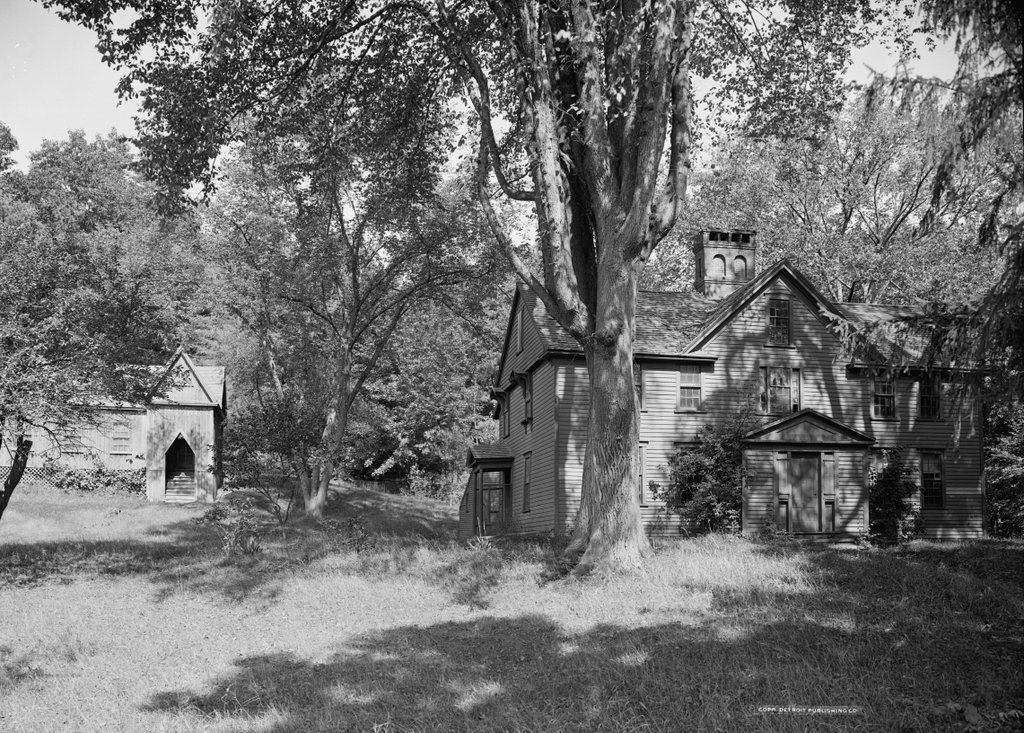 The scene in 2018: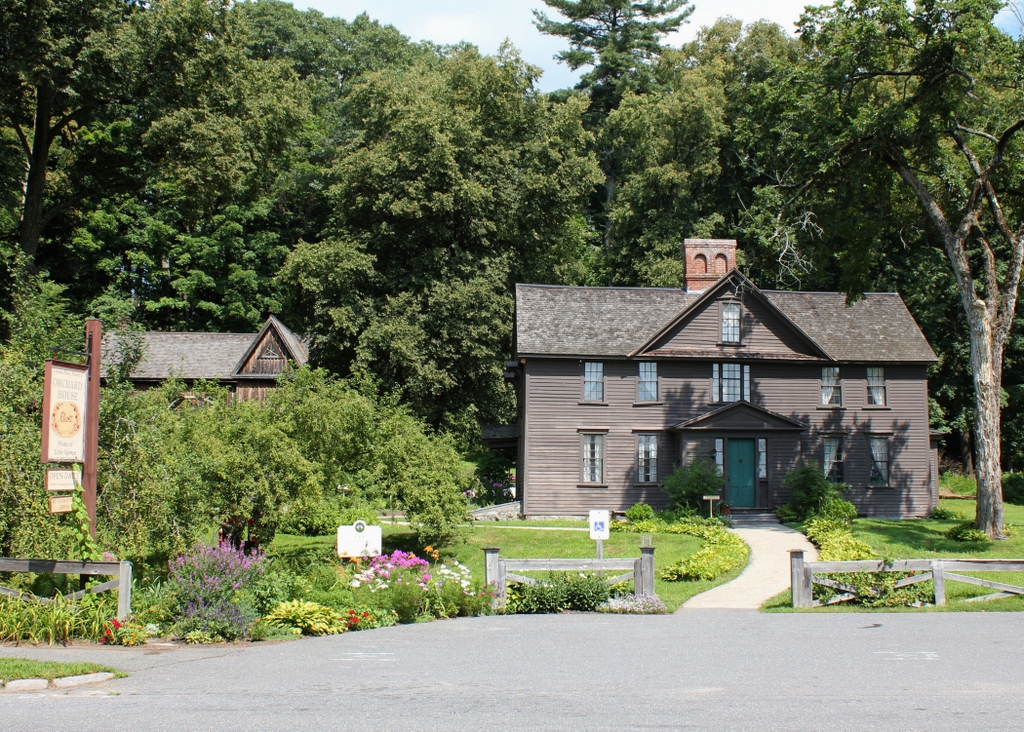 The earliest portion of this house dates back to sometime around the early 18th century, but its present-day appearance was the result of an extensive expansion and renovation that occurred in 1857. In that year, the property was purchased by Amos Bronson Alcott, a teacher, writer, and philosopher who is best remembered today as the father of author Louisa May Alcott. He was a part of Concord's Transcendentalist movement, and during the early 1840s he was one of the founders of Fruitlands, a short-lived utopian commune in Harvard, Massachusetts. However, this experiment failed in just seven months, and in 1845 the Alcott family moved to Concord, where they lived in a house on Lexington Road that they named Hillside.
At the time, the family consisted of Bronson Alcott, his wife Abigail, and their four daughters: Anna, Louisa, Elizabeth, and Abigail. They lived at Hillside for several years before moving to Boston in 1848, but they ultimately returned to Concord in 1857 and purchased this house. It was located immediately to the west of their old house, which had been acquired by Nathaniel Hawthorne five years earlier and renamed The Wayside. Bronson Alcott soon began renovating his house, which he named Orchard House after the large apple orchard that was located on the property. The work was completed the following year, and the Alcotts moved in during the spring of 1858, only a few weeks after the death of their 22-year-old daughter Elizabeth.
Louisa May Alcott was 25 years old when she moved into this house with her parents and sisters, and she went on to reside here for much of her early literary career. She was already a published author at the time, following the 1854 publication of her first work, Flower Fables, but she had not yet become widely known. Over the next few years, she wrote several novels and short stories, including Hospital Sketches, which was published in 1863. It was based on her own experiences as a Civil War nurse in Georgetown, where she served for six weeks during the war before falling ill with typhoid fever.
However, Alcott's literary breakthrough came in 1868 with the publication of Little Women, which she wrote here in this house. This novel was largely autobiographical, with the March sisters in the book representing the four Alcott girls, and much of the plot was inspired by her own experiences. The book is set at a fictional version of Orchard House, although most of the real-life events in the book had actually occurred at Hillside, where Alcott lived during her teenage years.
Aside from the improvements to the main house, the Alcotts also built the structure on the left side of the scene. Originally known as the Hillside Chapel, it was later renamed the Concord School of Philosophy. Here, Bronson Alcott ran a school that was modeled on Plato's Academy, with a series of lectures and readings that were based on Transcendentalism and other contemporary philosophies. Bronson was nearly 80 years old when he started the school, but he continued to oversee it for the next nine years, giving lectures here while also inviting guest speakers
In the meantime, Louisa May Alcott continued to live here until 1869, when she moved to Boston, but she continued to visit her family here in Concord. Then, in 1877 she purchased Henry David Thoreau's former house on Main Street, and both she and her father subsequently lived there. Bronson sold Orchard House in the early 1880s, and he eventually moved to a house on Louisburg Square in Boston's Beacon Hill neighborhood, where he died on March 4, 1888 at the age of 88. Only two days later, Louisa suffered a stroke—possibly a long-term effect of mercury medication that she had taken to treat her typhoid fever some 25 years earlier—and she died at the age of 55.
The first photo shows the front of the house at some point around the turn of the 20th century. It was already recognized as an important landmark, as this photo was taken by a major postcard company, but at the time it was still a private residence. However, in 1911 the Concord Woman's Club formed the Louisa May Alcott Memorial Association, which purchased the property and, starting in 1912, opened it to the public as a museum.
The house has remained as a museum ever since, and it continues to be open for guided tours, with hardly any exterior changes since the first photo was taken more than a century ago. It is one of the many important literary sites in Concord, and in 1962 it was designated as a National Historic Landmark. More recently, the house gained attention with the release of the 2019 film adaptation of Little Women, much of which was filmed in Concord. However, this house itself was not included in the movie; instead, the producers constructed a replica home elsewhere in Concord, which was used for filming and subsequently dismantled.