The Second Congregational Church in the center of Hartford, around 1903-1910. Image from The Old and the New.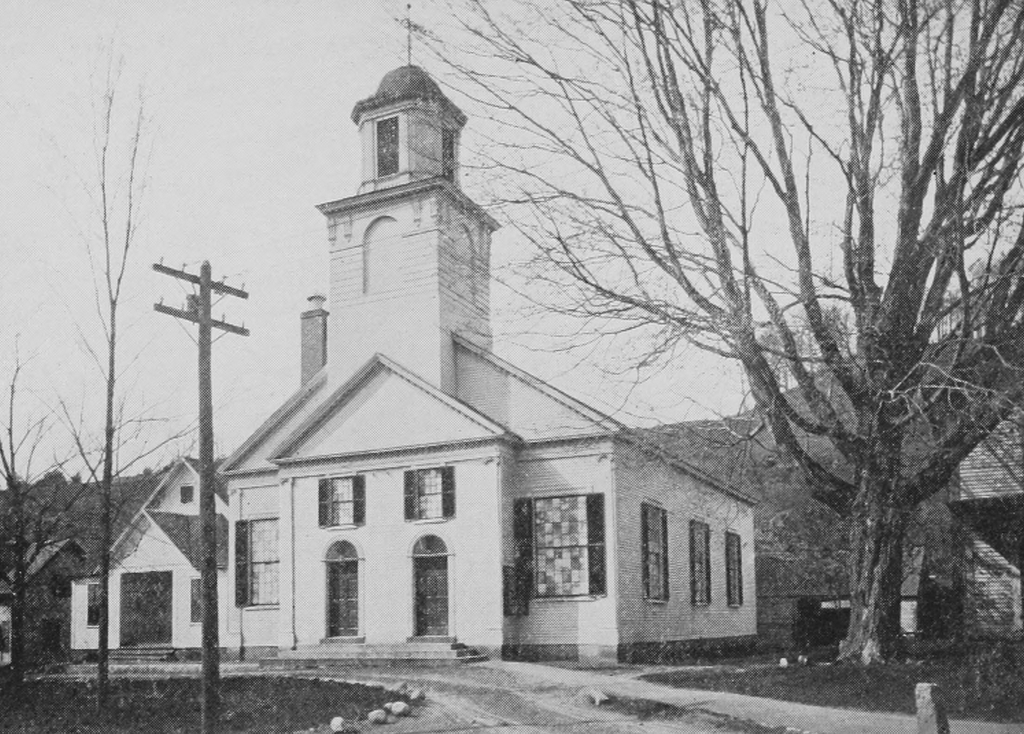 The church in 2018: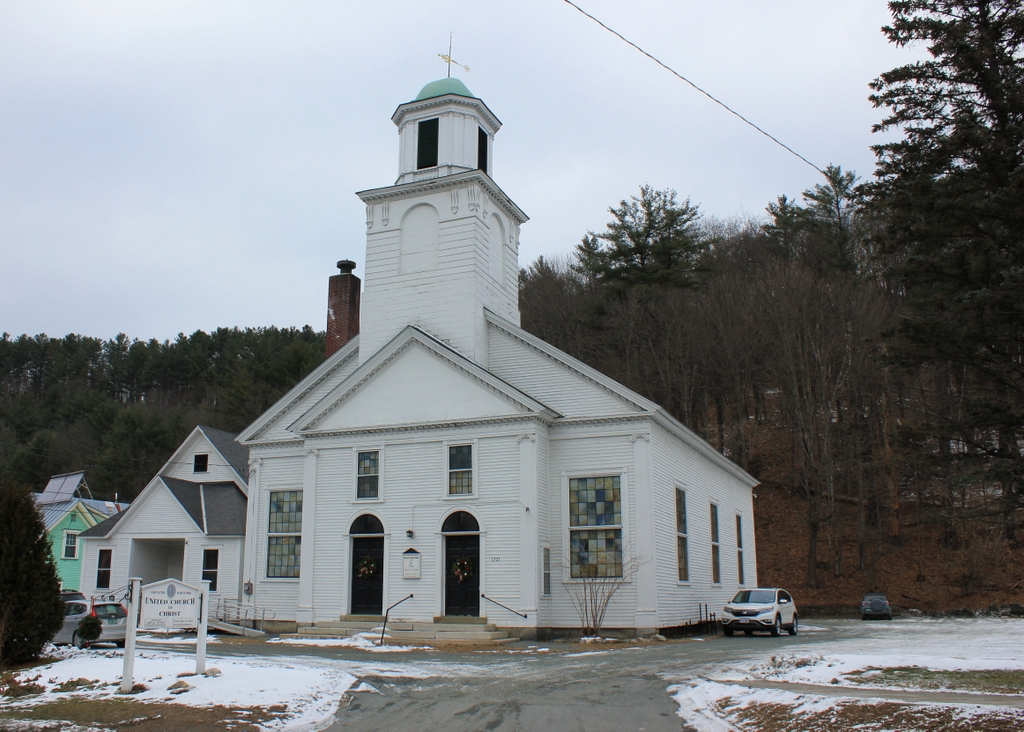 The present-day town of Hartford consists of five distinct villages, spread out across nearly 50 square miles of land. During the first half of the 19th century, this village here along the banks of the White River developed into the de facto town center. It was known as White River Village, and in in 1827 the Congregational Society of White River Village—later renamed the Second Congregational Society of Hartford, Vermont—was established here, with the intent of constructing a meeting house here.
This building, which is shown here in these two photos, was completed in late 1828, and it was formally dedicated on January 8, 1829. It was constructed by Jedediah Dana of Lebanon, New Hampshire, with a design that was typical for New England churches of the period, including a tower and belfry above the main entrance. On the interior, the church could seat 400 people, with pews on either side of two aisles, along with a gallery in the rear of the church.
As was often the cases in churches at the time, parishioners purchased their pews. Prices started at $52, a considerable sum for the 1820s, and the more desirable pews carried a premium. Individual families decorated and furnished their pews according to their tastes, and in the early years only pew owners could vote in church meetings, with the voting power determined by the number of pews that the person held. In all, 61 pews were sold when the church was completed, for a total of $3,788.50, which nearly covered the $4,297 that it cost to construct the building.
The church remained in use throughout the 19th century, but by the turn of the 20th century it was in need of a major renovation. This work, which was done in 1902-1903, included converting the gallery into a meeting room, replacing the heating and ventilation systems, installing new carpet and upholstery, and reducing the seating capacity to 300. Both the interior and exterior were also remodeled with Colonial Revival-style features, which were added by local architect Louis S. Newton.
The first photo was taken sometime soon after these renovations were completed. Since then, very little has changed here on the exterior. Aside from the lack of shutters in the present-day view, the church looks the same as it did more than a century ago, and it remains in use as an active church, now known as the Greater Hartford United Church of Christ. Along with the other buildings here in the village center, it is now part of the Hartford Village Historic District on the National Register of Historic Places.