The North Wilbraham Station on the Boston & Albany Railroad, around 1890. Image courtesy of the Wilbraham Public Library.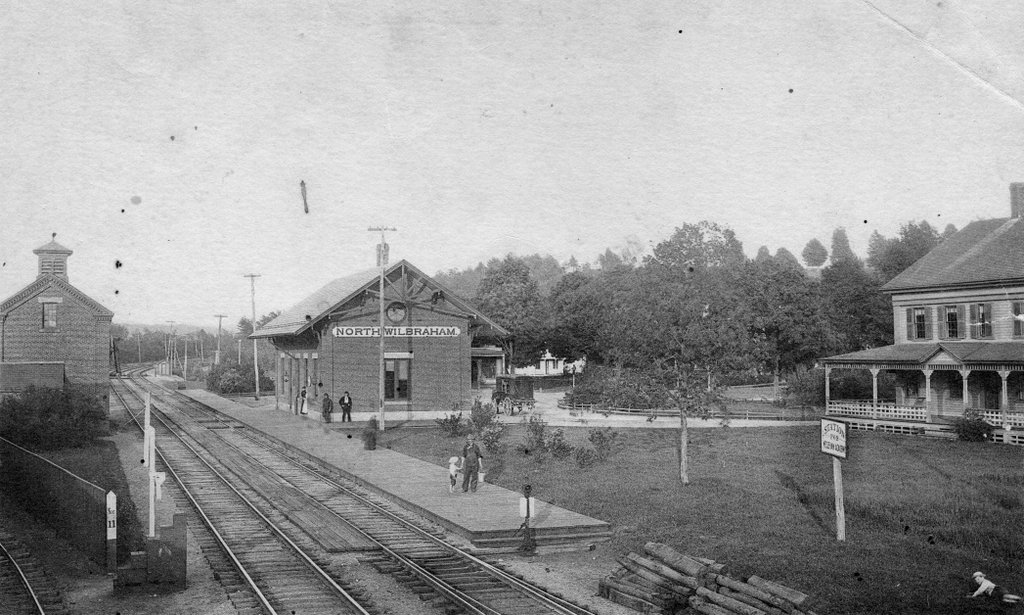 The scene in 2015: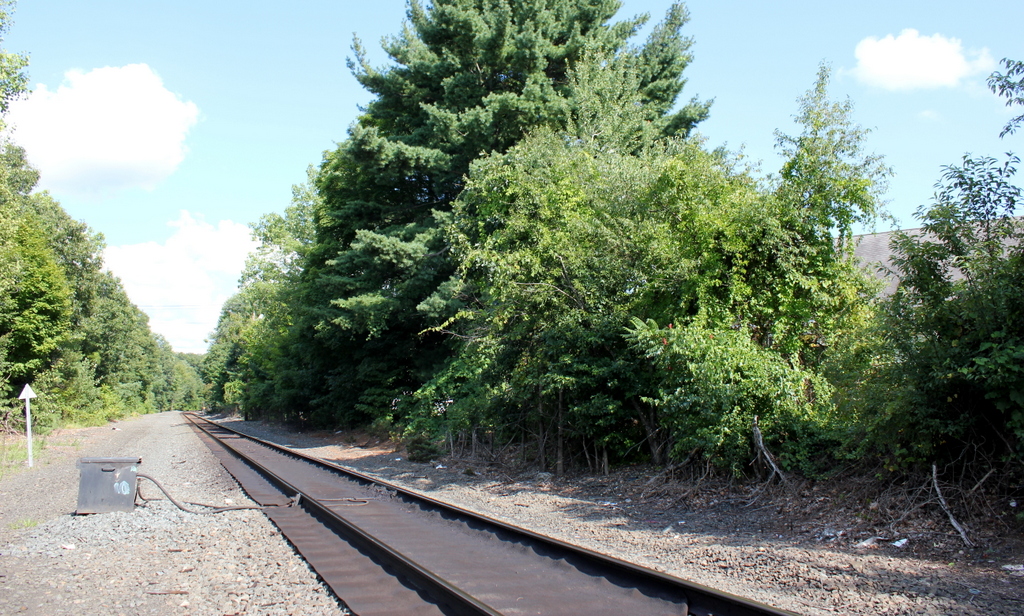 Although Wilbraham is a fairly small town, it lies on one of the primary east-west transportation corridors in New England.  In the 1630s, the Bay Path crossed what would later become the northern edge of the town, connecting Boston and Springfield.  Later, this route was incorporated into one of three branches of the Boston Post Road between Boston and New York.  So, when railroads were beginning to be developed in the 1830s, this same route along the Connecticut River was a logical choice for a railroad line.  Heading west from Boston, railroads reached Worcester in 1835, and four years later the Western Railroad was completed, connecting Worcester to Springfield.  These companies would later be consolidated into the Boston & Albany Railroad.
One of the original stations on the Western Railroad was here in Wilbraham, although it was located almost three miles west of here, at the present-day Stony Hill Road underpass.  In 1851, though, this station was moved about a mile west into Springfield, to Oak Street in Indian Orchard.  A new Wilbraham station here at North Wilbraham was established around the same time, and the station seen in the 1890 photo was built in 1872.  By the time the first photo was taken, there were four to five scheduled trains in each direction that stopped in North Wilbraham.  As the sign indicates in the photo, it was the station for Wesleyan Academy, which was later renamed Wilbraham Academy and is now Wilbraham-Monson Academy.   From here, travelers would board a stagecoach for the remaining two miles to the academy.
However, with the decline of passenger rail in the mid-1900s, train stops in Wilbraham were gradually reduced until 1957, when the station was closed.  It was demolished the following year, and today no trace remains of it or any of the associated buildings.  The old Boston & Albany line is now owned by CSX, and as seen in the 2015 photo it has been reduced from two tracks to one between Springfield and Palmer.  The only passenger train that still operates through here is Amtrak's Lake Shore Limited, which runs daily from Boston to Chicago without stopping in Wilbraham.