Peacefield, the former home of John Adams and John Quincy Adams, at 135 Adams Street in Quincy, around 1900-1906. Image courtesy of the Library of Congress, Detroit Publishing Company Collection.
The house in 2019: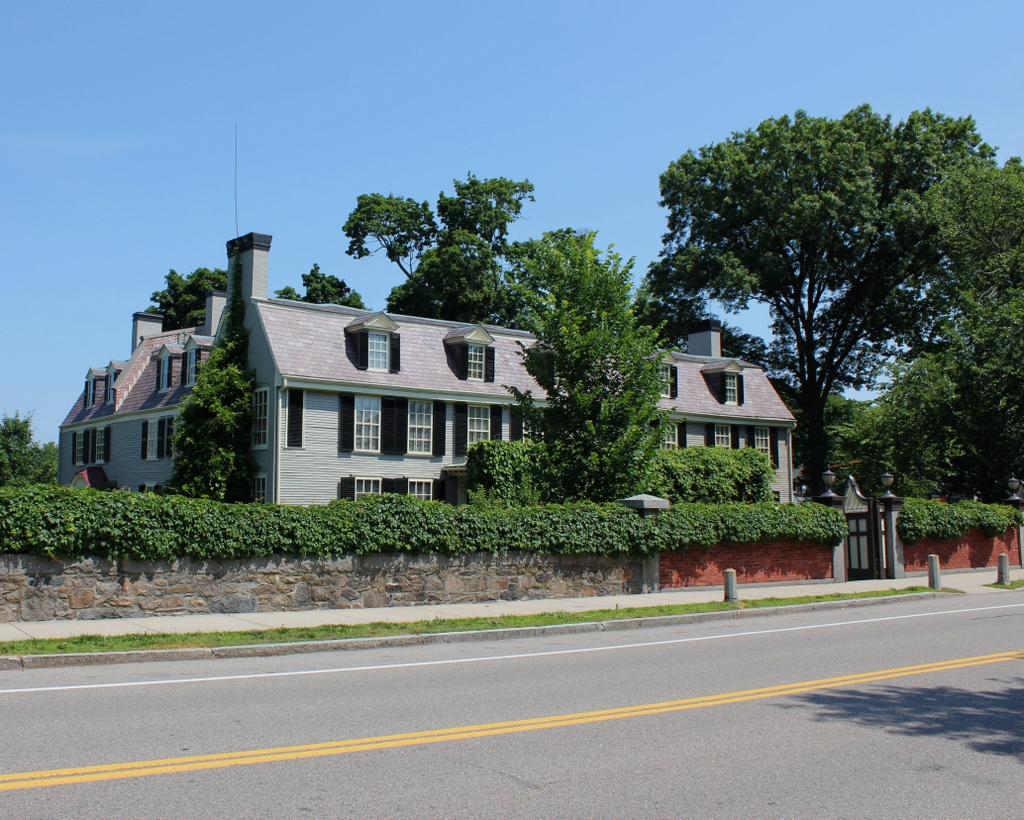 As discussed in the previous post, John Adams was born in a house that still stands a little more than a mile south of here on Franklin Street in Quincy. Then, as an adult, he and his wife Abigail lived in a house next door to his birthplace, where their son John Quincy Adams was born in 1767. Tat modest saltbox-style farmhouse was their home throughout John Adams's early political career and the American Revolution, although he was frequently away on government business, including spending most of the Revolution overseas as a diplomat.
After the end of the war, Abigail Adams traveled to Europe with Nabby, arriving in 1784 and reuniting with her husband and John Quincy. The family then spent the next four years in Europe, first in Paris and then in London. During this time, they grew accustomed to living in large, fashionable houses in these cities, so in 1787 they decided to upgrade their living situation back home by purchasing this house, including 80 acres of farmland, on modern-day Adams Street. They were still living in Europe at the time, but they moved into the house upon their return to America a year later.
The house itself dated back to 1731, when the original portion of the building was constructed as the home of Leonard Vassall, a sugar plantation owner from Jamaica. He had died in 1737, but his daughter Anna Borland subsequently inherited the property, and she and her husband John used it as a summer residence. However, she was a loyalist, so she fled to England at the start of the war, and the house was empty for most of the Revolution. She later recovered the property, and her son Leonard ultimately sold it to Adams in 1787 for 600 pounds.
The Adamses had apparently recalled the house as having been one of the finest residences in the town, but they were somewhat disappointed after having purchased it sight unseen from overseas. Although its Georgian architecture was an improvement from their old saltbox house, it was still small, consisting of just six rooms in what is now the left side of the front facade of the house. It was also in poor condition after having been vacant for so long, and it required significant work.
Less than a month after their return to America, Abigail wrote a letter to her daughter Nabby, in which she described the rather dismal condition of the house:
But we have come into a house not half repaired, and I own myself most sadly disappointed. In height and breadth, it feels like a wren's house. Ever since I came, we have had such a swarm of carpenters, masons, farmers, as have almost distracted me—every thing all at once, with miserable assistance. In short, I have been ready to wish I had left all my furniture behind. The length of the voyage and heat of the ship greatly injured it; some we cannot get up, and the shocking state of the house has obliged me to open it in the garret.
Over time, though, the house, which John Adams named Peacefield, became a suitable residence for the family. It was steadily expanded, including a large addition on the right side of the house, and Abigail oversaw much of this work herself, as John Adams spent most of the 1790s in Philadelphia. There, he served as the first vice president from 1789 to 1797, and then as the second president, succeeding George Washington after the strongly-contested 1796 election between himself and political rival Thomas Jefferson.
During his presidency, the United States capital city shifted from Philadelphia to Washington, D. C. As a result, Adams became the first president to live in the White House, moving in on November 1, 1800. However, his say there was short; that fall, he lost the election to Thomas Jefferson, and he left Washington early on the morning of March 4, 1801 bound for Quincy, just hours before his successor was inaugurated.
Adams largely retired from public life once he returned to Quincy, focusing instead on farming his land here at Peacefield. He avoided making public statements in opposition to Jefferson, and the two men ultimately renewed their friendship and began a frequent exchange of letters after the end of Jefferson's presidency. However, this period was also a time of personal troubles for Adams. His son Charles had died of cirrhosis of the liver in 1800 at the age of 30, and his son Thomas had similar problems with alcoholism. Then, his daughter Nabby died of breast cancer in 1813, and his wife Abigail died of typhoid fever in 1818.
This left John Quincy Adams as his only surviving child. His son technically owned Peacefield, having purchased it from John Adams when his father had financial troubles in 1803. At the time, John Quincy Adams was a U. S. senator from Massachusetts, and he subsequently became Secretary of State under James Monroe, serving from 1817 to 1825. John Adams lived long enough to see his son elected president in 1824, but he ultimately died halfway through John Quincy Adams's term, on July 4, 1826, at the age of 90. In one of the most unusual coincidences in American history, Thomas Jefferson died on the same day, which also happened to be the 50th anniversary of the signing of the Declaration of Independence.
Like his father, John Quincy Adams proved to be a one-term president after losing the election of 1828. He then returned to Peacefield here in Quincy, but his life in politics was hardly over by this point. Despite a relatively average presidency, he went on to have one of the most successful careers of any former president, serving in the U. S. House of Representatives from 1831 until his death in 1848. During this time, he was one of the leading opponents of slavery in Congress, and in his final years one of his colleagues in the House was a young Abraham Lincoln, who served as a pallbearer at Adams's funeral.
In another more unfortunate parallel between himself and his father, John Quincy Adams also had three sons, two of whom lived troubled lives, struggled with alcoholism, and died young. His oldest son, George Washington Adams, died in 1829 at the age of 28 from an apparent suicide, and his second son, John Adams II, died five years later. Only his youngest son, Charles Francis Adams Sr., outlived him, and he inherited Peacefield after John Quincy Adams's death.
Charles Francis Adams had a successful career in politics, serving in the state legislature before being elected to the U. S. House of Representatives in 1858. He was re-elected in 1860, but soon resigned after Abraham Lincoln appointed him as ambassador to the United Kingdom, a diplomatic post that both his father and grandfather had once held. In this capacity, Adams played an important role in keeping the United Kingdom neutral during the Civil War, preventing them from giving aid or diplomatic recognition to the Confederacy.
During his time at Peacefield, Adams continued to make improvements, including the construction of the Stone Library adjacent to the main house. This building, which stands just out of view on the far left side of this scene, was built in accordance with John Quincy Adams's wishes and completed in 1873. Designed to be fireproof, the building houses over 12,000 collected by several generations of the Adams family, along with other important family papers and documents.
Charles Francis Adams died in 1886, and his sons Henry and Brooks were the fourth and last generation to live here at Peacefield. Both were alive when the first photo was taken, and it was around this time that Henry completed his famous memoir, The Education of Henry Adams, although it would not be published until after his death in 1918. In the meantime, Brooks continued to live here until his death in 1927, 140 years after his great grandfather had purchased the property.
During his ownership, Brooks Adams had steadily sold off most of the property, and by the time he died Peacefield consisted of just four acres surrounding the house. He had no children to inherit the house, so the other Adams family descendants formed the Adams Memorial Society, and opened the house to the public as a museum. This organization ran it for nearly 20 years, before ultimately transferring it to the National Park Service in 1946.
Originally named the Adams Mansion National Historic Site, it was later renamed the Adams National Historical Park, and it now includes the nearby birthplaces of John Adams and John Quincy Adams. Throughout this time, Peacefield has remained well-preserved, and today this exterior view looks nearly identical to its appearance more than a century ago, aside from the brick portion of the fence on the right side. Along with both birthplace houses, Peacefield is still open to the public, with guided tours of the main house and the Stone Library.