The house at 141 Saint James Avenue in Springfield, around 1938-1939. Image courtesy of the Springfield Preservation Trust.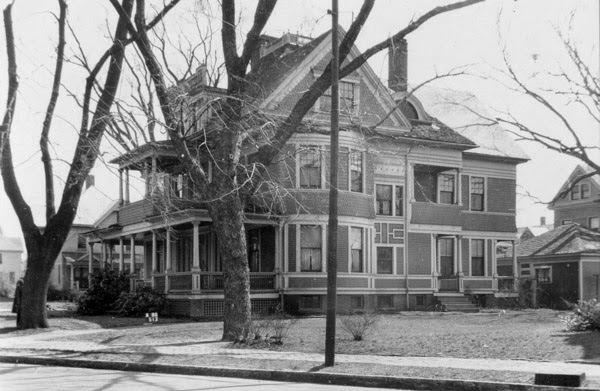 The house in 2018: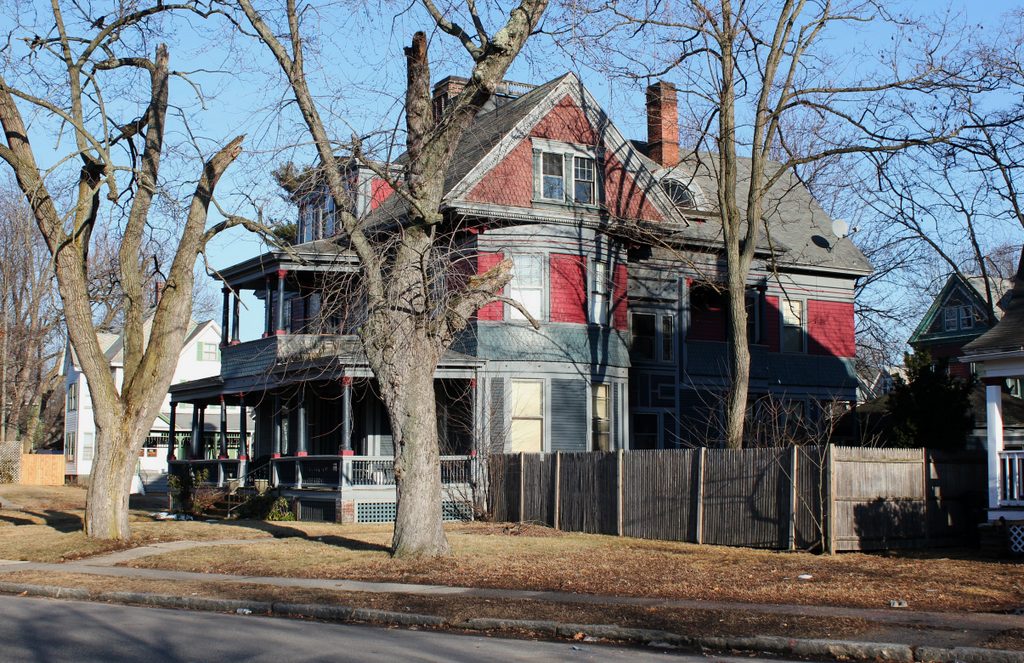 Most of the houses in Springfield's McKnight neighborhood were built in the 1880s, and feature Queen Anne-style architecture, which was popular during that decade. However, trends had begun to shift by the early 1890s, and some of the later McKnight homes had a Colonial Revival design, including this house at the corner of Saint James Avenue and Thompson Street. It was built in 1894, and was originally the home of Francke W. Dickinson, a funeral director and local politician who lived here with his wife Katie and their two children, Ethel and Henry.
Francke Dickinson was the son of Springfield undertaker Elijah Dickinson, and he and his brother Arthur joined the family business in 1872. Arthur left after just two years, but Francke stayed, and took over the company after his father's death in 1885. In 1910, he formed a partnership with George W. Streeter, establishing the Dickinson-Streeter Company, which would remain in business in Springfield for over a century. During this time, Dickinson also held several different political offices, including serving on the city's common council from 1888 to 1890, on the board of alderman from 1903 to 1904, as mayor from 1905 to 1906, and as a state senator from 1908 to 1909.
Their son Henry died in 1896 from heart disease at the age of 19, and Ethel left home after her marriage in 1900, so Francke and Katie were living here alone during the 1900 census, except for one servant. They were still here in 1907, but by the following year they had moved to a house on Chestnut Street, and then to Sumner Avenue a few years later. However, by the 1920 census they had returned to the McKnight neighborhood, and were living at The Oaks, a hotel a few blocks away from here on Thompson Street. They lived there until 1922, when they died only three months apart from each other.
In the meantime, by 1910 their former house here on Saint James Avenue was the home of Elizabeth A. Rice and Helen S. Stratton. The two women were sisters, and both were widows who were in their 70s at the time. Helen died in 1916, but Elizabeth was still living here during the 1920 census, along with her nephew Samuel F. Punderson. He was 50 years old and unmarried, and was the treasurer of the R. W. Rice Coal Company, which had been established by Elizabeth's late husband Richard. Punderson subsequently inherited the house after his aunt's death in 1923, and in 1930 he was living here with his wife May, whom he had married a few years earlier.
May died in 1931, and Samuel remained here until his death in 1938 at the age of 75. The first photo was taken around this same time, and it shows the west side of the house as seen from Saint James Avenue. Very little has changed since then, and the exterior of the house has remained well-preserved. Perhaps even more remarkable, though, is that the two trees from the first photo are also still there. They do not seem to have grown much, and aside from a few missing limbs, they look almost the same as they did when the first photo was taken some 80 years ago.