A view of a baseball game in progress at Wesleyan Academy (today Wilbraham & Monson Academy) in Wilbraham, around 1892. Image from Picturesque Hampden (1892)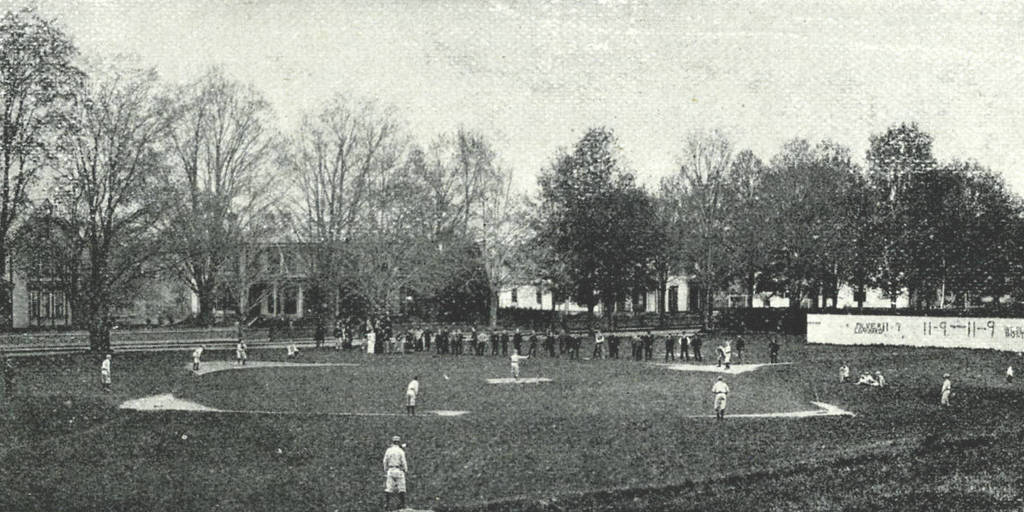 The field in 2015: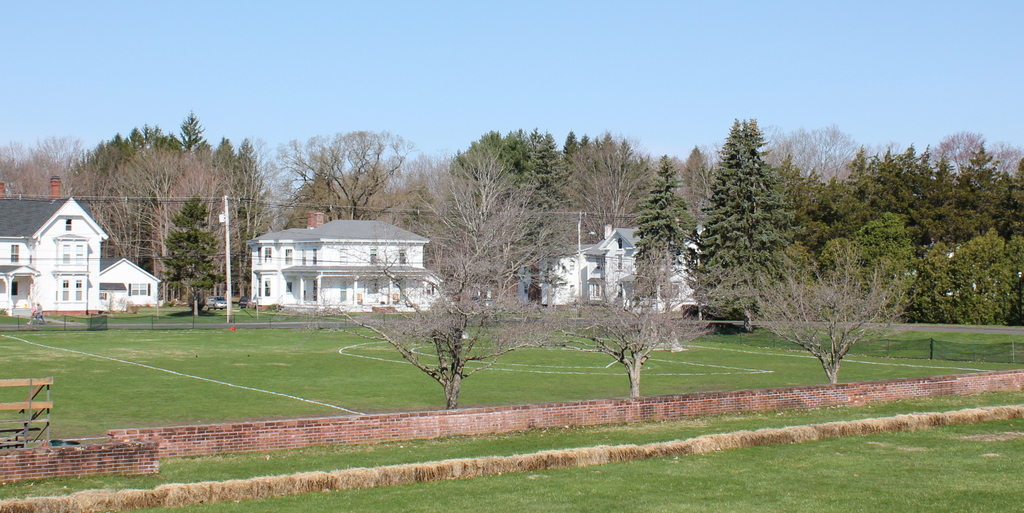 The first photo is a rather remarkable scene showing an early baseball game.  Most 19th century baseball photos are staged studio portraits that loosely imitate in-game action (see this photo from the Library of Congress website, where the string holding the ball is clearly visible and it looks more like a magic levitating trick than anything one might encounter at a baseball game), so it is fairly rare to see real, in-game action from the 1800s.  This particular photo was taken no later than 1892, the year it was published, and no earlier than 1878, when the house on the far left was built.  Most likely though, it was probably taken shortly before publication.
By the time that the photo was taken, the game of baseball was well established as the most popular sport in the country, at both the professional and amateur levels.  For the most part, the game 125 years ago wasn't all that different from baseball today – this scene is instantly recognizable as a baseball game.  However, there was one last major change in the rules that happened a few years after this photo was taken.  A close examination of the photo shows that the pitcher is standing on flat ground, and appears closer to home plate than in modern baseball.  Prior to 1893, the pitcher released the ball 55.5 feet from home plate, and stood on flat ground rather than a raised mound.  In 1893, the distance of 60.5 feet was established; this remains the same today, and was such a major change that many baseball historians consider 1893 to be the beginning of modern baseball.
I don't know which team is the home team, but this was taken at what was once Wesleyan Academy, and is now Wilbraham & Monson Academy.  My great grandfather attended the academy in the late 1880s, and I don't know whether he played baseball there, but depending on the exact date of the photo, he could easily be among the players or spectators – some of whom seem to be standing dangerously close to the batter.  Today, the campus has grown significantly since the first photo was taken, but the field is still there and is still used for sports, although baseball is now played on a different field on the other side of the campus.