The house at 53 Florentine Gardens, at the corner of Pineywoods Avenue in Springfield, around 1938-1939. Image courtesy of the Springfield Preservation Trust.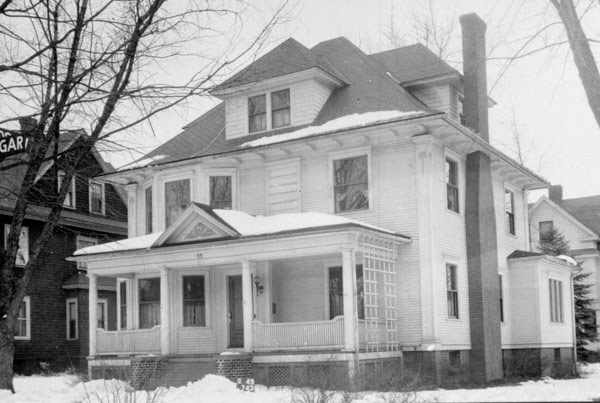 The house in 2017: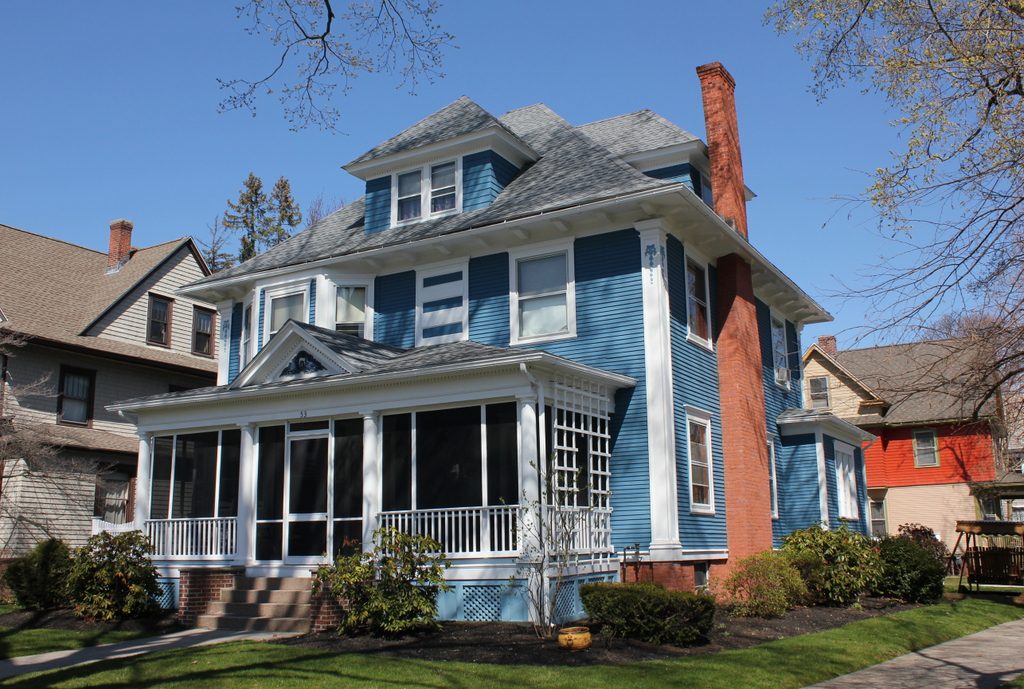 Most of the homes that were built in Forest Park at the turn of the 20th century are considered to be works of Colonial Revival architecture, although this category encompasses a wide variety of styles. The area's developers took advantage of this, creating a neighborhood with a remarkable diversity in the designs of the houses. One of the more common styles was a modification of the American Foursquare design, which is seen here in this house on Florentine Gardens. Built around 1903, it has many similarities to its neighbors, such as the house at 43 Florentine Gardens, but it still has unique features of its own.
The first owner of this house was built for George M. Faulkner, an insurance agent who lived here for a few years. However, by 1908 he had moved out, and the house had been sold to William and Lydia Laird. Originally from Vermont, they were in their mid-40s when they moved to Springfield, and by the 1910 census William was working as a floorwalker for a department store. However, Lydia died a year later, and soon after William sold the house and returned to Vermont, where he was living with his brother by the 1920 census.
Following William Laird's departure, the house was sold to Harry and Florence Sprague, who were living here by at least 1915. Harry was an architect, and he designed a number of buildings in the city, particularly apartment blocks and commercial buildings. He designed the western addition to the Classical High School in 1922, and perhaps his most architecturally significant work was the Tarbell-Waters building at the corner of Chestnut and Bridge Streets. Along with this, he also designed some of the apartment buildings in the present-day Quadrangle-Mattoon Historic District, including the ones at 97 and 127 Spring Street and 82-86 Pearl Street.
By the 1920 census, the Spragues were living here with their 14 year old daughter Dorothy and Florence's widowed sister, Nettie J. Reed. Dorothy left home in the 1920s, and Nettie died in 1933, but Harry and Florence were still living here when the first photo was taken. They would remain here for the rest of their lives, until Harry's death in 1950 and Florence's in 1967. Since then, the house has been well-preserved, and like the rest of the neighborhood it is now part of the Forest Park Heights Historic District on the National Register of Historic Places.