The house at 43 Florentine Gardens in Springfield, around 1938-1939. Image courtesy of the Springfield Preservation Trust.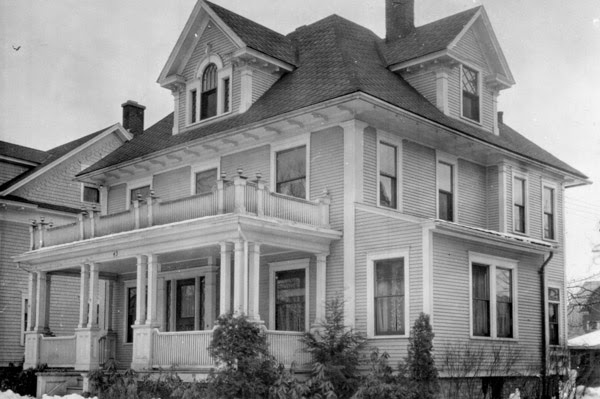 The house in 2017: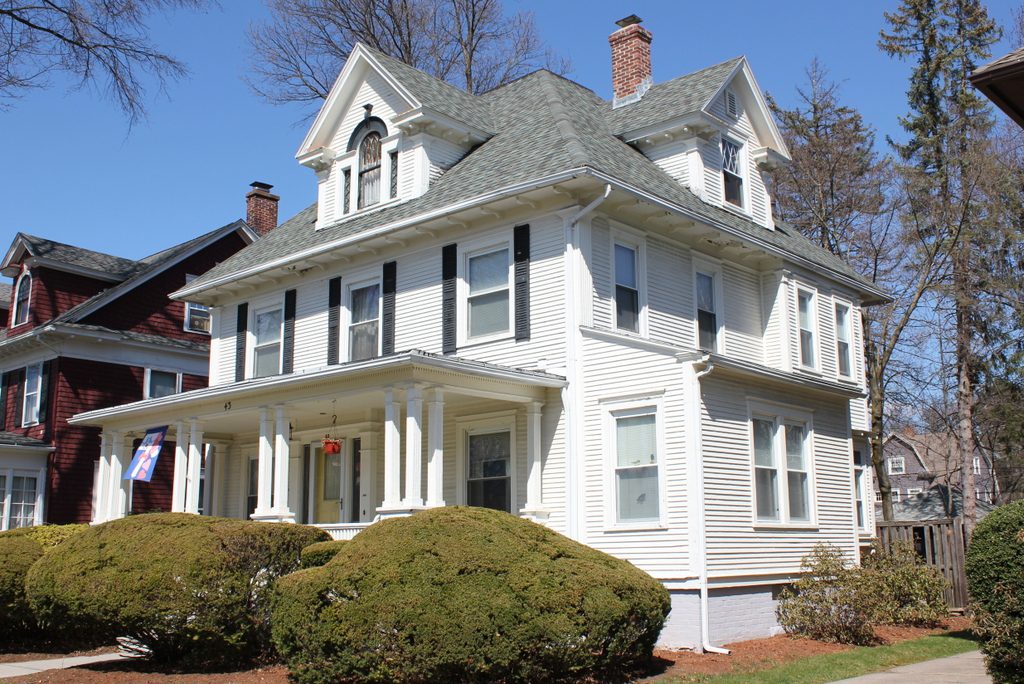 William H. Moore was a conductor for the Boston and Albany Railroad, and in 1901 he moved into this newly-built house in Forest Park, along with his wife Annie and their two teenaged daughters, Elsie and Carolyn. After living here for about a decade, Elsie married Richard W. Upson in 1911, and a year later Carolyn married Harold B. Adams, a young dentist who lived nearby on Spruceland Avenue. However, their mother Annie died several months after Elsie's wedding, and William subsequently moved to Longmeadow with her and Richard.
After their marriage, Carolyn and Harold continued living here in this house, with Harold commuting from here to his office on Main Street near the corner of Worthington Street. After less than two years of marriage, though, Carolyn died in 1914 from complications following the birth of their only child, Burton. Harold later left this house and moved into an apartment on Sumner Avenue, where he and Burton were living by the 1920 census.
In the meantime, this house was sold to Arthur I. Franklin, a shoe polish factory manager who lived here for a few years with his wife Elizabeth and their three children. In 1922, though, the house was sold again, to Anson and Frances Viets. Anson was the president and treasurer of the Springfield-based New Method Loan Company, and he lived here in this house until his death in 1938, around the same time that the first photo was taken. In the census two years later, Frances was still living here, along with her daughters, Marion and Frances, and her nice, who was also named Frances. She would remain until 1951, when she finally sold the property.
Nearly 80 years have passed since the first photo was taken, and very little has changed in the appearance of the house. As is the case with many similar homes in the Forest Park neighborhood, the decorative balustrade has disappeared from the top of the porch, but otherwise the house remains well-preserved in its Colonial-Revival appearance. Today, like the rest of the surrounding neighborhood, it is now part of the Forest Park Heights Historic District, which was added to the National Register of Historic Places in 1982.