The house at 52 Westminster Street in Springfield, around 1938-1939. Image courtesy of the Springfield Preservation Trust.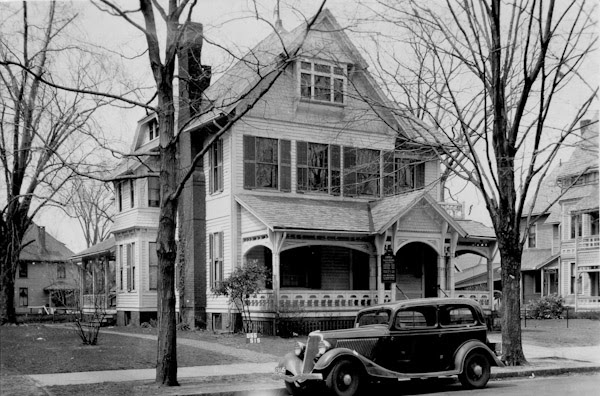 The house in 2017: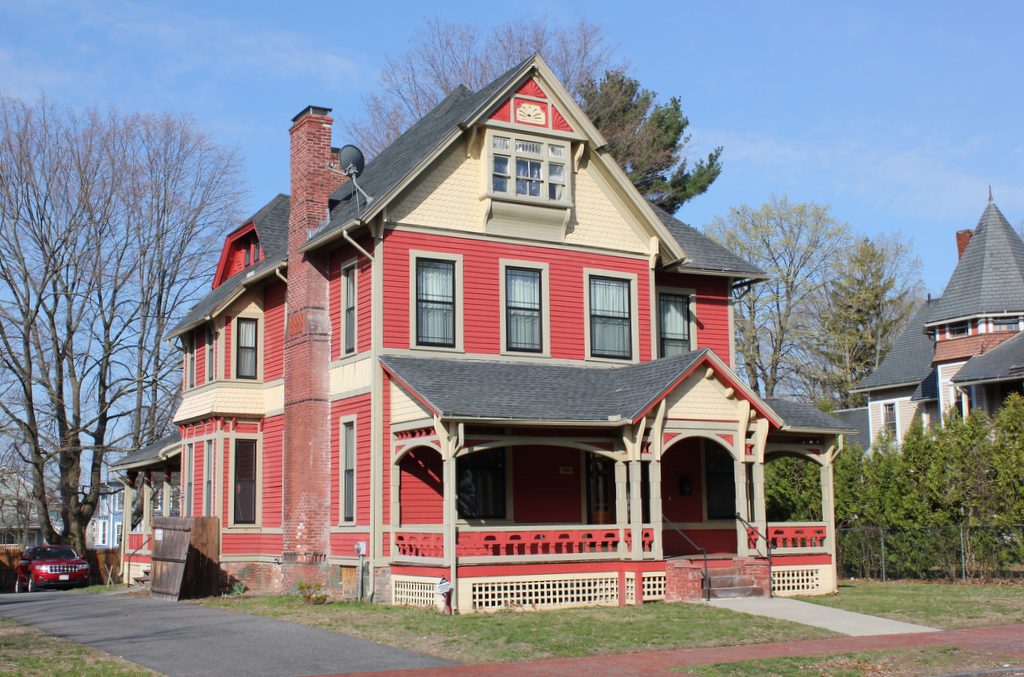 This house was built around 1882 for John A. Hall, his wife Frances, and their two children. He was originally from New York, but Hall came to Springfield during the Civil War to work in the Armory, and later entered the insurance industry with Massachusetts Mutual. In 1881, shortly before moving into this house, he became the secretary of the company, and in 1895 he became the president. He was still living here at the time, but soon afterwards he and his family moved into a newly-built Tudor mansion on Ridgewood Terrace. This much larger house, with its prominent setting and expansive views, was a substantial upgrade from this house here on Westminster Street, and reflected his new position in the company.
In the late 1890s, the house was sold to Peter Murray, a dry goods merchant. Originally from Scotland, he had immigrated to the United States as a young man, and in 1879 he formed a partnership with fellow Scotsman John MacKenzie Smith. Together, they operated Smith & Murray, a department store that was located here in Springfield, at the corner of Court and Main Streets. The store was a fixture in the city for many years, and Murray continued in the business after Smith's death in 1898. He never married, but he lived here with members of his extended family, including his nephew Alexander Leith, his wife Minnie, and their children. Leith was also in the dry goods business, and worked as a buyer for his uncle's firm.
Alexander Leith died relatively young, at the age of 52, in 1916. By 1920, Minnie and the children had moved out of this house, and Peter Murray was living here alone, although he rented part of the house to veterinary surgeon Henry B. Hobson and his wife Elsie. Peter died in 1922, and the house was subsequently sold to William J. Murray, who does not appear to have been related to Peter. A child of Irish immigrants, William and his wife Josephine were in their 50s when they moved in here, along with their four sons and Josephine's sister, Katherine McGrevy.
By the time the first photo was taken in the late 1930s, the house had been converted into the Church of the Nazarene. The building later became St. Mark's Christian Methodist Episcopal Church, but over time it fell into disrepair. It was added to the National Register of Historic Places as part of the McKnight Historic District in 1976, but it subsequently stood vacant for several decades and was threatened with demolition. However, it was ultimately restored in 2011, and today there is hardly any noticeable difference from when the first photo was taken nearly 80 years ago.