The courthouses on Federal Street in Salem, around 1910. Image courtesy of the Library of Congress, Detroit Publishing Company Collection.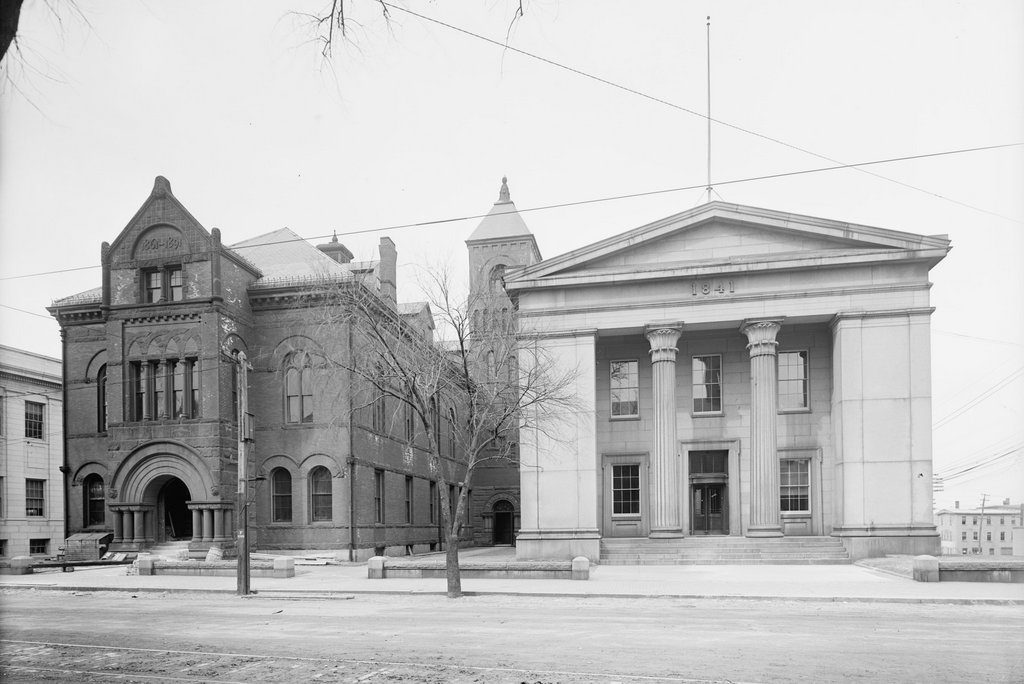 The scene in 2017: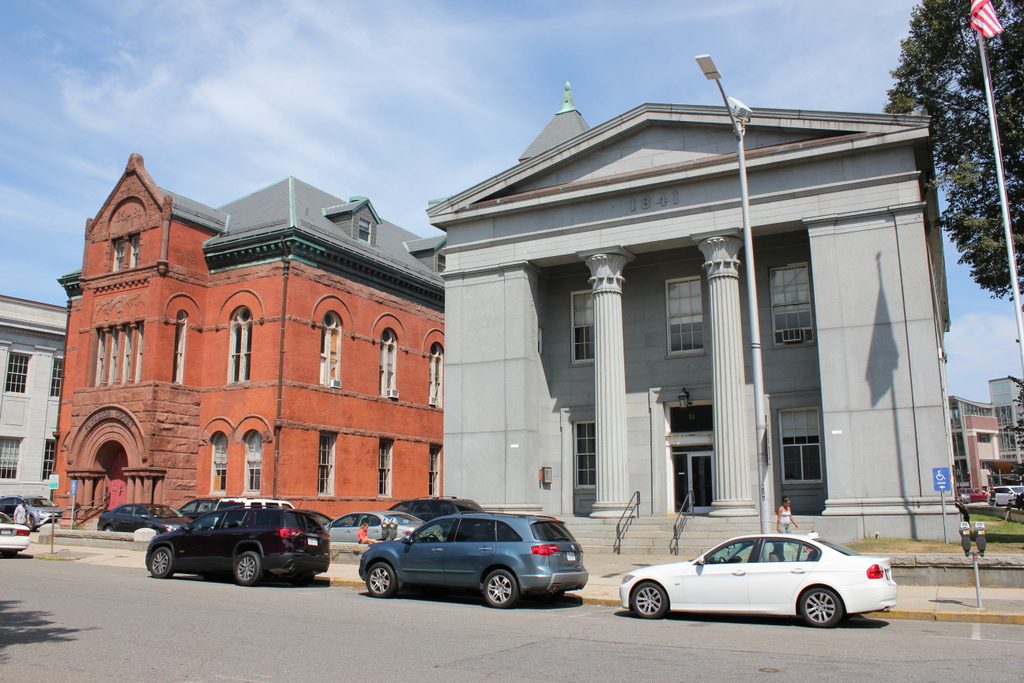 This block of Federal Street features four generations of Essex County courthouses, all lined up next to each other on the north side of the street. They represent a wide variety of architectural styles, and the two oldest are seen here in this view. The older of these is the granite, Greek Revival-style courthouse on the right side, which was completed in 1841. It was designed by noted architect Richard Bond, who was responsible for several other important buildings in Salem, including City Hall and the nearby Tabernacle Congregational Church. As built, the interior had a courtroom on the upper floor, with county offices on the lower floor, although this later changed as more courthouses were built here.
The second courthouse was built just 20 years later, but with architecture that sharply contrasts with that of its neighbor. Completed in 1862, it featured a brick exterior with an Italianate design, and was the work of architect Enoch Fuller. However, the exterior was heavily modified from 1887 to 1889, including a new wing on the rear of the building, a tower on the right side of this addition, and a new three-story entryway on the front of the building. Although similar to the original design of the courthouse, these additions had more of a Romanesque appearance, which gave the building an unusual blend of architectural styles.
The third courthouse is barely visible on the far left side of both photos. It was completed in 1909, shortly before the first photo was taken, and it has since been joined by a fourth courthouse on the other side of it, which opened in 2012. All four of the buildings are still standing, although the two oldest have been vacant since the new courthouse was completed. Neither have seen any significant exterior changes since the first photo was taken more than a century ago, and both are part of the Federal Street Historic District on the National Register of Historic Places. However, there are still no definite redevelopment plans for the buildings, and the 1841 courthouse was damaged by a fire in May 2018, less than a year after the second photo was taken.